Construction Execs Talk Decarbonization and Design-Build at CO Forum
---
---
New York City is standing at the precipice of a major decarbonization initiative, Local Law 97, which will require electrifying buildings, greening the grid, and improving indoor air quality. 
During Commercial Observer's design and construction forum held Oct. 24 at the City University of New York Graduate Center, contractors, engineers and project managers tried to figure out the best ways to implement those new standards by next year, when the law starts taking effect, while keeping projects on time and on budget. 
Jamie Torres-Springer, who heads the Metropolitan Transportation Authority's construction and development arm, kicked off the keynote with Ryan Dougherty of the Geothermal Exchange Organization by talking through what the agency is working on as part of its current, $55 billion capital program. The majority of what the MTA does is state-of-good-repair work, including fixing tracks, modernizing signaling, updating subway stations that are often a century old, and resiliency work designed to prevent the subway system from being overwhelmed during the next big storm.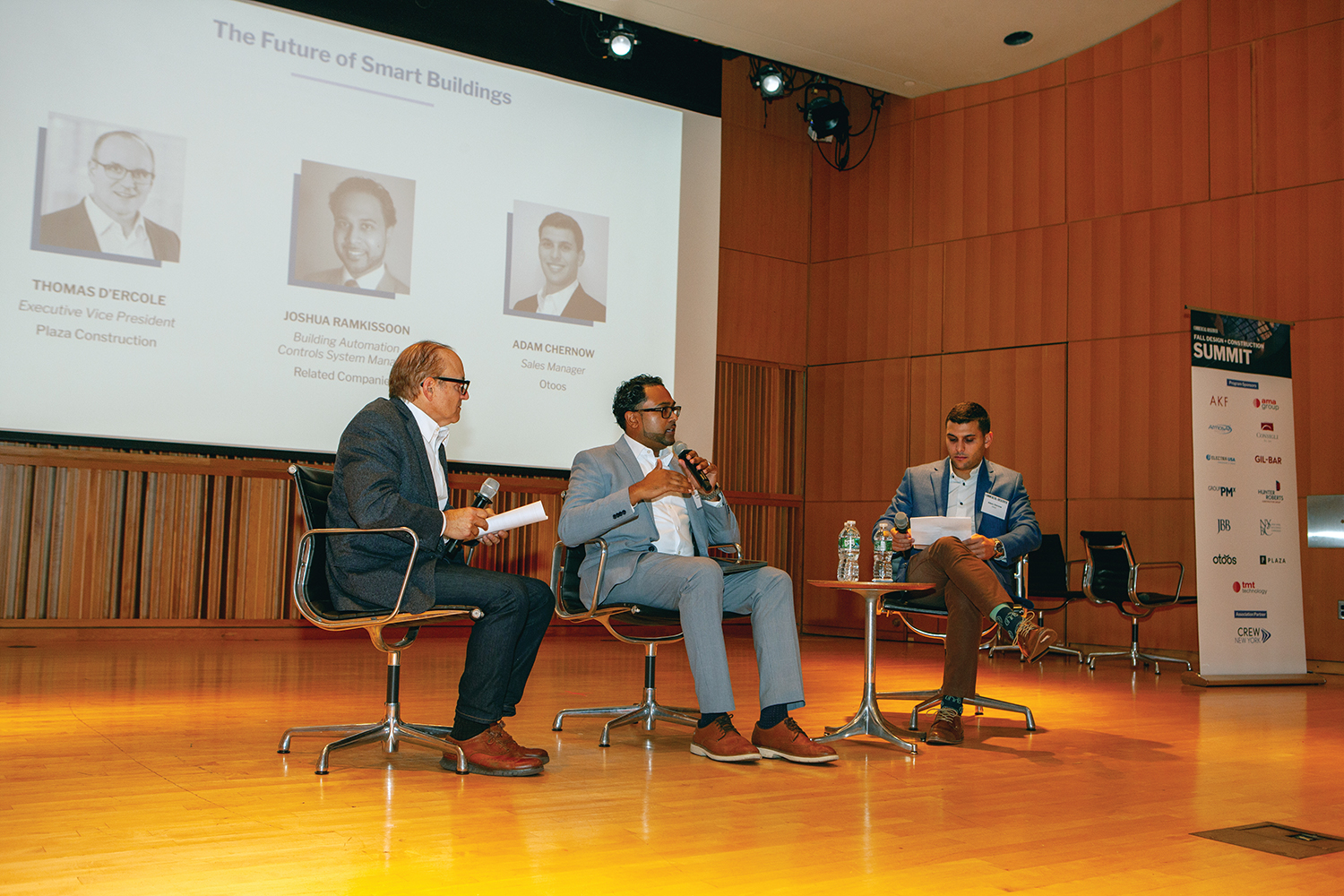 However, Torres-Springer noted that 17 percent of the agency's current budget goes toward expansion work — "the stuff that makes headlines" — and costs the most. He tried to counteract the narrative about how expensive it is to build new subway lines in the five boroughs by pointing out that the New York City subway was, far and away, the nation's busiest transit system by passenger volume.
"The Second Avenue subway [has a] very expensive cost per mile," Torres-Springer said, referencing the fact that, at $2.8 billion per mile, the new line had become the world's most expensive subway project. "But the average cost per daily passenger is about $30,000. Any other transit investment the federal government would make is $80,000, $100,000, $120,000 per passenger."
He also argued that the MTA was using design-build, progressive design-build, and public-private partnerships in an attempt to finish projects faster. 
Cost-effectiveness was also a big focus of the forum's first panel, which revolved around making office buildings more energy efficient, largely by converting them to all-electric heating and cooling. Maxwell Hatfield-Biondo of engineering firm Jaros, Baum & Bolles moderated the discussion, while Ben Rodney of owner Hines, Laura Bush of Consigli Construction and Alex Gulagaci of owner RXR discussed how they're lowering the carbon footprint of the city's largest buildings. 
"Not every building is going to be a great candidate for these large decarbonization projects," said Rodney. "We've been asked to evaluate buildings or look at an acquisition about what it would take to go all electric. [You have to ask], 'How can I maximize the efficiency of the building and can I do that in an all-electric way?'"
He pointed to 345 Hudson Street as a particularly challenging example, because it houses radio broadcasting infrastructure for 1010 WINS. Hines and its engineers figured out how to recycle the heat generated by the radio equipment and use it to help heat (and cool) the rest of the building. 
In the next panel, Plaza Construction's Tom D'Ercole, developer Related Companies' Joshua Ramkissoon and construction manager Otoos' Adam Chernow talked about making construction sites and buildings more efficient using project management platforms, sitewide models and sensors. 
Sensors and meters, in particular, play an important role in managing heating, cooling and energy use in a larger building. "Metering is important," said Ramkissoon. "You can't make it more efficient if you don't know where the energy is going."
He noted that when it comes to controlling heating and cooling on a room-by-room basis, Related hadn't yet implemented that level of control for tenants — but it might some day.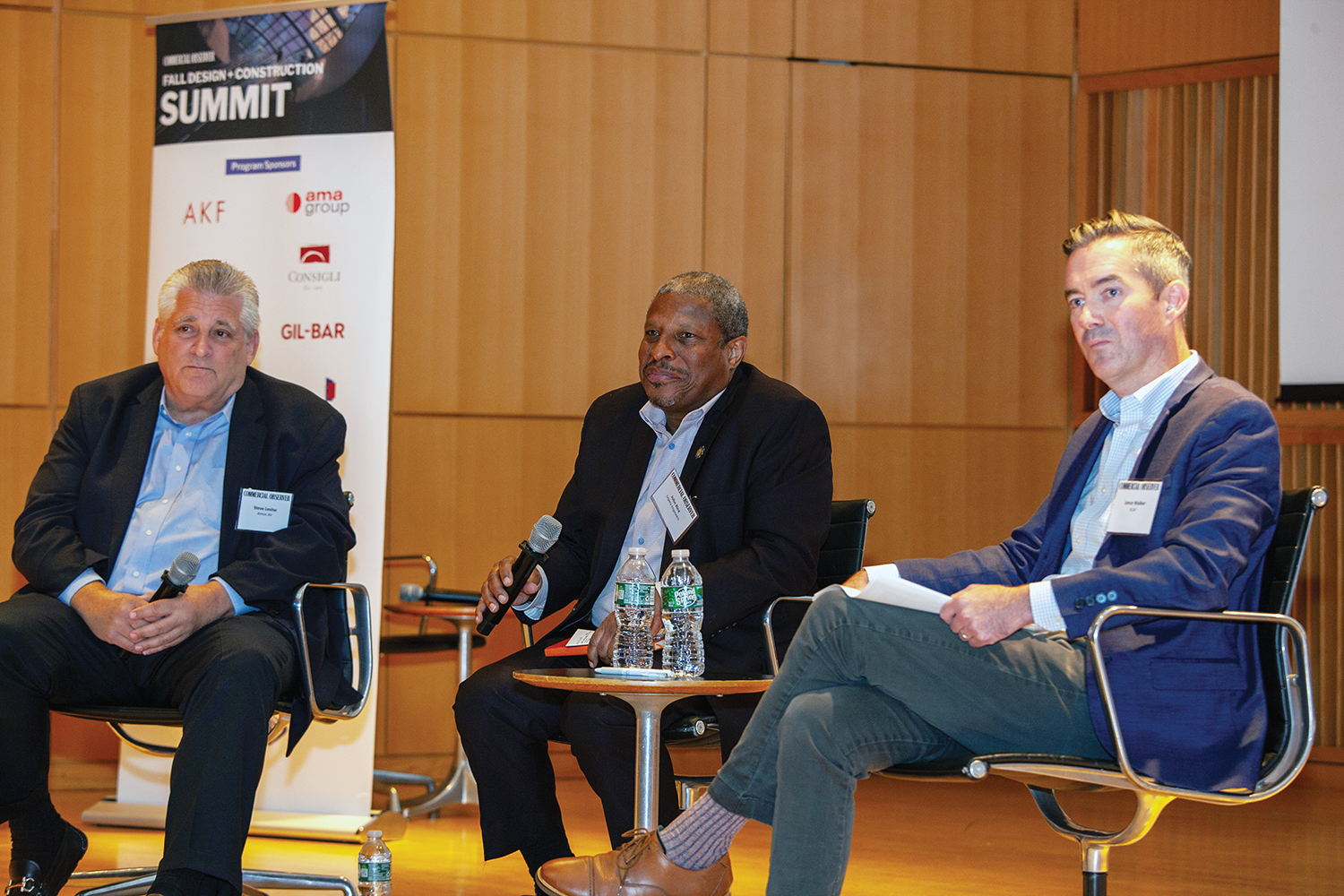 "Certain smart building technologies are being integrated by Related," Ramkissoon explained. "It's slowly evolving. We can't control the temperature in the conference room from our phones yet, but I can call the elevator from my phone."
The third panel of the day revolved around indoor air quality, with Steve Levine of AtmosAir, John Rice of Legacy Engineers and Jonce Walker of architecture and design firm HLW. 
"I want to create a healthier, cleaner, safer environment," said Levine. He said installing "a dashboard at the reception area, so people can see what the air quality is, so people can look at the VOC levels, CO2 levels" helps tenants feel better, especially in a larger commercial building. 
Rice noted that he had worked on the construction of The Spiral, Tishman Speyer's 66-story, 2.8 million-square-foot office tower, and it had been a challenge to ensure the building was properly cooled.
"Turner [Construction] wanted floor-to-ceiling glass and they were very concerned about thermal comfort," said Rice. "So we had an overhead air-handling system, and we hired a CFD modeling firm to do computational fluid dynamics" to figure out how to properly heat and cool the rooms along the windows. 
The final panel of the day focused on the pros and cons of the design-build approach to construction, with Joshua Frankel of Hunter Roberts Construction Group, Constantine Zachariadis of T.M. Technology Partners, Michael Giaramita of construction manager Group PMX and Arthur Metzler of engineering firm AMA Group.
"Each delivery method has good and bad things," said Giaramita, noting that there isn't a one-size-fits-all approach. "I've had projects where owners chose the wrong delivery method and it failed."
Zachariadis pointed out that the use of design-build can depend on where in the country a project is, and how construction and design firms are staffed there.
"Different regions have different construction cultures," he explained. On the West Coast "a lot of the design talent is embedded in the contractor firms, so we're only doing design-build there. … [However], you may want to bid out the project down to the bolt, rather than a quick delivery with design-build. That's the reason why traditional projects may fit the bill.
"It's very different when you leave the tri-state area," Zachariadis added.  
Finally, Carlo Scissura of the New York Building Congress closed out the event with a summary of his organization's latest construction spending report, and how the state and city governments could encourage more construction. 
"Spending has increased across all major categories from last year, and this alone is a win for the industry," said Scissura. "We are forecasting that construction spending will hit $83 billion this year, $13 billion more than last year adjusting for inflation."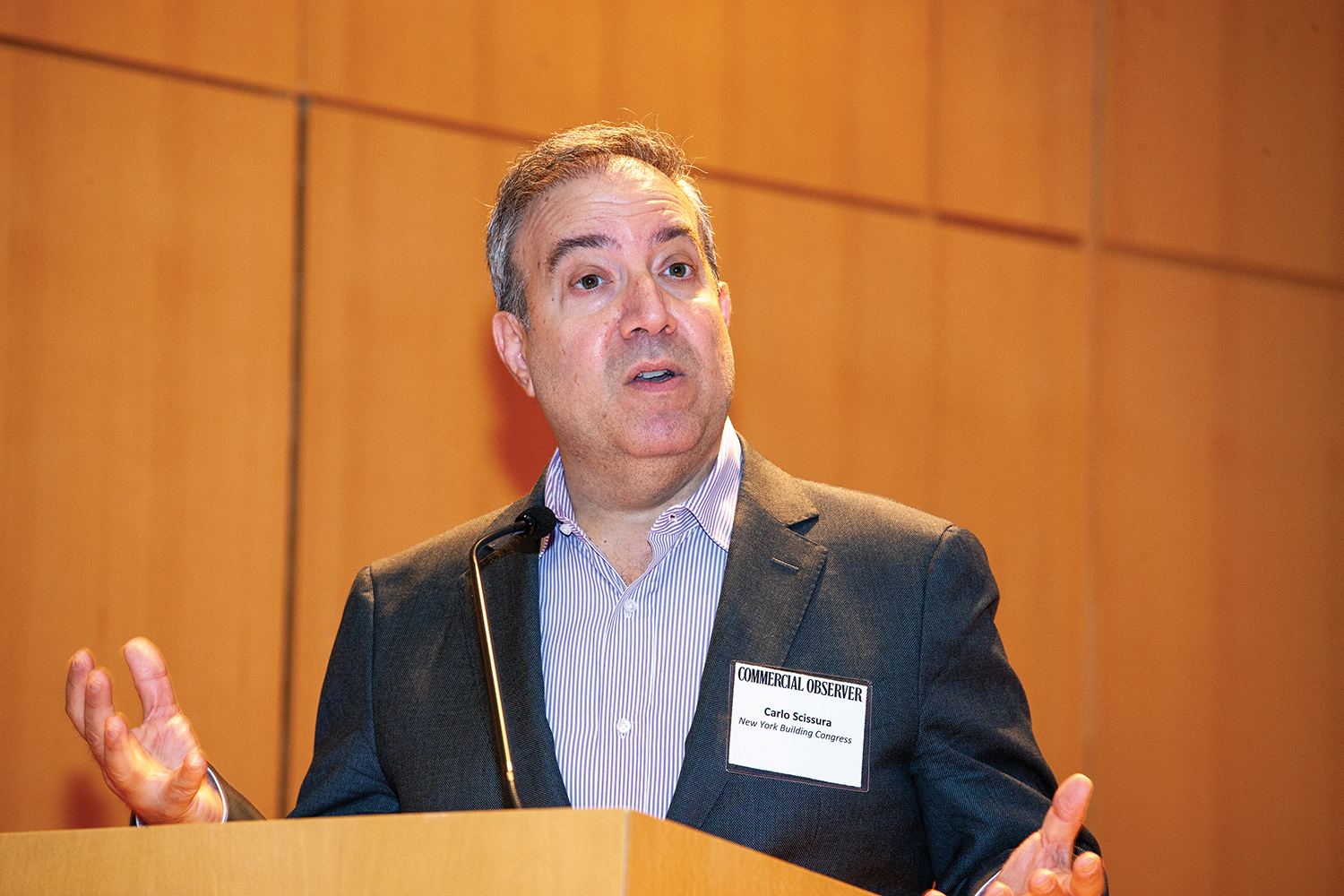 He added that Mayor Eric Adams's administration still needs to do more. 
"On the city level, we need to improve the capital budget, cut the red tape on outdated building codes and regulations, encourage better technology and tools," said Scissura. "We are still living on a zoning code that is older than I am, and the mayor and City Planning are working together [to modernize it]."
And at the state level, Scissura underscored the need to replace the 421a tax exemption for affordable housing development, which expired a year and a half ago. 
"Everyone hates 421a and it hasn't existed for more than a year," said Scissura. "We need a new plan, something that will build housing for New Yorkers, get projects done. We need to build housing for lower-income New Yorkers who can't afford to be here now." 
345 Hudson Street
,
Alex Gulagaci
,
AtmosAir
,
Baum & Bolles
,
Ben Rodney
,
City University of New York Graduate Center
,
Consigli Construction
,
Constantine Zachariadis
,
Geothermal Exchange Organization
,
Hines
,
Hunter Roberts Construction Group
,
Jamie Torres Springer
,
Jaros
,
John Rice
,
Joshua Frankel
,
Legacy Engineers
,
Local Law 97
,
Maxwell Hatfield-Biondo
,
Metropolitan Transportation Authority
,
Plaza Construction
,
RXR
,
Ryan Dougherty
,
Steve Levine
,
TM Technology Partners