Vicki Match Suna On the Expanding Footprints of Health Care Systems
NYU Langone Health's real estate head says it's looking for fresh space in the tri-state area, and that the office market's disruption offers opportunity
---
---
When we weren't looking, hospitals turned themselves into systems.
What were once loosely affiliated networks of doctors' offices, inpatient and outpatient clinics, rehabilitation centers, nursing homes and acute care hospitals became more tightly affiliated, and the strongest names in medicine became the leaders.
One of these in New York was NYU Langone Health. Others might include Northwell Health, Montefiore Einstein and New York Presbyterian. Over in New Jersey, you got Hackensack Meridian and RWJ (Robert Wood Johnson, he of Johnson & Johnson) Barnabas. 
Around the nation, you got Kaiser Permanente and California-based Cedars Sinai. And the role models, the Mayo Clinic and the Cleveland Clinic, continue to thrive. Memorial Sloan Kettering Cancer Center, famous for its cancer care, is no longer just a monolith on Manhattan's York Avenue. Its treatment centers can be found in 15 places in Manhattan, mostly on the East Side but also in East Harlem; Brooklyn; West Harrison, N.Y.; Uniondale, N.Y.; Commack, N.Y.; and three places in New Jersey, per its website.
Of course, in the United States, there is the neverending debate over whether our privately based health system provides the greatest care at the most affordable cost, compared to the government-dominated systems elsewhere in the world. 
This is not one of those stories. It is only about how NYU Langone became a dominant force in New York City, and whether it is done growing, or will its footprint continue to grow.
"Economic efficiency led to consolidation to create hospital systems," said Tim Savage, faculty co-director of NYU's School of Professional Studies' applied analytics lab and a faculty member at its Schack Institute of Real Estate, who called hospital systems "insulated" from remote work.
Looking specifically at NYU Langone, the nonprofit consists of some 600 locations throughout the tri-state area, including Tisch Hospital, the Kimmel Pavilion, an orthopedic hospital near Stuyvesant Town, the Perlmutter Cancer Center, hospitals in Brooklyn and Mineola, N.Y., and two medical schools, one of which, the Grossman, boasts Jonas Salk and Albert Sabin, pioneers in the development of polio vaccines, as graduates. And that just scratches the surface and begs the question of where it might go next.
Vicki Match Suna, NYU Langone's executive vice president and vice dean for real estate development and facilities, spoke by phone in August to answer questions about how hospital systems and specifically NYU Langone fit into the region's commercial real estate universe. 
The interview has been edited for length and clarity.
Commercial Observer: First of all, please tell me a COVID story. I figure you were in the middle of all of that.
Vicki Match Suna: Yes, of course, I was in the middle. We were all in the middle.
That was a very intense period. As you might know, our inpatient beds are distributed across the campus. We have a new building, called the Kimmel Pavilion, that is built to the most up-to-date standards, and that allowed us to accommodate all of the COVID patients with the appropriate air pressure. And we quickly converted that entire building to a COVID facility.
And, then, of course, we needed additional beds. So we had to adapt our other inpatient facilities to also accommodate COVID patients, and create the negative pressure rooms that were necessary. So it was a very busy and intense period of time.
There were also many other considerations, like housing for employees. We had to very quickly repurpose many of our facilities to create emergency housing, so employees could stay here overnight. And it was an interesting period of time in both our emergency room, as you can imagine, as well as our inpatient facilities.
I'm kind of picturing some meetings involving the entire city medical establishment, just trying to steer the whole response to the pandemic. Were there meetings like that, and were they very intense meetings?
Well, there were lots of conversations with different ministers in the city. Everyone was looking to try to help us manage through that difficult period.
What benefit do New Yorkers get out of having NYU Langone be a hospital system that they wouldn't get if these were just individual hospitals?
NYU Langone is a full academic and medical health system. As you probably know, we have a number of hospitals, but we also have two medical schools; we do a tremendous amount of research; and we take a very much integrated approach to all of these areas.
So the collaboration that exists between our three mission areas — research, education and clinical care — is really an important differentiator that helps us provide the best possible care for our patients. And, through our research, we're able to really make significant advancements in biomedical research that eventually leads to cures and improved patient care.
Being spread out across the New York metropolitan region enables us to provide care for our patients close to where they live.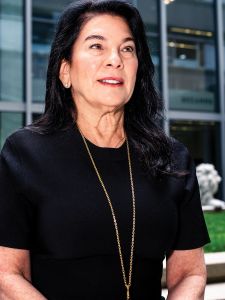 The press did such a good job covering mergers and acquisitions one by one that it may have missed the big picture story, which is that individual hospitals had by and large been replaced by hospital systems. How do you explain what happened, and why we are seeing hospital systems growing and fewer stand-alone hospitals?
I think the care environment has gotten more and more complex over the years. The larger systems bring a lot more resources to bear on many factors. Smaller stand-alone hospitals have struggled, and really need the backing of a larger system, or infusions of capital. It's extremely expensive to maintain hospitals, but to bring them up to quality and the equipment that's required to give the care that is now available to many — these are very expensive endeavors and they are difficult for a stand-alone hospital to support.
What are NYU Langone's growth prospects going forward? Do you remain in growth mode, or are you going to now stop and consolidate what you have?
We continue to be in growth mode. We have experienced a tremendous amount of growth in recent years. But we don't see that really stopping. We are going to be doing more. We have a number of major sites that we are expanding into right now. But we are opportunistic in terms of identifying future sites. When things become available, if they make sense for us, we will pursue them.
With the difficulties that office landlords have been having, does that represent a growth opportunity for yours and other hospital systems?
Yes, we definitely think it does. There have been a number of opportunities that have come to our attention recently, some of which we have pursued and we are moving forward with. We have a need for office space at the moment. Although office space can be converted into clinical practice space, and these opportunities are definitely out there.
We're in the process of purchasing a residential building that became available recently. That's 577 First Avenue, which is across the street from our campus. That's become a great opportunity for us, given this location, and our needs always include a need for housing. There are also other opportunities out on Long Island that we are pursuing right now.
Do you see the growth of yourselves, Einstein, New York Presbyterian, Northwell — do you see them becoming core institutions of the city, the way financing and banking have been? Anchor institutions?
One thing I should point out is one of the distinguishing features in health care systems is that we are an academic medical center. So we are not only a hospital, but we also have a medical school and a robust research program. And, given some of the recent shifts, maybe there's a little bit more focus on health care opportunities. As you probably know, life sciences is also a key focus for the real estate market at the moment, and an area in which we're also very active.
Can you cite for me at least one example of how you might have converted a facility into one that worked for you guys?
We aim to be an enriching environment for our patients. We look to translate the NYU Langone vision for excellence into physical reality.
We have many examples of this. We take buildings, retail facilities, many different kinds of buildings and convert them into facilities, patient care, and for research. So, for this property, on 222 East 41st Street, — we took a long-term net lease on the property. It was an office building, and we converted it entirely into a patient care, ambulatory care facility. [It opened for NYU Langone in phases, beginning in 2018.]
We also converted two former Verizon buildings. We created co-ops or condominiums in those buildings, and we have converted those facilities into patient care. We have a new women's center that we just recently opened in the former Citigroup Building on 53rd Street.
With these, we really focus on the patient experience. We're very much about creating environments that optimize natural light, with art incorporated into all of our facilities. We have a very robust art program, with permission pieces for many of our major facilities and we also purchase pieces. But all of the art is meaningful and connects to the facility and its overall purpose. 
We focus on intuitive wayfinding. We understand that when patients and visitors come to our facilities, they're large and confusing. It's very important to provide clues for them and ways that they can find their way around these facilities.
I imagine you are aware of Local Law 97, which is designed to make buildings more energy efficient and reduce their carbon footprints. With medical facilities being ample users of energy, are you going to have a problem with that?
We are completely dedicated to sustainability and reducing greenhouse gasses from our campus and facilities and to fundamentally help create a more sustainable and resilient city. 
However, there's really no more complex building type than hospitals and health care facilities and research facilities. We have 24/7 operations, and a tremendous amount of energy is used by these facilities. We are heavily regulated by government. There are a lot of codes and regulations that we have to comply with. So Local Law 97 is a bit of a challenge for us and other health care facilities.
We've worked very hard with many of the regulatory bodies to address our concerns and get some appropriate accommodations for our uses. That I think we are the only facility that has actually been able to take advantage of the alternate compliance method, that will significantly help us in terms of reducing the costs to NYU Langone. It remains a significant initiative and will eventually result in penalties over the period of time from now to 2030.
I also just want to note that we generally have a very robust sustainability program. Actually, we're leaders in this area in the New York region. We're very proud of the work that we've done.