SK Development's Scott Shnay Talks Jacob Riis Bathhouse and NoHo Office Project
Start with roots in, and a love for, New York City. Add some unusual locations. Mix with contrarianism, including new office at a time when few people want to build it. You've got Scott Shnay's approach to development.
---
---
Scott Shnay has been developing residential and office projects with his father, Abe Shnay, in the New York tri-state area for 17 years, continuing the business started by his grandfather in the late 1960s.
Their firm, SK Development, has come a long way from its roots in single-family home development in the outer boroughs half a century ago. Shnay's father and grandfather furthered their reputation developing affordable Section 8 buildings in Brooklyn in the 1980s before jumping into market-rate development just as the city's real estate market began to take off again 30 years ago. 
In recent years, the Shnays have completed hundreds of market-rate apartments in neighborhoods like Chelsea and Murray Hill, a small ground-up office building on Lafayette Street in NoHo, and an upstate resort with golf, swimming and a spa. 
These days, Scott Shnay is working on a variety of projects, including a partially affordable residential building in Sunset Park, Brooklyn; a nine-unit condo building in SoHo; a boutique office tower on the former B Bar site on Bowery in NoHo; and a residential building in Newark, N.J. His firm is also working with architecture firm Beyer Blinder Belle to restore and convert the historic Jacob Riis Park Bathhouse in Rockaway Beach, Queens, into hotels, retail and event space. 
Commercial Observer got on the phone with him in June to discuss the history of his firm, what he's working on, and why he's building office when everyone else is negative on it. 
The interview has been edited for length and clarity.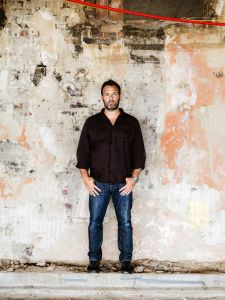 Commercial Observer: Can you tell me a little bit about how SK Development came to be?
Scott Shnay: Sure. I'm a third-generation New York City developer. 
My father and grandfather started as homebuilders in the late '60s, and did that through the '70s. And then in the '80s they became affordable housing developers, predominantly in Brooklyn. Then, in the late '90s, my father shifted into more market-rate development in and around Manhattan. I went to work with them and we built about two and a half million square feet of all different types of projects throughout Manhattan, Brooklyn and Queens — condos, multifamily rentals, office and hotel. We've done some projects out on the East End in Montauk as well as in the Hudson Valley. 
We recently finished a slate of projects during COVID. One was 1228 Madison Avenue, which was a 17-unit project that we did up on 88th and Madison. It was designed by Robert A.M. Stern and Kelly Behun Studio. And we recently finished a project at 547 West 47th Street, which is a 220-unit condo project designed by a Dutch firm called Concrete. 
Then the most recently finished one was a pretty great resort project up in Accord, N.Y., called Inness. We have 40 hotel rooms, a nine-hole golf course, a clubhouse, a wedding venue, hiking trails, swimming pools, tennis courts, and we're actually in the process of building a spa and wellness building.
And you're also working on the Jacob Riis Park bathhouse?
Yes. So that's one of our three projects. So the projects I just mentioned were all recently completed in the last couple of years. 
And then we have three projects in construction now. Jacob Riis Park is an incredibly interesting project. It's a conversion of an 80,000-square-foot historic bathhouse structure on the boardwalk in Rockaway. So we're doing 28 hotel rooms, three restaurants, a pool club, a concert and event venue, as well as a bunch of retail kiosks on the boardwalk. So it's a whole, sorta, hospitality center.
When you say "pool club," what do you mean?
We're building a 4,000-square-foot pool within the courtyard of the facility, almost like the old-style pool clubs, where you can pay for a day pass, you can be a member — you know, a real beach club.
Interesting. So that building is under construction, right? I mean, I've seen it.
Yeah, we started the renovation in February, and we anticipate completion and an opening for next summer.
What sort of events are you going to host there?
So we have a giant courtyard that we programmed. You know, everything from afternoon concerts to pumpkin patches to ice skating; farmers markets; anything that you would have in that type of venue we will program and have throughout the year. So it's just a giant flexible space that we will program with all different things for the community, and for people that are either members or people that are visiting.
And you said you're adding retail stalls along the boardwalk. So would that be food and beverage?
Yeah, mostly, we're doing an ice cream stand, a taco bar. All F&B focused on the boardwalk on the beach. There'll be one more regular retail outlet for sunglasses and beach towels, stuff like that. 
How did you get the contract for the bathhouse? 
What we're doing was essentially a response to a request for proposals that the National Park Service issued five or six years ago. And one of the partners in the project is a group called Brooklyn Bazaar. And they secured the RFP. 
Then, over the course of the conversation, myself and probably other partners came on board. And we signed a long-term ground lease with the federal government for 60 years.
What other things do you have under construction? 360 Bowery?
Yes, we just topped out this week on a 120,000-square-foot boutique office building at 360 Bowery — the corner of Bowery and East Fourth where the old B Bar used to be. That's being designed by Morris Adjmi, 22 stories. It'll be all office with ground-floor retail, and we're anticipating completing that also next summer. 
And we've just started some preliminary marketing and leasing for it in the last few weeks, and are getting a pretty good response already.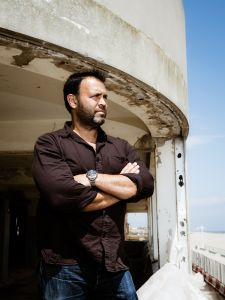 That's interesting that you're marketing it. Who are the brokers?
David Kleiner. We worked together on a previous project that we finished a few years ago called 363 Lafayette, which was another  smaller office building right around the corner from 360. It was a successful project that was fully leased. And it was a little bit of a test case and the precursor for 360 Bowery.
When was that finished?
It was finished in 2018 and '19.
The last project we have in construction at the moment is a project called Spring and Thompson, which is a small nine-unit condo project with retail that we're doing on the corner of Spring and Thompson streets. 
That's being designed by Selldorf Architects. And we'll start some preliminary sales there, hopefully over the summer, early fall. That'll be finished next fall, in 2024. It's probably a few months behind.
Seems like you've done a number of condo projects recently. What market-rate rental projects have you worked on?
We did a couple of market-rate rentals that we finished in like '15 or '16. We did a project in Murray Hill called the Frontier, which is 150 apartments. And then we did another project in Chelsea called Chelsea 29, which is 96 apartments. Those were built under the old 421a program. 
And we actually have two other multifamily projects that we're currently in pre-development on — one in Brooklyn and one actually in Newark, N.J.
Where in Brooklyn?
In Sunset Park.
Interesting. Can you tell me about that property?
We're actually working on that one more as a fee developer, a co-developer with Totem Brooklyn, at 745 Fourth Avenue. It's going to be 75/25 [market-rate to affordable]. Then we're working on another project in Newark near this area called Military Park.
Yeah, I have written about the development in Newark before. It seems challenging to develop there.
Yeah, you know, it's a rapidly gentrifying area. The State of New Jersey and the city have been very pro-development, and are trying to spur projects, you know, in and around the city. And it's really becoming quite a commuter city, just because it's so convenient to get to Manhattan. In other areas in North Jersey — whether it's Hoboken, Jersey City, Journal Square, Harrison — the rents there are starting to really push up. So people are starting to look at Newark as a very viable option.
I've spoken to a few developers who are involved in some midsize to larger projects in Newark, and my impression is that it's hard to get financing for projects there. And that despite the state and city being pro-development, there may be some stumbling blocks involved in terms of getting public financing or regulatory approvals.
You know, to be honest, I don't think it's any different than New York City at this point. But, right now, all projects are not easy to finance. It's a fairly difficult financing and capital-raising environment. But, for good projects that are well programmed and have strong fundamentals, it's doable. No doubt, it's harder, much harder now than it was a few months ago for sure. Whether it be New York or Rockaway. 
There's larger developers starting to come into Newark. L+M has been very active and just completed a project there. I think when lenders start to see some of the large development firms coming to town, start working on projects, it gives them a level of comfort.
What kind of projects do you like to focus on?
We love the more boutique-y, out-of-the-box-type projects, whether it be a Riis or an Inness or even 360 Bowery. Doing a new office building is contrarian to what a lot of people are doing. You know, we generally like to work with high-design, good architecture. 
And we've just enjoyed being in New York. I think one of the things that we're very focused on is that there are a lot of developers that have left the market over the past four or five years. We think that developing in and around New York City is a great thing to do. We're not afraid of being in New York. There are people that are fleeing to Miami, or Nashville, or Austin, or wherever it may be. We've made a point to stay in and around New York City and keep developing. 
I think Riis is the perfect example — a Queens-based project with a restoration of historic structures; just solidifying the point that we are New York developers, and we love New York, and we'll be here for a long time.
So this Sunset project was approved under that mandatory inclusionary housing program, but is certified under the now-expired 421a exemption?
Yeah, it's grandfathered. The team from Totem started their foundation work before the deadline last summer. So they started the foundation work in May or June of 2022 to be grandfathered into the program. We are hopefully about to start construction.
Between the interest rates and the fact that 421a has expired, there's been a lot of concern about being able to do ground-up multifamily rentals in the city. How are you feeling, working on projects like this and getting financing for them?
We're in pretty good shape for the financing portion of it. But, I agree; I think, going forward, it's going to be incredibly difficult, if not near impossible for there to be new multifamily projects built — until there's either renewal or a new 421a program. It's going to be incredibly difficult, which I think is why we're bullish in our project, just because it's simple supply and demand. There's such a tight market in New York City and surrounding areas for rental housing. 
Rents are gonna have to go up just because there's not enough housing. Sunset Park or Newark are not generally thought of as multi-
family locations, but, with the lack of inventory, there's going to continue to be people spreading out and just trying to find somewhat cost-effective rental housing commutable to New York City. 
Circling back to office — what made you decide to stick to the plan of doing a new-construction office building in this environment?
Yeah, we saw success at 363 Lafayette. And, you know, the market for the boutique, new-construction office is still very strong. There's still — I hate the phrase "flight to quality" — but people are much more comfortable staying in a new building with new systems and new windows and all that stuff. And I think because people are still in a little bit of a hybrid/remote structure, they don't need quite as much space as they needed before. They'd rather be in a nicer, newer building, albeit needing a smaller space than what they had before.
We've had a couple of new leases signed at 363 Lafayette in the last six months, at very, very strong numbers with strong tenancies. And, even after the rezoning that happened in SoHo and NoHo, where we had the ability to build residential, we stayed the course. It's going to be somewhat iconic because of where it sits in the surrounding buildings. It's going to be one of the more prominent tall buildings within a 15- or 20-block radius.
Do you have a sense of your asking rents for the Bowery building?
$130, $140 a square foot
That's pretty high.
Yeah, I mean, it's the market. Again, that's what the comps are showing. Our views are going to be insanely spectacular. And, I think, we're gonna do well there. We're doing a whole club floor, on the seventh floor of the building. It's really going to be a pretty great project.
There's going to be a gym, boardrooms, lounges, outdoor terraces, locker rooms. It's almost going to be like a residential amenity package, but it's not in the basement. It's on the seventh floor with some great views and outdoor space. So, it's not your typical office development, at least not like some of the larger office buildings. 
And, obviously, larger properties, they have amenity packages like that, but to be able to deliver an amenity package in a small boutique building I think is really beautiful.
Rebecca Baird-Remba can be reached at rbairdremba@commercialobserver.com.