New York's Nonalcoholic Beverage Stores Are Booming. Will the Taste for Them Linger?
Their success highlights a broader turnaround in brick-and-mortar retail. But the stores' staying power is untested.
---
---
Three years ago, after the worst of the pandemic's first surge was over, Nick Bodkins's wife Brittany desperately wanted a negroni.
The couple had been trying to get pregnant, and the medications she was taking at the time prevented her from consuming alcohol. So her husband, who had a consumer marketing background, did some research to find a liquor-free substitute. 
Bodkins came across a few brands, but shipping for single orders was expensive and confusing, and he couldn't easily sample the goods. Instead, he saw an opportunity to bring "sips to lips" to a growing number of consumers searching for alcohol alternatives but uneasy about ordering a new product over the Internet.
"For a customer that wants to give something a try, it's a real longshot to get them to say, 'I'm going to buy a case of it,'" Bodkins said. "Asking customers to change what they were drinking and how they bought it were two steps, and that would slow down adoption in a significant way."
Fortunately, Bodkins saw a Court Street storefront four blocks from his Brooklyn home that had been vacant for several months. He teamed up with venture capital firm Blue Scorpion Investments, negotiated an affordable lease with the building's landlord, and opened Boisson Cobble Hill in February 2021. 
A second location on Greenwich Village's Bleecker Street followed three months later. By the end of that year, Boisson had additional outposts on the Upper East Side, the Upper West Side and in Williamsburg, Brooklyn, with more to come in California and Florida.
"There's fierce neighborhood loyalty in New York City specifically," Bodkins said. "People didn't forget retail businesses that put up plexiglas were real businesses. People wanted products quickly, but all of us during the pandemic in New York remember our bodega had toilet paper but Amazon didn't." 
Interest in nonalcoholic beverages had been percolating well before the pandemic. But citywide lockdowns that temporarily shuttered bars and restaurants in 2020 spurred some Americans to adopt healthier lifestyles and unplug from Zoom happy hours.
As the country reopened, 72 new nonalcoholic products hit the market between July 2021 and July 2022, giving consumers even more options to socialize without risking a harmful hangover. Sales of alcohol-free beer, wine and spirits rose 21 percent between August 2021 and August 2022, accounting for roughly $395 million, according to consumer tracking service Nielsen. 
That's still just a splash in the $479 billion U.S. alcohol market, but the nonalcohol beer market is projected to grow to $40 billion by 2032. Global beverage behemoths like Anheuser-Busch, Heineken and Molson Coors, along with upstarts like Athletic Brewing, have gobbled up much of the market, introducing nonalcoholic six-packs in Target, Walmart and supermarkets around the country.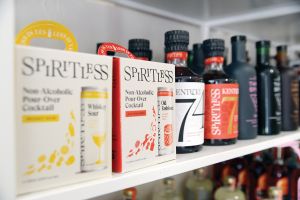 But scores of craft distillers and vintners offering small-batch selections have bubbled up to tempt discerning palates. That's helped retailers offer a variety of brands like Ghia's Signature Aperitif, St. Agrestis' Phony Negroni, Spiritless Kentucky 74 nonalcoholic bourbon, and Giesen nonalcoholic rose to consumers looking for products that omit the buzz but don't skimp on tasting notes.
Bodkins's stores host tastings four or five days a week like a regular liquor store, and staff are empowered to offer tipples from bottles to curious customers. But Bodkins believes Boisson has less in common with wine shops than with direct-to-consumer companies like Bonobos and The RealReal that have recently expanded into brick-and-mortar stores, two of which are neighbors of his on Court Street.
"We wanted the familiarity of a liquor store with the education and discovery of a Sephora with customers, and we wanted to extend that experience to e-commerce," he said. "Our stores are a place where people can come in, know what's new, and know that a local store is the one delivering to them via bike messenger and not from a distribution center."
Boisson may be the largest nonalcoholic retailer in New York City, but it is far from alone. Spirited Away opened a nonalcoholic liquor shop on Ludlow Street in November 2020 before upgrading to a larger space on Mott Street to accommodate the volume of new products. And Minus Moonshine opened its dry drinks boutique in June 2021 on Sterling Street in Prospect Heights. Minus owner Aqxyl Storms, who goes by they/them pronouns, quit alcohol during the pandemic after several attempts over the past 20 years. They say the majority of their customers still drink but are looking for options to consume less when they're socializing.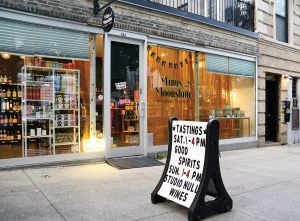 "Whether you're celebrating a birthday or grieving a family member, there's usually alcohol available, but not everybody wants that," Storms said. "Most of the wines that I carry are very low in sugar. I still have to get a glass of wine that still tastes like a glass of wine, which it is, it's just dealcoholized."
The number of new nonalcoholic wines and spirits has proliferated so quickly that Storms has had to turn brands away because their storeroom is too small to stock them. But sales margins remain thin, and Storms hasn't been able to expand to a second location because asking rents for New York retail spaces have begun to rise again this year.
"We've had our eye on things, but with the climbing real estate market I'm not sure if we're going to be able to expand," they said. "We would love to have another location outside of our delivery range that had a little more space, but larger spaces were unaffordable."
It's also possible that the nonalcoholic beverage market has been topped off. Sechey, a nonalcoholic retailer based in Charleston, S.C., ran a pop-up shop on Hudson Street last fall, but has not returned to the West Village this year. (Calls to Sechey and the building's owner were not returned.) Kava Social, a nonalcoholic lounge that opened in 2020, was shut down by the city Health Department in April because its owner served food with an herbal supplement the city deemed unsafe for consumption based on FDA advisories. 
Adelaide Polsinelli, a real estate broker with Compass, had two different clients present concepts for nonalcoholic event spaces this year in Manhattan, but neither could get the financing together. 
"Maybe this is the alternative to drinking alcohol. I'm a little skeptical," she said. "It seems well intentioned. But does it make money? Is it going to be profitable? Why would you go to a nonbar to drink nonalcohol that tastes like alcohol unless you're a recovering alcoholic?"
Retailers say there's potential for growth in distributing booze-free bottles to more restaurants and bars throughout the city. Boisson launched a wholesale business a year ago because its customers told restaurants there weren't enough low- or no-alcohol options on their menus. 
Some restaurants, including a handful of Michelin-starred outfits, have responded by offering nonalcoholic mocktail pairings in their tasting menus. But chefs and beverage managers remain wary about the ingredients and flavor of nonalcoholic products that their customers may not recognize.
"People don't have a muscle memory for ordering cocktails with no alcohol in them," said Keith Durst, founder of Friend of Chef, who helps developers pick restaurants for their properties. "And people are giving up alcohol because they want to be healthier, so there's an assumption these cocktails have high quantities of sugar in them." 
Storms wants bars and restaurants to give their products a chance so that consumers who do know what they want have choices beyond tea, soda or juice.
"People are ready and they know that these beverages are costly to make and they will pay for them," they said. "Even if someone just has a couple bottles of nonalcoholic spirits to make a nonalcoholic version of their favorite cocktail, no one is expecting anything fancy. I don't need a special cocktail on a menu; I need an option, and I'm not the only one."