Development Is Hard to Execute in Black Communities. Churches Are Stepping In.
---
---
Slavery, Jim Crow, redlining and the New Deal have concentrated Black Americans in undervalued occupations and neighborhoods, producing and perpetuating persistent and structural gaps in every aspect of economic well-being. While programs such as the Great Society's War on Poverty sought to resolve these disparities, most have failed to create the educational, housing and job opportunities that could help Black Americans climb the socioeconomic ladder and create generational wealth.
But things are changing. Black churches nationwide are working to break this injurious pattern by spearheading real estate developments in their own backyards that can do this — and more. In truth, these institutions have played a significant and effective role in the lives of Black people living in the U.S., and community development, for more than two centuries.
As someone who has invested billions in real estate over my decades-long career, and as the son and grandson of Black Episcopal pastors who focused on improving their congregants' economic and spiritual well-being, I can attest to the positive influence that thoughtful and inclusive real estate investment can have on communities. From 2008 to 2021, I led the renovation and operations of Baldwin Hills Crenshaw Plaza in historically Black South Los Angeles for an investment fund. This vibrant and thriving anchor has been a point of community pride for 76 years.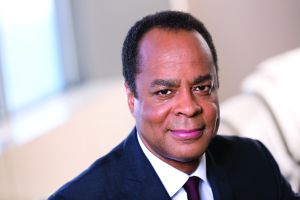 Yet as beneficial as real estate developments can be to communities, shepherding ventures from concept to completion can be difficult. My experiences confirm that for would-be Black entrepreneurs, who have historically lacked opportunities to gain real estate development experience and access to capital, the challenges can seem insurmountable. 
While lawmakers have enacted programs to remove obstacles and fuel economic activity in Black neighborhoods, most have failed to deliver. For example, the Community Reinvestment Act of 1977 (CRA) has barely achieved its core goal to increase bank lending in low-income communities. A study by the Federal Reserve Board and others found "CRA's effect on loan volumes and profitability appeared to be small." 
For these and other reasons, Black churches nationwide have been taking control of economic development with real estate projects in their undercapitalized neighborhoods, even though many of their now-affluent congregants live elsewhere but choose social identity over spatial proximity. Many of these faith-based development initiatives have focused on creating affordable housing, as evidenced by initiatives in Seattle, Oakland, Washington, D.C., and Baltimore. While these are effective and admirable projects, many now realize that a key to building and maintaining healthy, viable communities is to attract residents across the socioeconomic spectrum.
How can churches make this happen? By including assets that foster commerce and economic diversity in their developments. In turn, these assets increase property values, encourage home ownership and build generational wealth within communities. 
The Apostolic Church of God is taking this approach in Woodlawn, a severely undercapitalized neighborhood on Chicago's South Side. Despite Woodlawn's many valuable amenities — such as Jackson and Washington parks, the University of Chicago, good elementary and high schools, thriving retail establishments and excellent access to transit — developers have been reluctant to invest there. 
In 2015, the Apostolic Church of God took matters into its own hands and convened Woodlawn residents, leaders and stakeholders to craft a development plan based on extensive community engagement. Today, Woodlawn Central, an ambitious planned development, leverages the community's existing assets to build a transit-oriented nucleus of not just affordable housing but also workforce, market-rate, senior and luxury units as well as offices, retail, cultural spaces, hospitality and vanguard infrastructure like a microgrid and urban farming facility. The church purposefully designed Woodlawn Central to energize and support Black businesses, creators, innovators and residents. 
While my firm has no involvement in this project, we applaud their team's vision and commitment to transformative change through equitable and sustainable economic development. Given the nation's dire need for housing and lack of available inventory for middle-income renters, housing analysts believe workforce housing is a stable, remunerative and critical investment today. Freddie Mac and Fannie Mae also have very supportive loan options for these types of properties. 
As transformative as Woodlawn Central promises to be, however, we must recognize that creating equity takes more than a one-off development or frequenting Black-owned businesses. It also means helping other underserved communities build inclusive and diverse developments, working with Black investment professionals, investing in Black-owned startups, stocks or exchange-traded funds and more. Committing capital to Black communities in these ways can make direct and constructive contributions to vanguard economic development efforts and help eliminate racial economic disparity, right historic wrongs and democratize opportunity. 
Quintin E. Primo III is the founder and executive chairman of Capri Investment Group.