Rise Koreatown Complex in LA Secures $172M Refi
Rescore, affiliate of Encore Capital, completed the 363-unit complex earlier this year
---
---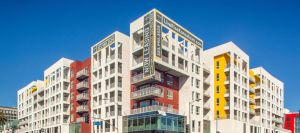 The developers of the new 363-unit Rise Koreatown residential complex in Los Angeles have secured funds to refinance the project.
Greystone and Affinius Capital announced Monday that they closed a $135 million mortgage loan for the seven-story, Class A, mixed-use development in the Koreatown district, the most densely populated submarket of L.A. An undisclosed pension fund also provided a $37 million mezzanine loan.
"The bridge loan serves as a construction takeout and features the option of a Greystone permanent agency financing upon stabilization," said Scott Chisholm, president and chief investment officer of Greystone Commercial Capital.
Records show L.A. County Employees Retirement Association previously provided $107.6 million in financing, which matured in October 2022.
Rescore Property Corporation, a private REIT and affiliate of Encore Capital Management, completed Rise in February with 363 apartments and 47,417 square feet of retail space over 2.3 acres near Western Avenue and Eighth Street.
L.A.'s Koreatown is the largest Korean enclave in the world outside of the Korean peninsula and has seen a rapid and significant construction boom over the past decade, with dozens of multifamily conversions, new ground-up development, ands strong restaurant and retail growth.
"The Koreatown submarket and Los Angeles as a whole have experienced strong rent growth coupled with high occupancy rates," Affinius Capital's managing director Tom Burns said.
The companies formerly known as USAA Real Estate and Square Mile Capital Management formed Affinius earlier this year, and the new firm says it has $34 billion in net assets under management.
Gregory Cornfield can be reached at gcornfield@commercialobserver.com.