Air Quality Measures for the Whole Neighborhood? A Tampa Project Tries It Out.
Developer SPP is also partnering with WiredScore on a new certification measuring connectivity across multiple buildings and plazas
---
---
Humans and nature have combined to magnify the summer season's intensity, making it a vast understatement to say that, more than ever, the heat is on.
Unchecked global warming, a migrating Saharan dust storm, and El Niño are all contributing to Earth experiencing possibly the hottest year ever recorded and accelerating the spread of potentially fatal air pollution.
A project in Tampa, Fla., showcases how communities on a very granular level are trying to boost awareness about the air quality index (AQI) and foster general wellness in the face of such challenges. And proptech is integral.
Water Street Tampa, a 56-acre mixed-use waterfront development in Downtown Tampa, has become the first neighborhood in the world to achieve a SmartScore Neighborhood Pre-Certification from WiredScore, the smart building rating systems company. WiredScore is piloting the community-wide certification that hopes to set a new global standard for technology in the built environment on a neighborhood level, including the measurement of air quality.
Tampa-based real estate development firm Strategic Property Partners (SPP) is behind Water Street Tampa. The developer partnered with WiredScore to receive the proptech company's certification.
"SPP has been a client of WiredScore for a number of years," said Andrew Freitas, director of business development for North America at WiredScore. "Our relationship kicked off at their newest office building on the Water Street campus, 1001 Water Street, where they pursued and won a WiredScore platinum certification for that asset."
In 2021, SPP started talking to WiredScore about how the developer was thinking about technology and connectivity more broadly across the entire campus site, said Freitas.
"It was very clear to us that they had really done some best-in-class and forward-thinking implementation of technology that was outside just the vertical assets and brought it into interconnectivity of the site in the public space experience," Freitas said. "We had a WiredScore-certified neighborhood designation in the past, which we actually had put on pause to do some work on product development."
Learning of SPP's interest in neighborhood interconnectivity, WiredScore's research and development team built out the SmartScore community certification, he said.
"SPP's Water Street Tampa is the first to pre-certify and they are undergoing a full certification process currently," said Freitas. "So, in real time, we are gathering all the data that they can share with us on specific technologies and solutions which will ultimately play into certification."
The greater Tampa region has become Florida's technology hub with startups such as Chicago-headquartered Kin Insurance, a proptech home insurance platform, opening an office there, and formerly Manhattan-based Funnel Leasing, a CRM and automation platform for multifamily operators company, moving to the city's Odessa suburb in 2022.
Tampa's focus on technology is well suited to SPP, which created a "technology sandbox" that provides a supervised and controlled ecosystem for tech companies to innovate and rapidly deploy their innovations, according to the company.
The developer has brought together a technology foundation through its physical design and in the normally unseen infrastructure that connects the community, including an underground communication corridor that houses 16 conduits connecting all the site's buildings, as well as dozens of smart light poles. The entire neighborhood is connected by a single secure wireless network, allowing anyone in Water Street Tampa to carry their individual network with them throughout all buildings and public spaces.
SPP is promising further foundational infrastructure support through forthcoming technology like smart kiosks, a district app and pilot programs, in addition to supporting current technologies like electric charging stations, management of the centralized district cooling system, utility systems, sensors and security.
In addition to the WiredScore certification, SPP's Water Street Tampa development was named the world's first WELL Pre-Certified Community.
"SPP saw an unparalleled opportunity to create a new neighborhood around Amalie Arena that would not only become a destination in its own right, but also connect various communities throughout the city to create one seamless Downtown Tampa experience," said Johan Koch, senior vice president at SPP, of the mixed-use project that broke ground six years ago. "Water Street Tampa is transforming 56 acres of empty parking lots on the waterfront into a full-fledged neighborhood that is connecting disjointed neighborhoods."
The first half of the Water Street Tampa development was completed in late 2022, said Koch. Four residential buildings, offices, hotels, nearly 50 retailers, and public plazas and parks are already built and operating.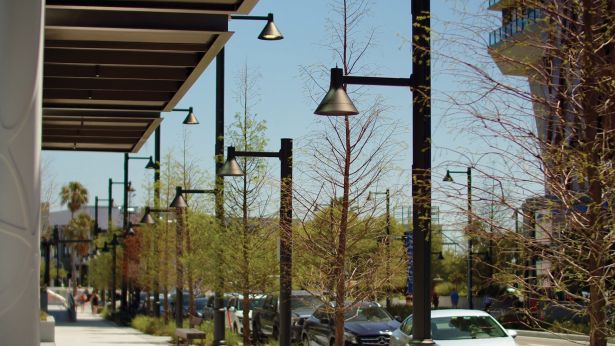 "The neighborhood currently features 180 smart light poles located throughout the district, as well as air quality sensors located in the heart of the neighborhood," Koch said. "All our technology and connectivity capabilities are designed to match the aesthetic of the overall neighborhood. The air quality sensors are no different from any other equipment attached to the light poles. They are seamlessly built into the fabric of the neighborhood."
As part of the development's WELL Community Standard Precertification, the sensors record AQI for the neighborhood, as well as microparticle measurements, which determine anything affecting air quality, such as smoke or smog. The sensors also record heat and humidity for the neighborhood, said Koch.
"We currently monitor air quality for the public realm of Water Street Tampa," Koch said. "Because the connectivity and technology infrastructure is in place throughout the neighborhood, we have the ability to easily scale our monitoring capabilities to include future phases of development."
Bringing such monitoring capabilities from an individual building's tenants to the overall community requires advanced technology on the street level, said Will Brouwer, the product manager at WiredScore who oversees office and neighborhood SmartScore certifications.
"SPP's neighborhood infrastructure is integrated with smart streetlights," said Brouwer. "The fiber will go directly into the streetlight, and that streetlight will then report not only network capabilities from a 5G Wi-Fi perspective, but also have integrated sensor units in the streetlight itself.
"The way I've seen this deployed elsewhere is in essence turning what is just a pure cost center for neighborhoods into something that can generate a positive experience for everyone within it. So it's not just providing an excellent lighting experience, but also the enabler of the neighborhoods' network. It's also providing all the data collection around air quality. The lighting itself is going above and beyond what you would see in a typical public realm, as it's so much more focused on providing the right level circadian rhythm, and not just off and on."
Providing all this data to the general public within the Water Street Tampa site was always part of SPP's overall plan, said Koch.
"The AQI tracked by our sensors is publicly available and located on our website, waterstreettampa.com, along with the weather forecast," Koch said. "Part of our WELL Community Standard Pre-Certification requires that air quality monitoring data be publicly available to our residents and office tenants.
"This allows everyone in, or visiting, Water Street Tampa to effectively plan their days and be aware of any issues. We're exploring including it in our office concierge app, as well as forthcoming neighborhood smart kiosks, but we're currently working through our app experience strategy."
Philip Russo can be reached at prusso@commercialobserver.com.