Queens' One Court Square Serves as Example to Other Older Office Towers
The ownership behind the Long Island City spire has adjusted to a post-COVID world with fresh tenant amenities and a veteran brokerage team. It's working.
---
---
Long Island City, Queens, has come a long way since the 1980s. 
While boomboxes, leg warmers and brick-size mobile phones may not have been typical sights on the predominantly industrial neighborhood's streets back then, neither was the persistent buzz of residential and commercial development that exists today. 
In 1989, however, things started to change when One Court Square, a 1.5 million-square-foot skyscraper built for Citigroup, emerged in the neighborhood like a shimmering emerald phoenix rising from the ashes. Twenty-five years later, Savanna acquired control of the 50-story building and initiated a different kind of green evolution — specifically, an extensive improvement campaign with a keen focus on sustainability. 
With a recent history that includes Amazon coming this close to taking 1 million square feet at the property before scrapping plans for its HQ2 in Long Island City, but also impressive follow-up retail and office leasing, the building has since experienced highs and lows worthy of a Greek tragedy. Still, Savanna says it is undeterred, and One Court Square's next iteration is now off to the races. 
"We've always thought it was a gem of an asset," Brian Reiver, chief real estate officer and head of leasing at Savanna, said. "In our view, it's one of the top assets outside of Manhattan in the sense that it's really an institutional, trophy-caliber asset that was built for, and by, Citi — with that unique type of horsepower behind it." 
LIC's Main & Main
The building sits on top of Court Square subway station, a mere few minutes subway ride from Midtown Manhattan, but part of the initial appeal of Long Island City for Savanna was that no such "Main and Main" existed there.
"In the past 15 years, you've seen an explosive rate of residential units, and some office, coming online in Long Island City — but it's not on a grid," Reiver said. "For us, One Court was the opportunity to create 'Main and Main' in Long Island City, both for office and retail — and we've been pretty successful to date in both." 
The firm recently made a significant capital reinvestment in the asset, further modernizing it and building out a top-tier amenity space on the building's 27th floor. It also invested over $7 million in infrastructure improvements to reduce the building's energy consumption and help tenants meet their own sustainability goals.
"Our work has been very tenant-driven, but also infrastructure-driven to respond to how big tenants operate in this market. For us, as an institutional owner, that's important to us, too," Reiver said. "We've done sustainability improvements, capital improvements, cosmetic improvements, and it's really allowed this building to find its place on the map."
With the building's continued evolution and next round of leasing firmly in mind, the firm engaged Cushman & Wakefield (CWK) as the property's exclusive leasing agent in May, with a team led by Ethan Silverstein, Bruce Mosler, Mitchell Arkin and Anthony LoPresti. Reiver describes them as "the most well-versed team in the Long Island City market." 
Occupiers today are looking for a lot of the themes that One Court Square offers, C&W's Silverstein said. "They're looking for direct access to transportation, column-free space and natural light — not just for employees on the window line, but for every single employee to be able to benefit from natural light," he said. "This building has an abundance of that as it's such a large tower in an area that sits around row line buildings." 
More than ever, prospective tenants are also keenly focused on the environmental impact a building has. "Savanna was very smart in pre-emptively doing a lot of that work," Silverstein said, adding that the developer now has anticipated savings of about 20 percent of energy usage just from the building's electrical retrofit that has taken place over the years.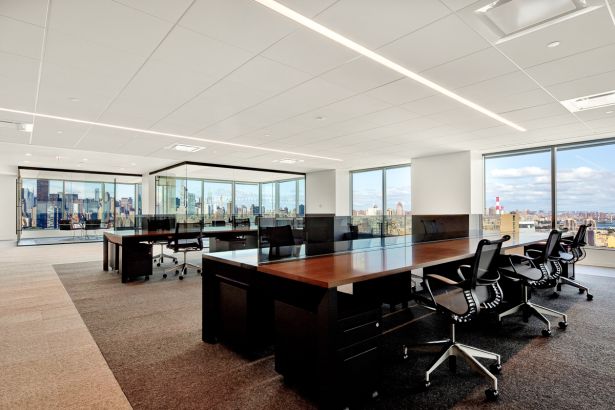 "I don't think you can underestimate just how important the sustainability portion of the decision-making process is today [for prospective tenants]," Silverstein said. "Eight years ago, a leasing decision was mostly made on a financial basis, with the CFO making the majority of the decisions. Today, you have almost every single member of an occupier's leadership team at the table, including the chief human resources officer and the chief sustainability officer. We can say that One Court Square is home to the largest electric efficiency retrofit in an office building in ConEd's history — and it's really cool to be able to say that."
With best-in-class tenant improvements as One Court Square's calling card, the 30,000-square-foot amenity floor — underway and being designed by Gensler — is now "the last missing piece for this building," Silverstein said.
Still, as Savanna was busy undertaking One Court Square's capital improvement work, it was also able to get good traction with tenants over the years, resulting in around 60 percent occupancy overall — so far. 
On target
It's now completed the retail repositioning at the building, perhaps most notably its 31,000-square-foot lease with Target. The retailer, whose customers famously go in for one item and come out with 20, opened in April this year, and has been "very successful" since its opening, Reiver said. 
The Target lease came hot on the heels of health care giant Northwell Health inking a 10-year deal for 42,000 square feet in January for offices and an urgent care outpost. There's also an array of fast-casual restaurants on the ground floor — Birch Coffee, Bonchon Chicken — and Savanna is currently working to seal a top-secret deal with a "more full-service restaurant" at the property, Reiver said. 
High-profile office tenants include the New York City School Construction Authority, which signed its 350,000-square-foot lease in October 2022 and whose buildout will be completed later this year; Centene, which leases 500,000 square feet; and Altice, which leases 100,000 square feet and whose signage now replaces the famous Citi signage at the building's crown. (Citi had wound down its presence in the tower by 2020.) 
With impressive leasing post-Amazon-gate now under One Court Square's belt, Reiver describes the building as a testament to the perseverance of Savanna as a developer.  
"This is an asset that has had some highs and some lows. It was going to be Amazon HQ, but we all know how that ended," he said. "But immediately following that implosion, we were able to complete the Centene transaction, and also the Altice transaction. A few months later we very nearly completed a large transaction that did not come to fruition due to the pandemic, so we pivoted to focus on some of the retail with Target and Northwell. So, I think One Court Square speaks very well to Savanna's perseverance and willingness to grind it out and not let setbacks set us back. 
"As we enter our next era of being fully stabilized or fully occupied, we've doubled down on our improvements, and we're really going to be focused on amenities that reflect what tenants really want to see and how they want to use space in today's era," Reiver said. 
King of Queens
For tenants, part of One Court Square's draw is it's tied into the major transportation nodes that service New York City from the suburbs, "much more readily than you may think," Reiver said, in the sense that you can cut across Midtown, get to Grand Central or Penn Station, and move north and south throughout Midtown easily. "The building has been well received by not only people who are based in New York, but also folks who come in from more suburban areas." 
Case in point: Altice was previously headquartered in Long Island, and Centene was in Rego Park, Queens, but wanted to be closer to Manhattan. 
"A lot of our early activity from a demand standpoint — right after the Amazon era, if you will — was from a wide array of tenants, and we've continued to see a wider array of industries focusing on this asset," Reiver said. "The post-pandemic reality we're now in is not easy, and I'm very focused on having the right type of environment for tenants' employee bases. That really informed how we went about the retail piece, and that has really informed what we're doing now with this next level of improvements with the amenities." 
The amenity floor will be focused on spaces that encourage collaboration and interaction, including an auditorium. It also will never leave tenants in the dark, so to speak. 
"When you're on the 27th floor of this building — I'm going to exaggerate a little bit here — but it might as well be the 90th floor of any other building," Silverstein said. " You're so far above every other building, and the amount of natural light is just phenomenal." 
From a design standpoint, the building features more natural tones — almost like what would be found in a hotel or a residence — which is handy as employers try to coax employees from their comfortable abodes and help solve the return-to-office quandary. 
"People don't want to come back into a stiff and rigid office environment," Silverstein said. 
Savanna is, however, betting that workers will want to come back to an office in Long Island City, and in particular One Court Square, as both continue their respective evolutions. 
"When Citi built this building, Long Island City was very different," Reiver said. "Long Island City is a small market, and when you see the amount of investment and development that went into that market, it's transformative." 
He compares it to Lower Manhattan's evolution as the World Trade Center was rebuilt and much of its inventory of B-minus office stock was converted to residential buildings. "We think what we've done — and what we'll complete now — reflects the evolution of One Court as it relates to the evolution of Long Island City itself," he said. 
Cathy Cunningham can be reached at ccunningham@commercialobserver.com.