Brookfield Properties, G&S Seal $420M Loan for Jersey City Multifamily Tower 
---
---
Big financings are as rare as hen's teeth today, but a recent groundbreaking just proved that they're possible — even in an increasingly difficult market. 
On June 14, Brookfield (BN) Properties and G&S Investors closed a $420 million construction loan for their new multifamily tower at 420 Marin Boulevard in Jersey City,  N.J., kicking off the second phase of their 18-acre, master-planned Hudson Exchange development. 
Union Labor Life Insurance Co. (ULLICO) led the construction financing, with Washington Capital Management and AFL-CIO Housing Investment Trust also participating as lenders. 
When completed, the 60-story building will include 802 market-rate apartments and house an 85,000-square-foot ShopRite. In total, the Beyer Blinder Belle-designed phase will span 1.3 million square feet with a total project cost of $620 million. 
ULLICO's Kevin Smith and Herb Kolben led the deal on behalf of the lending group, while Cooper-Horowitz's Richard Horowitz and Justin Horowitz negotiated the debt. 
Sitting just two blocks from the Hudson riverfront, the new tower follows VYV North and VYV South, two apartment buildings with views of Manhattan, the Statue of Liberty and Downtown Jersey City.
"We're proud to build upon the success of the first phases of Hudson Exchange, which include two residential towers, both of which were fully leased in record time, demonstrating that demand for quality housing in Jersey City continues unabated," Robert Pears, a vice president at Brookfield, said in a statement.
G&S Investors' Gregg Wasser, Steven Klaiman and Abe Naparstek led the deal on behalf of G&S. 
Between the tower's blueprint and its groundbreaking, the development partnership took great care to involve community groups in Jersey City in its planning, and work closely with both the City Council and Jersey City Mayor Steven Fulop's office. 
"We're ecstatic to close this loan and break ground on this project," Klaiman told CO today. "We've had a ton of community support, and the mayor's office has been phenomenal to work with." 
Klaiman said the development partnership engaged with the Jersey City community long before it went to City Council with its plans, gathering and incorporating feedback from 12 community groups in total. "These are assets we want to own forever, and community feedback and support for what we're building here is key," he said. 
An important part of the project's planning was incorporating a local ShopRite store in the building. The retailer has had a store location at the site since 1994, and its continuation there was key for the surrounding community. As such, the developers worked to relocate the supermarket in the tower, while also expanding its footprint in a way that was pleasing to the retailer.
"As third- and fourth-generation grocers, we take pride in listening to our customers to understand what they want and need from their neighborhood supermarket," said Larry Inserra Jr., chairman and CEO at Inserra Supermarkets, the owner and operator of the Metro Plaza ShopRite, said in prepared remarks. "This ShopRite location has supported the Jersey City community for three decades and we're thrilled to be able to provide them, as well as our staff, with an exceptional experience at Hudson Exchange."
The new ShopRite store will have a much larger footprint when it opens in 2026, with its current location remaining open during construction.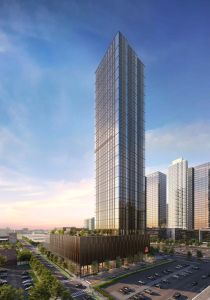 The surrounding community also asked the developers to incorporate more open space around the third tower, and as such it's now set to feature 20,000 square feet of public green space and a dog park. 
Consigli Construction is the project's contractor. 
ShopRite's roots at the site aren't the only ones that run deep — the deal parties' partnership also goes back several decades to the project's inception. 
"ULLICO is very pleased and honored to continue the relationship in the financing of the third tower," ULLICO's Kolben told CO. "ULLICO also financed the recently completed south tower that was done on budget and on time, demonstrating the benefit of combining a great sponsor team and union workers." 
"It's our pleasure to see this sizable financing closed in such a challenging market environment," Richard Horowitz told CO. "It's a testament to the deal's sponsorship, and we're grateful to our loyal capital partners." 
"We worked very closely with Cooper Horowitz and the lending group, and it was wonderful to do business with them again," Klaiman added. " In order to get a project of this size off the ground you need competent partners, and we're incredibly proud of this partnership."  
Cathy Cunningham can be reached at ccunningham@commercialobserver.com