The Storyteller: Ben Weprin's AJ Capital Is Crafting Its Next Chapter
---
---
"Mediocracy gets exposed when passion shows up," according to Ben Weprin, CEO of Adventurous Journeys Capital Partners. And his firm has been busy bringing its hospitality-driven passion to real estate since 2008, acquiring, developing and delivering top-notch properties across the globe.
Every investment AJ Capital adds to its portfolio tells a story. In fact, it doesn't want to do anything that doesn't have a story — because storytelling is the company's ethos.
Seeing a void in the market in university towns, the firm launched Graduate Hotels in 2014. During COVID, it didn't sit on its laurels but rather expanded overseas with the launch of Marine & Lawn—its destination golf hotels brand in the United Kingdom — and this year it launched outdoor recreation hospitality lifestyle line Field & Stream Lodge in partnership with Starwood (STWD) Capital. The latter, building on the Field & Stream outdoor retail brand, is now the next chapter in AJ Capital's storytelling modus operandi, which has brought it global success from Palo Alto., Calif. to  St. Andrews, Scotland.
Hospitality may be the protagonist in the firm's portfolio, but Nashville-based AJ Capital has plenty of orbital characters, too. It has invested $1.5 billion in eight opportunity zones, including a 24-acre development underway in Miami's Little River; recently launched a single-family rental business, Outpost Residential, targeting the Southeast, with land acquired in markets such as Austin, Foley, Ala., and Savannah, Ga.; and has also teamed up with country music star Eric Church to bring Chief's — a bar, restaurant and music venue — to Downtown Nashville. Most recently, on March 23rd, The Metro Planning Commission unanimously voted in favor of AJ Capital Partners' proposal for redevelopment of Belle Meade Plaza in Nashville, Tenn.  The approved plan emphasizes community engagement, green space, and livability, bringing 388 residential condos and apartments, 80,000 square feet of retail space, and a 78-key hotel to the area.
This interview has been edited for length and clarity.
Commercial Observer: How did the Field & Stream Lodge partnership with Starwood Capital come about?
Ben Weprin: Barry [Sternlicht] has been my friend and mentor for a long time. We've worked on things together over the years, and Field & Stream was an incredible opportunity to utilize our very complementary skill sets.
We've scaled purpose-built or specifically curated concepts in markets all over the world, and so there was a cross section of what AJ Capital is good at — and what we love — and Barry's experience in building brands and scaling hospitality. It was actually a really organic, natural conversation, like, "Why don't we just do this together?" And I was like, "OK. When do we start?"
Why build on the Field & Stream brand, specifically? 
Field & Stream is such an iconic American heritage brand with massive loyalty, and one that's built up a tremendous amount of trust over the years. To be able to pay tribute to that as a steward of its legacy with one of your closest friends is an incredible opportunity. It's also a huge responsibility we don't take lightly, but we think there's wonderful tailwinds here, and we're excited to build a story-driven product in a limited-service space, which hasn't really been done before.
Field & Stream has been around for 150 years and it'll stick around for another 150 as a very intentional, very inspired and very resilient brand. To be able to take that brand into outdoor recreational-driven markets — whether it's mountains, lakes, oceans or national parks — and to pursue a modern interpretation of the motor lodge and create new spaces in these markets and compete with a sea of sameness is a huge opportunity. There will be a lot of new build, and we'll do some renovation as well.
Mediocracy gets exposed when passion shows up, and people don't necessarily realize an existing product is stagnant, and not custom-built to outdoor recreational travel, or that their needs aren't being taken into consideration. When you're building a product, it's all about relating to a customer who then can say, "These people get me, and understand my needs and wants."
How did you first acquire this passion for hospitality?
I grew up in Dayton, Ohio, and I went to undergrad at the University of Tennessee. My dad was a commercial real estate broker, and I went to work at Marcus & Millichap in Chicago out of college doing low-income housing — Section 8 — on the west side of Chicago. I cut my teeth there, and then I went to work for Larry Levy, who is a serial entrepreneur, and that's when I was introduced to hospitality. He had bought an interest in the Esperanza hotel in Cabo San Lucas [on Mexico's Baja Peninsula], and also the operating company of Auberge resorts. That's really when everything went from  black and white to color for me.
I figured out that I wanted to make that my life's work, because I was so passionate about those types of play — I didn't know that type of thing even existed in the universe before then. Working with Larry opened up my ideas to exploration and travel and bespoke custom experiences in really distinguished markets and high-barrier-to-entry spots. And I was like, "OK. This is fun." 
What did Larry teach you that resonated with you?
Larry was super passionate about sports and restaurants. He started doing food service at sports arenas all over the country and became the largest food provider in that realm in the country. I watched him combine things he was passionate about within his professional career, so there was no line — it wasn't work for him, because he was just doing what he loved.
And so I fell in love with hospitality and design development, and the left brain-right brain magic of the process. I loved that you could create value and get immediate feedback with hospitality, and that there was an opportunity to express yourself and reflect the local market in the space you were creating. So, Larry did that, and I also did that on Larry's behalf.
In 2008, I put together a group and bought him out of his interest in that company and continued doing it in my own group. It was like a dog chasing a car [laughs]. We bought Hotel St.-Barth Isle de France, and then the Raleigh in Miami Beach in various partnerships. I didn't know what I didn't know, but I was willing to put in the work and the time and bang my head against the wall enough to try and figure it out.
We've since sold both of those assets, but we then started doing more urban hotels. Wherever we could generate alpha and create value by taking the same idea of resorts — high barrier to entry, distinctive — and applying it through physical spaces that connect with people. 
We did a hotel in my neighborhood at the time that was the old Days Inn [in Chicago's Lincoln Park neighborhood]. It had been shut down for four or five years, and we created this really fun hotel [Hotel Lincoln] with a lot of food and beverage, a lot of activation and programming. We then did Soho House in Chicago, and  some other deals. We were more of a producer then, bringing in third parties for everything. Then we decided we wanted to grab the mic, and sing our own songs.
Tell us about how Graduate started.
We saw an opportunity to create really meaningful experiences in university towns where the hotels were just completely uninspiring — despite the fact that people had high emotional connectivity to those towns.
Henry Ford said: "If you ask people what they wanted, they would have said a faster horse." When you put something new out there that doesn't exist, there's often so much resistance — but that's why I wanted to do it. We chose to take on this obstacle because it was an opportunity and because — if you get through it — you can distance yourself from competition and create real value.
What was your first Graduate Hotel?
When we started Graduate, we did three hotels at the same time: Oxford, Miss.; Athens, Ga.; and Tempe, Ariz. We had studied student housing and we saw a lot of student housing projects, and knew we could go in as Graduate and own the best corner in each market. Now, that's really fucking hard, but also the opportunity — so that's what we did. You have to be scrappy when you're an up-and-comer and upstart. And our mindset hasn't changed.
What did the naysayers say back then?
"Well, what are you going to do in the summer when there's no business?" or  "It's about football seasons? So you're busy seven weeks a year?" All those misnomers we knew weren't true. Summers are actually our busiest season  with camps and art fairs, and these are all culturally significant towns, not just university towns. A university is just the anchor.
Think about the pilgrimage you take with your daughter or son to visit a university. The same person that looks at Vanderbilt also looks at University of Virginia, looks at North Carolina, looks at Princeton. We've captured that entire business — which I call "visication." We also have a great first-mover advantage in the space, and because we blitzscaled it, it's now impossible to catch us.
We had a lot of unbashful optimism and ambition but it turns out the best idea that we had wasn't Graduate — it was building a business that could create Graduate with all these mission-driven people that are committed and love real estate and hospitality. Those people are a different species than your standard real estate folks. It's in your blood. You can't shake it — it's so contagious and infectious. Our people are all hustlers, because they all come from similar backgrounds, and they love hospitality. When COVID hit, it wasn't like, "Oh shit, what do we do?" It was, "OK, let's figure out how we're going to apply this energy." We started doubling down in terms of the platform-building with Marine & Lawn, and amping up our mixed-use projects — which are basically us applying a hospitality spin and understanding that space matters.
You recently added to your Marine & Lawn hotel portfolio in the U.K., with the Adelphi Portrush in Northern Ireland and also the Dornoch Hotel in Scotland.
When people take these once-in-a-lifetime golf trips, there's 10 places they want to visit, and Portrush and Dornoch are at the top of that list. They provide exceptional experiences in iconic towns, and while the hotels we acquired were brilliant, sometimes you need someone from the outside to come in and give a hotel the love and attention it deserves.
Now we have the playbook. We know where our customers want to be. We understand, from speaking with tour operators — and understanding it ourselves — these are the markets that people want to visit. So we want to build a hospitality experience that matches the level of the golf, because it speaks for itself.
It must be fun immersing yourself in completely new markets like Scotland.
Are you fucking kidding me?! It's awesome! If it wasn't fun I wouldn't do a deal [laughs]. These are culturally significant markets with real meaning and purpose, and they tell that story. They're so charming, sophisticated, unique. And this isn't specific to just Scotland. It's the same in Madison, Wis., or Princeton, N.J. There's so many layers to these small towns with big stories. I don't call it work travel. I'm going to learn and to be inspired. You know how sometimes you go on vacation and you have this almost-film on you that just sticks with you? Those places that leave the film are where we want to do deals. That's Graduate markets, Field & Stream, Marine & Lawn — they have that patina that's really meaningful, and you get addicted to it. I'm addicted to the process, the people and the places: those are the three P's.  I just made that up [laughs]. … I'm going to write it down.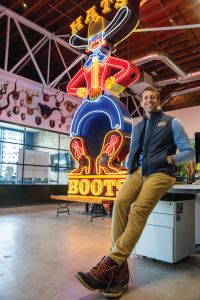 Was there a moment you said, "Hey, we can expand this to other asset classes like SFR"?
I was trying to envision all of these things when I was 21. You read about Jay-Z writing his Grammy speech when he was on the subway. I always knew this was something that I wanted to manifest or bring to life, but you have to build a track record, you have to prove yourself. You have to start super small, and build a real skill set and a differentiator. I didn't want to do anything that didn't have a story, because that's our ethos. Every product should have a purpose and fill some sort of void in the marketplace. We started with hotels, which is by far the most difficult asset class. You just have to prove to other people that you are capable — articulate your mission and get people behind it.
During the pandemic, we started to really focus on other product types and found new opportunities in these markets in the Southeast, which we have such high conviction in. Understanding some of the trends and the holes in the marketplace, we knew we could take our global outlook and apply it to really niche markets. Outpost Residential was a natural fit for us. Design and creativity are the last available competitive advantages, and so when we can marry those two at the intersection of what people want, whether that's single-family build-to-rent or office or retail, you create something with lasting value.
Tell us about your Little River project.
There's a lot of pattern recognition, very similar to our Wedgewood Houston project in Nashville a little bit outside of downtown: great architecture, great density, great character, charm, a really artistic community and safe haven. They are a lot alike.
We just thought Little River was in the path of growth, and the next Brooklyn, if you will, in Miami. It felt right and like an AJ project, and everybody that works here knows what that is. It has that story and there's the sense that there's a massive upside in terms of doing this, because of the scale, the density, and just the fundamental real estate metrics and momentum in Miami. The nice thing is both projects are in opportunity zones, which gives you a long period of time to curate the right tenants and be very thoughtful about their development. It's layered over time and very organic.
You mentioned the music venues you're working on. You're a big country fan, right?
I am. I love country music. We're doing a music venue with my best friend in Nashville, Eric Church, celebrating his career journey. It's a five-story, ticketed music venue and restaurant rooftop. It's insane. It's called Chief's. The music venue [vertical] was really born out of COVID when a group came to us and said, "Hey, we understand music and operations, but we don't do real estate. We think a lot of iconic venues are going to close, and you guys can help by keeping them alive."
I never once thought for one second that people wouldn't go to music concerts again. I knew it was temporary. So, we wanted to keep these venues open and not let them get torn down. Chief's is one of the craziest projects I've ever done and certainly the most personal project. It's in my backyard with my best friend, celebrating his life's work. It's a huge responsibility, but it's magic.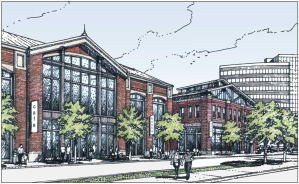 Do you sing?
I wish. I sing in the shower, and poorly. Nobody wants to hear me sing.
What's next for AJ Capital?
We're going to continue to figure out ways to evolve and stay current whilst celebrating the past. I don't know where we're going to go, I really don't — but it won't be boring. I promise you that.