Presented By: Christophe Garnier, CEO, Upflex
When a Company With the 'Coolest Office in NYC' Suddenly Goes Remote-First
Ceros was spending millions on their NYC HQ. Now, they're fully remote — and they're not looking back.
---
---
After the pandemic, companies around the world were forced to embrace a new approach to the office: workplace flexibility. As of late 2022, three out of four U.S. companies were already working at least partly remotely or planning to transition to a hybrid work model. They see it as a must when it comes to staying agile, cutting costs and competing for top talent.
For tech company Ceros, this sea change in the way we work was a major upset. Ceros makes software for interactive content creation, which is used by companies such as NBC, Red Bull, Buzzfeed and McKinsey. Before the pandemic, its 20,000-square-foot New York headquarters was a design destination to rival any tech giant: Instagram-worthy brainstorming spaces decked out to themes like the 1960s (vinyl records, a lava lamp); an authentic "British pub" space with a rustic, dark wood, 12-stool bar, vintage arcade games and leather club chairs; and a light-filled, whitewashed hidden meeting room accessible by way of a sliding bookcase secret door.
The NoMad space was unveiled six years ago, designed to reflect the company's creativity and culture, and to help make sure "the office" would always be a place for inspiration, fun and collaboration. It worked: The space raised the company's profile, drawing "best workplace" and "coolest office" praise from Business Insider, Fortune and Inc. It wowed job candidates and thrilled existing talent.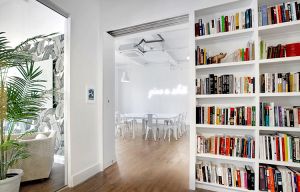 But we all know what happened next: The pandemic swept New York and the world. Suddenly, Ceros' employees weren't so excited about coming into the office anymore, regardless of how many perks it offered.
Luckily, despite their all-in investment in a brick-and-mortar traditional office, Ceros was open-minded about what work could look like. They pivoted.
"I was an everyday-in-the office kind of guy, and it felt like that was how I'd build culture and connectivity between myself and the team," Ceros CEO Simon Berg told BBC in November of 2020. But after spending more time with his own family during the first year of COVID-19, he was quick to let go of the idea of the office as the single, key embodiment of company culture and to embrace the workforce's call for, as he put it, more "autonomy, mastery and freedom in their life."
From fall of 2020 forward, Berg imagined Ceros' destination office would be a space for "hyper-impactful and very focused" collaboration.
Ceros leadership told employees that they could live anywhere they wished — they wouldn't be required to be close to the New York City office. Almost immediately, employees started relocating to other states. In this trend, the company saw opportunity.
"We changed our hiring policy to recruit from anywhere around the world," he said.
Ceros's leadership realized remote work was here to stay — and they needed better ways to enable it. They began looking at options like Upflex, which provides an all-in-one solution for remote-first and hybrid companies, comprised of a seamless, simple and secure booking platform, a dashboard full of utilization data to allow managers to see and understand workspace needs and manage spend, and a global network of third-party flex workspaces, from some 1,200 brands in more than a thousand markets.
A million-dollar budget to reimagine the office
In switching to a remote-first company, Ceros was hiring without boundaries, and its employees were even happier with the flexibility to choose where they worked than they had been commuting every day to one of New York's coolest offices.
"COVID was the catalyst that drove our company into a remote-first workplace for all employees," Ceros CFO Rob Bender told me. "In 2020, we proved that Ceros could not only survive while employees worked remotely, we could thrive in that environment."
And in the two and a half years since that point, Bender said, the company's leadership came to understand that this impactful, focused, collaborative work didn't need to cost the company "well over $1 million per year" in rent. "It became apparent, quite quickly, that we no longer needed the N.Y.C. office."
"The majority of our employees were located in the tri-state area, and every employee in the Northeast was expected to be in the office every day," Bender said of the company's pre-pandemic approach to the office. Despite it being "a fabulous office environment that was the envy of everyone who visited," Ceros decided to redistribute the funds — more than $1 million per year — to explore a hybrid work pilot.
"Our objective was to reallocate resources that were once only used to support employees in the tri-state region to support employees all over the globe," Bender said.
As New York City's pandemic restrictions were rolled back and the sublease market perked up, the company found subtenants to take over the lease at Ceros HQ. The $1 million-plus spend that had gone to rent there could now go into workspace needs — and employee experience — in other ways.
They knew what they wanted in their future office strategy. Now, they needed to operationalize it.
That's when they approached my Upflex. Upflex's workspace strategy advisors worked with the Ceros team to design a custom workspace strategy that was still reflective of its culture and creativity, and that still championed the office as a place for fun and collaboration — but that was fully remote.
A workplace without boundaries
Ceros came to Upflex with three key requirements, Bender said: "(1) the reservation process had to be seamless and intuitive; (2) the physical spaces had to be safe and appealing; and (3) there needed to be office spaces available all over the world."
With Upflex's customizable solutions built for enterprises and midsize global companies, Ceros found all three. The platform's space network spans more than 100 countries, giving Ceros employees access to safe, secure, amenity-rich spaces, from WeWorks to luxury airport lounges.
The company now uses Upflex's On Demand solution — a flexible, scalable offering that allows employers to pay for only the workspace they actually need — in order to book desks, meeting rooms and private offices.
"Nearly every Ceros employee has reasonable access to an Upflex location, and we've reduced our office expenses by an order of magnitude," Bender said.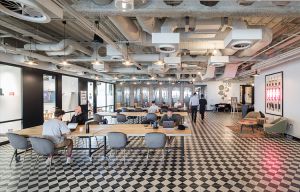 The company also gained access to other benefits like actionable utilization data in Upflex's management dashboard, which for the first time showed them who is using what kind of space, where and when. "We looked for concentrations of employees in cities and states, usage patterns, and whether employees were looking to work alone or collaborate with colleagues," he added. This allowed leadership to plan and budget ahead to understand workspace needs, even with office spaces in use sporadically all around the globe.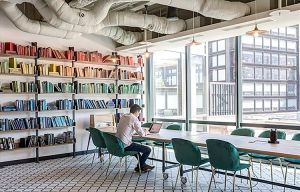 Tech that works for management and employees
Entering the third year of their "remote first" model, the response from Ceros' workforce has been positive. According to Upflex data, three out of four employees who've tried Upflex in the pilot have booked multiple times. As of the start of 2023, the Ceros team has booked at nearly 200 different workspace locations in more than 65 cities. Favorite spaces include high-design, boutique coworking spaces that aren't so different from the company's former HQ: in Manhattan and Brooklyn, color-conscious, Midcentury mod the Malin; in London, Mindspace in Shoreditch.
Leadership notes that Ceros employees love being able to book a conference room to meet and collaborate face to face with colleagues when they need it — but after a couple years of working from home, they're just as happy to have a comfortable, connected place to work independently outside the house.
According to Bender, the company's commitment to a remote-first work environment has been instrumental in retaining and attracting the best employees. At the very top of the list of the company's benefits — which include career development opportunities, 401K matching, unlimited vacation days and "Wellness Fridays" (where the workday winds down at 1 p.m.) — Ceros touts their remote-first workplace policy and home office stipend.
'A change of venue can make all the difference'
Ceros is seeing employees utilizing Upflex bookings for in-person collaboration. "Quite frankly, there are certain processes that don't translate well to video conferencing," Bender said of remote work. "Brainstorming, group problem-solving and creative idea generation are far better in person. We are excited to see our employees utilizing Upflex bookings for those activities."
This is right in line with CEO Berg's vision for the purpose of the office back in November of 2020. But Ceros leadership is also seeing that individual employees are making use of Upflex too, for a change of scenery from the home office — whether they're looking to escape distractions at home and find a quieter place for productive, heads-down time, or on the flip side, feeling isolated at home and in need of a workspace that offers opportunity for human interaction.
"These last few years have been trying for all," Bender said, "and sometimes a change of venue for the day can make all the difference."
Rethinking the office? Companies looking to shift to a sustainable, long-term hybrid or remote work model can connect with an Upflex workspace strategy advisor to talk about a custom-fit solution.