Updated: NASCAR Sells Calif. Auto Club Speedway for $559M
Property set for an industrial project with 6.6 million square feet of logistics space
---
---
Decorated stock car driver Kyle Busch on Sunday secured the checkered flag for the final NASCAR race to take place at what is now known as Auto Club Speedway in Southern California.
Ross Perot Jr.'s Hillwood Development Company put down $559 million to acquire most of the 633-acre property in San Bernardino from NASCAR, according to data provider Vizzda. The two-mile racetrack that seats about 122,000 people is now set for a massive industrial redevelopment.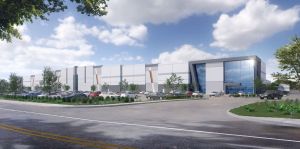 Neither Hillwood nor NASCAR returned requests for comment. NASCAR had announced this year that Sunday's race would be the last at the track as it currently stands, although the association retained about 90 acres for a potential half-mile track.
According to Corion Properties, which represented NASCAR in the transaction, total consideration for the project exceeded $800 million.
CBRE (CBRE) Investment Management on Tuesday announced that 364 acres at the site are set for a major logistics development called Speedway Commerce Center, which will be the first phase of a larger development. The project at 9300 Cherry Avenue in Fontana is entitled for up to 6.6 million square feet of warehousing space. The second phase, encompassing approximately 69 acres, is scheduled to close by December 2026.
"The ACS logistics center is a true 'unicorn' site and perhaps the best site of its size in the entire United States," Corion's founder and CEO Fred Cordova said in a statement.
The Inland Empire is the one of the top industrial markets in the nation with a vacancy rate of 1.2 percent and rent growth of 35 percent in 2022, according to CBRE. Fontana's vacancy rate is 0.3 percent with rent growth at 37 percent over the same period.
"The availability rate for Class A buildings larger than 500,000 square feet in the entire Inland Empire is 0 percent," CBRE's Mary Lang said. "Speedway Commerce Center offers an extremely rare opportunity for us to invest in what we believe is irreplaceable real estate of scale in one of the top distribution markets in the world. We will be able to provide brand-new product in the most undersupplied size segment within this high-growth infill market."
Cordova, alond with Corion's Ravi Choudhry, Al Grazioli and JoAnn Horeni represented NASCAR.
Gregory Cornfield can be reached at gcornfield@commercialobserver.com.
UPDATED: This article has been updated to include the total sales price of the larger development area, as well as additional commentary and details from parties familiar with the deal and development.
9300 Cherry Avenue
,
Auto Club Speedway
,
California Speedway
,
Hillwood Development Company
,
Mary Lang
,
NASCAR
,
Ross Perot Jr.
,
slideshow
,
Speedway Commerce Center
,
Vizzda
,
CBRE