Presented By: VTS
VTS Rise: Remote Control for Tenants; Customer-Renewal Platform for Landlords
VTS Rise is just the tool they need to help keep tenants happy and healthy coming out of the pandemic
---
---
The VTS leasing and asset management platform allows office landlords to manage all aspects of their properties within one interface. Introduced in 2012, VTS has become commercial real estate's fastest-growing technology company and most widely adopted software platform, currently managing 12 billion square feet of commercial real estate across 85,000 assets in 34 countries.
So, when VTS announced in March that it had acquired property operations and tenant experience company Rise Buildings, with plans to integrate it into the company's current platform, the opportunity it promised for landlords was a game changer.
VTS Rise redefines the tenant experience category by delivering value to not just the occupier, but the landlord as well, while digitizing the entire asset lifecycle. VTS CEO Nick Romito said his company made the strategic decision to acquire Rise, due to the obvious need by landlords today to increase connectivity with tenants beyond just lease negotiation or property management activities.
"Now, more than ever, landlords need to offer all they can to incentivize tenants to come back to the office," said Romito, referring to how office workers have settled into work-from-home routines during the COVID-19 pandemic. "You have to give tenants technology that incentivizes them to return to the office by making their day-to-day routines easier once they're back. It's about automating their entire workplace experience, making the workplace more functional, and bringing the entire office experience into the 21st century."
VTS Rise adds a much-needed level of operational functionality to tenant apps, allowing tenants to do everything on their phone — from summoning an elevator to booking conference space, and even paying rent — turning the concept of "tenant experience" into a blend of function and fun.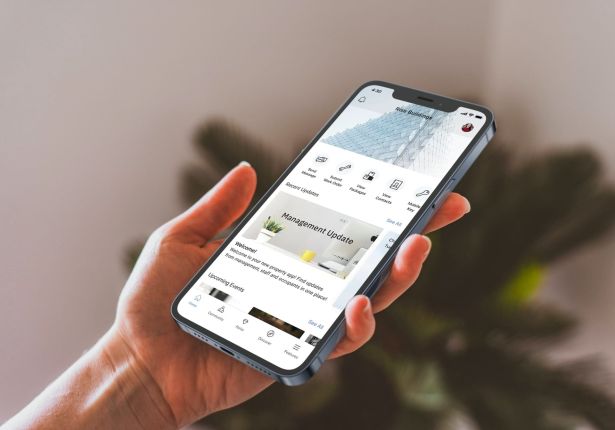 During the planning phase, leading up to the acquisition, Romito said that VTS saw how other tenant experience technologies misunderstood how to truly engage with a building's population in a way that drives value for all stakeholders.
"Traditional tenant experience applications were meant to help someone buy coffee or find a yoga class. As a result, adoption of those applications was extremely low: sub-10 percent," said Romito. "Our belief was that tenant experience has to include functional things, like: How do I get into my building with my phone? How do I book a conference room? How do I automatically send someone coming to the building a visitor's pass?"
Romito sees Rise's practicality as key to convincing workers that office life can be conducted efficiently and safely. Among the many functions that VTS Rise digitizes are a building's COVID-19 safety protocols, such as informing users when the conference room was last cleaned or the current occupancy level in the building's gym.
Some of the technology used for this offers other benefits as well.
"We have a patented beacon technology, a sensor technology, that tells you what amenities are being used throughout an asset, how often, and what times of day," said Romito. "This level of data gives you additional insight into property investments. If you've spent $5 million on a shared amenity floor, for example — whether or not it is actually being utilized and by which tenants — so you can answer questions around whether CapEx projects are actually driving value to the occupants of the building."
For all these reasons, Romito regards Rise as the perfect complement to the leasing and asset management functionality of the long-standing VTS platform and its additional offerings.
"Rise focused on the entire curb-to-suite experience for tenants — from getting into the building, to getting up the elevator, to getting in your space, to operating in your space — which was very different from anything else on the market," said Romito. "Rise focused on the hard stuff first: access enablement, visitor management, native integrations with all the hardware and systems in the building, and then automating the experience for the tenant everywhere. The integration component of these platforms is important, and the maturity around the native integrations that Rise has, their technology, and their technical team was extremely unique. They made a significant investment that no one else had come close to."
From the landlord perspective, VTS Rise offers leasing and asset teams real-time insight into building performance
and tenant engagement. Romito notes that it marks the first time that landlords can extract a concrete benefit from a tenant experience application, something physically tangible.
"Landlords using VTS Rise will have all the information they need about every tenant's lease," said Romito. "At a glance, they can see their team's most recent update with a tenant. They're going to see occupancy data, utilization data, survey data, and work order data — all in one single view that they could not physically see anywhere else."
Romito points out that this in-depth functionality will be completely unique to VTS Rise, and that — given the turbulent state of the market — functionality has never been more important for office landlords.
"This is going to be a renewals market for the next 18-24 months," said Romito. "Because of that, it's never been as important to make sure your tenants are happy, and that there are no surprises when it's time to renew them. Having any of the data points we're tracking in a silo would make it really hard to do that. What VTS does is give your team all the contextual data they need to understand: Are our tenants happy? What is the probability of renewal, and what are the things we need to focus on to make sure they're where they need to be?"
Part of what makes the VTS Rise technology unique is that it includes not just software, but also hardware, allowing it to integrate with any building, no matter how old or less technologically advanced. And, since Rise is now fully integrated into every aspect of the VTS platform, this will include VTS Market — the company's marketplace and marketing platform. This means that in addition to building updates or other important communications, tenants in your building can get early access to new space in the building, experience it from the app, or book a tour with their broker.
Given the myriad challenges office landlords will face as we navigate the tail end of the pandemic,.
"Just letting your tenants know that you've complied with social distancing is not motivation enough to get them to come back to work," said Romito. "They need to feel like you're giving them a remote control for their entire workplace experience. If owners are not being proactive in doing that, it's going to be really hard to get employees back in seats. We acquired Rise because it was the best technology in the world to provide that level of sophistication for landlords and tenants alike."