Presented By: Cushman & Wakefield
Cushman & Wakefield's Josh Kuriloff on How 35 Years in CRE Prepared Him For 2020
---
---
Cushman & Wakefield (CWK) Executive Vice Chairman Josh Kuriloff has seen it all over the course of a 35-year career in commercial real estate. But even those who've seen it all have never seen a time quite like the past year. Commercial Observer caught up with Kuriloff to assess where New York's CRE industry stands after this trying year, and to discuss his illustrious career.
Commercial Observer: What is your take on the state of the office leasing market today?
Josh Kuriloff: We're seeing pent-up demand. In buildings where we represent landlords, we're seeing an increase in tour activity, and we're starting to see a lot of LOIs get exchanged. We're seeing a flight to quality and to new construction as well. Still, in the months to come, tenants will have lots of options, there will be fierce competition amongst landlords, and all of this will continue to put pressure on net effective rents in the short run.
Do you think the hybrid workforce and work from home are here to stay?
Corporate occupiers are still trying to figure that out based on their ability to recruit and retain talent. According to most employee surveys, the one key ingredient every employee wanted, regardless of demographics, was flexibility to work remotely. So I do believe we'll see some form of hybrid workplace going forward. Personally, though, I think collaboration, onboarding, learning, mentoring, and unplanned collisions take place in the office. It's harder to feel like you're a part of the company's culture on Zoom calls. That said, it would not surprise me to see people actually wanting to be in the office at least four days a week, if not five.
Many CRE veterans shifted to more of an advisory and thought leadership role over the pandemic. Talk about your own shift in that direction, and how it impacted your relationships with your clients.
I have to give credit to the Cushman & Wakefield C-suite. From the start of the pandemic, they developed a strategy to provide a tremendous amount of future of the office thought leadership. Being a global company, this included what we were learning from China, since Asia was ahead of us with the pandemic. We came up with a Recovery Readiness guide. We piloted with George Washington University to figure out the future of the office. We emphasized economic and real estate forecasting and also did a survey of over 50,000 employees around the world asking them questions about working remotely and productively. We produced one-of-a-kind, incredible thought leadership. For eight or nine months, I was on non-stop calls sharing that thought leadership with our clients. We were asking them questions and learning from them as well, so it really was a two-way collaboration in many cases.
Which transactions of yours were pivotal either as learning experiences or for helping catapult you to a higher level?
My most memorable experience is the relocation of Pfizer's 825,000-square-foot global headquarters to 66 Hudson.  Pfizer was the anchor tenant in a building being developed by Tishman Speyer. Pfizer wanted to create an exclusive experience at the building, so we created a building within a building with a private lobby on 34th Street, with escalators going up to a mezzanine level and then an exclusive bank of elevators. We – including my partners, Adam Spies and Josh King – also sold their two buildings on the east side of Manhattan, where they've been located for 55 years. That was a $350 million sale.
Another great and memorable transaction was renaming Sears Tower to Willis Tower. There were over 35 different ingredients that had to be renamed – not only the front door signage, but security uniforms, doormats, bathroom doors, the gift store. We actually needed trademark attorneys, because the question came up about who owns the name Willis Tower. It was the first and only time in my career that we had a trademark attorney engaged in a real estate transaction.
Which of your transactions do you think have had the greatest impact on the built environment?
We represented Brookfield at Manhattan West, a master planned community of over seven million square feet, with my partners Bruce Mosler, Robert Lowe, Ethan Silverstein, and Matthias Li, and together we transformed the West Side with this project. Brookfield was brilliant in developing and designing an amenity-rich, 24/7 ecosystem. We've leased five million square feet in Manhattan West over the last few years, including for Amazon, JP Morgan, Accenture, and Cravath.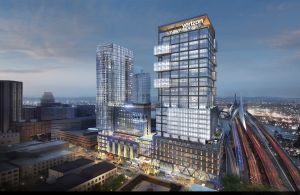 Another example is when we represented Verizon in a 425,000-square-foot anchor tenant lease with Boston Properties at a building known as the Hub, which is adjacent to TD Garden Arena in Boston. This flagship lease will transform the skyline of Boston, as it is the tallest building built in the last 25 years. We had the unique opportunity to transform the design of the building. A brilliant real estate executive at Verizon had a vision to redesign the curtain wall from a traditional glass curtain wall to a "techy" designed curtain wall. In addition, Verizon had the vision to relocate mechanical equipment on the roof of the building and repurpose it to an extraordinary indoor/outdoor roof deck with views of the Boston skyline. Lastly, we were able to negotiate with the mayor of Boston to bring three large, illuminated, top-of-building Verizon signage that will have the unique ability to change colors. This transaction exemplifies the collaboration between two large institutions that were nimble in redesigning a real estate asset that will forever impact the skyline of Boston.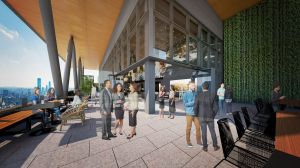 You've been the top producer at Cushman & Wakefield for two of the past three years. What are some of the traits it takes to be successful in the very competitive New York City office market?
If you want to be in commercial real estate, be prepared to work 24/7 and never waiver from being an agnostic advisor to your clients. I talk to my colleagues and clients at night and on the weekends. The second ingredient would be, never stop learning. I took real estate classes at NYU as recently as about four or five years ago. And, probably the most important, know your expertise. Know what you're good at, and then align yourself with talent on things you are not good at, which I've been fortunate enough to do at Cushman & Wakefield.
For brokers who joined the industry just before the pandemic, do you think the year we just experienced will help them grow in the long run?
I'm a true believer in adversity making you stronger. I believe that going through these events makes you a better person and a better professional. What young brokers need to understand is that you are constantly planting seeds, and you hope and dream that they'll grow into large trees. So, continue to bring value to your clients, whether or not it's revenue-producing for you or your firm. This is a long-term business. Remember, it is a marathon not a sprint.
Where do you think New York City stands today, and how do you see it making its comeback?
I truly believe the city will come back stronger. It's going to rebound quickly. We do have some issues that need to be dealt with, especially crime and homelessness, but what makes this city great is the diverse young talent. So many young people decide to start their careers in New York City and end up planting roots. I have complete confidence that this city will become vibrant again soon. Stay tuned for New York 2.0. It's coming back better than ever.