Presented By: Fisher Brothers
Fisher Brothers Leads Experiential Trend With Las Vegas AREA15 Success
---
---
With major holdings in New York and Las Vegas — two cities hit particularly hard by the pandemic — it's impressive that the diversified national real estate firm Fisher Brothers has fared well over the past 12 months. Commercial Observer spoke with Winston Fisher, a partner at Fisher Brothers and CEO of AREA15, about how they have prospered in light of this tumultuous year. 
Commercial Observer: How has Fisher Brothers fared throughout the pandemic? What changes have you made to your management style to encourage a safe return to the office?
Winston Fisher: Fisher Brothers has strategically occupied its portfolio with tenants able to withstand economic uncertainty. While physical occupancy has remained low, we have taken extensive precautions and are prepared to welcome our tenants back as soon as they feel comfortable.
Long before the pandemic, optimizing our tenants' health, safety, and wellbeing have been paramount to our management style and a core pillar of our business. We have taken a hands-on approach to the implementation of COVID-19 safety protocols, undertaking extraordinary infrastructure upgrades to retrofit our commercial portfolio with hospital-grade air filtration systems, contactless building entry, thermal scanning for body temperature, and more.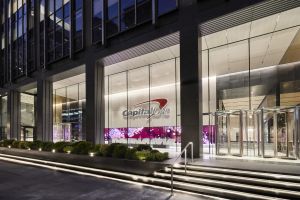 Our commitment to a comfortable and safe return to work is evident across the portfolio. We have partnered with Kastle Systems — America's largest, managed security services provider — to implement KastleSafeSpaces — an integrated, building-wide plan to help protect the health and safety of employees returning to the office — and have earned WELL Health-Safety certification across our New York City commercial portfolio. 
Fisher Brothers recently launched a new hospitality brand. Why did you decide to unveil this concept now? 
We've learned that providing amenities, meeting tenant needs, and creating spaces for collaboration that serve as the epicenter of a business' universe is no longer a luxury — it is a must-have. We developed a bespoke hospitality platform, Ease Hospitality, to blend hotel-like amenities and functional office facilities.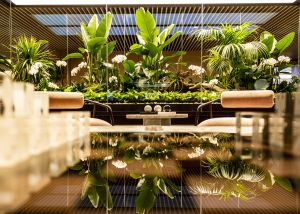 The newness of this notion is the way in which Ease Hospitality bridges the gap between work and home by delivering amenities that add value to our tenants' day. A true amenity is a lifestyle solution, blending the comforts of the physical and convenience of digital landscapes. 
You opened AREA15 during the pandemic. How has the community received this new venue? What is the appetite like for attractions like AREA15?
The pandemic has shifted consumer perspective, placing greater value in human connection and driving consumers to actively seek experiences. In response to this heightened demand for in-person, out-of-the-box experiences, we opened AREA15 in September 2020. AREA15 is a first-of-its-kind, experiential and immersive retail, dining and nightlife district located a few minutes off the Las Vegas Strip. Through the uncertainty of the pandemic, the future of immersive entertainment is clearer than ever before. 
By adapting and adjusting our ambitions to ensure the space met the latest recommendations of leading health experts and government authorities, we successfully created a safe environment for people to get a taste of the interconnectedness and experiences we have been missing this past year. 
For AREA15's opening weekend, reservations were sold out within 24 hours and AREA15 has
fully leased our retail tenant space. People have safely gathered at AREA15 to be transported
to an alternate reality, and experience all of the excitement and wonder for themselves.
We will continue to see a radical acceleration away from traditional, transactional retail to a greater demand for immersive experiences, storytelling, authentic connections, and experiential entertainment. 
New York and Las Vegas, both significant markets for Fisher Brothers, were among the hardest hit by the pandemic economically. What do you think the future holds for major urban areas like these across the country?
I'm a big believer that cities will recover quickly. People are craving for social interactions that can only be found in places like New York and Las Vegas. I think we're heading towards defining a new normal — learning from the challenges of the past year to come out stronger. 
In addition to continuing to encourage vaccinations, what are some things you think these cities have been doing correctly to help get us back to normal? And what are some things you think they should be doing in addition to further spur economic growth?
First and foremost, we need to make people feel safe. City leaders across the country stepped up to fill a national leadership position that was otherwise missing and took a thoughtful approach to shutting down and eventually reopening their cities. But, to get us back to normal and encourage economic growth, we need our cities to be viable places to do business in order to revitalize our economy. 
In the post-COVID world, it will be more important than ever that we implement smart, thoughtful policies that encourage economic activity. We need to be pro-worker and pro-business and work together to make it easier to live in cities like New York by expanding child care options, access to credit for small businesses, affordable housing and access to good jobs that fill the gaps in our economy.
Where do you see the future of New York heading as we move past this pandemic? 
New York needs to be more pro-growth, accessible, and provide opportunity in order to be competitive and attract business and top talent that is vital to everyone's success.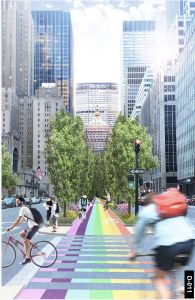 The pandemic has changed the way we interact with New York, and I am committed to creating public spaces across New York City that are accessible and equitable to transform how millions of people experience the city. A few years ago, I organized "Beyond the Centerline," a design competition to reimagine the center malls on Park Avenue. There is 80% less open space per office worker on Park Avenue compared to similar office districts in New York. And as construction begins on Metro North's 20-year plan to tear up much of Park Avenue, as part of the work to rebuild the underground train shed, we are advocating for a creative, design-led approach to the replacement of the malls.
We have an opportunity to rebuild a city and an economy that is sustainable and good for everyone. 
Tourism, entertainment, retail, and hospitality were especially hard hit throughout the pandemic. How has AREA15 been so successful and what can the industry learn from these successes?
AREA15 is successful because it is unconventional and surpasses our visitors' expectations. 
We are constantly pushing the boundaries to create a portal that fulfills a fundamental need for connection and redefining the traditional retail and entertainment model. AREA15's success has revealed how blurring the boundary between commerce and the experience economy was the wave of the future for the retail landscape before the global pandemic. Before COVID-19, the shift away from traditional retail and entertainment was beginning because of a desire for artful new forms of entertainment that provide immersive experiences, authentic connections and real emotions. 
We have entered an age of immersive entertainment and retail, and we need to foster the creative capacity this shift will require.