Populous' Jonathan Mallie on Designing Entertainment Venues of the Future
---
---
Jonathan Mallie designed a $500 million entertainment venue in Toronto from 500 miles away, in his home in New York, without ever seeing the site. Before 2020, he wouldn't have thought it possible — but, then, 2020 was a year when the impossible kept happening.
Mallie heads up the New York branch of Populous, a multinational architecture firm headquartered in Kansas City, Mo., that specializes in large sports facilities and entertainment venues. Their projects include the T-Mobile Arena in Las Vegas, Yankee Stadium in the Bronx, a giant speed-skating rink in Beijing for the 2022 Winter Olympics, and the nation's first esports arena in Philadelphia.
Mallie, one of the lead designers for the Barclays Center in Brooklyn and the home stadium of the NBA's Cleveland Cavaliers, joined Populous from SHoP Architects in 2015, and opened its New York branch. He is currently leading several of the firm's projects, including a soccer stadium for FC Cincinnati, scheduled to open in May and recently named TQL Stadium; an entertainment and esports venue in Toronto's historic Canadian National Exhibition grounds; and a training center for the NFL's Carolina Panthers in South Carolina.
All three of the projects, each at various stages, all designed to bring people together, proceeded during the pandemic, even as the very premise the venues were designed for was being threatened; even as stadium stands remained empty, concert halls silent, and convention centers shuttered.
But things are starting to turn around. Mallie made his first trip in a year in early February to tour the FC Cincinnati stadium with Jeff Berding, president of the club. "I stood inside the bowl, the seating bowl for the first time, and it was an incredible feeling," Mallie said.
The type of work that Populous does puts the firm, and Mallie, at the forefront of new trends in live sports, evolving expectations from a new generation of fans and audiences, and the relationship between physical space and digital media.
Commercial Observer caught up with Mallie in the firm's brand-new New York office in the Starrett-Lehigh Building, which the company moved to last summer, to discuss architecture in the age of COVID, the specific projects in Mallie's pipeline, and the way the pandemic has changed live sports.
The following is an edited version of the conversation.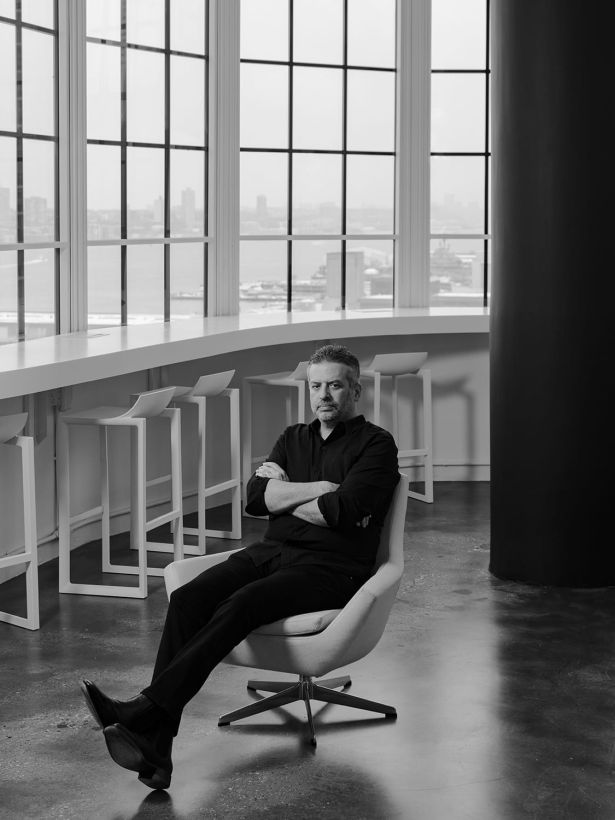 Commercial Observer: Let's start with your background. How did you get from grad school to Populous?
Jonathan Mallie: I'm from New York, born and raised. I've wanted to be an architect since I was maybe 10, started with Legos when I was maybe three or four, and haven't really stopped. I graduated grad school in 1999, Columbia, so [I've been a] practicing architect since '99.
I did a lot of work in the earlier years in New York City with my former firm. And, at one point, in 2013, I teamed up with Populous on a few projects, and that's where I met a few of my partners and created some incredible, long-lasting relationships that stand to this day. So, I chose to reconnect with some of those folks, I guess, five years ago, and discussed opening up a New York office. And here we are.
What are some other projects that you've done over the course of your career in New York?
So, I think one of the first projects was the Porter House, which is a residential condominium project in the Meatpacking District. Barclays Center, I was one of the lead designers and co-principals in charge for that project, as well as the recently renovated Quicken Loans Arena [now known as Rocket Mortgage FieldHouse] in Cleveland, which was an exciting project as well.
What have you been up to this past year? Give us a recap.
Well, it's certainly been a hell of a year for everybody, obviously.
The most incredible thing, in terms of positives that's happened over the year, is just our ability in the work environment to figure it out, to find new ways of communicating and, in many ways, bringing us closer together. And that's hard with design, you know, because we, as designers, want to be in the same place, we want to pin stuff up on the wall, we want to interact, we want to share and communicate. But, we figured it out.
Personally, [it's been] incredibly interesting to spend this much time with the family. I've been with my kids for dinner at least 99 percent of the days over this past year, or whatever it's been, and that's special. And I'm thankful for that. Obviously, there's plenty of people who haven't benefited in that way.
And that was because of the commute, that you weren't home as much?
Travel. I was on a plane probably two to three days a week on average for the better [part] of the past decade. Many of us in the practice that do that amount of travel, whether it's intercompany meetings, conferences, board meetings or client interaction, going to our project sites, those are the things that obviously scaled back. So, it completely changed our way of working.
In what way?
With Kansas City being a hub in the U.S., the larger population of people working for Populous in the U.S. are in that office. For them, [it's been] a little bit different than those of us in San Francisco or New York, where we have more remote offices, because the people in the remote offices are now better connected over videoconference to everybody. So, we got to interface with people over, you know, videoconference, that we might not have otherwise.
If I was traveling to Kansas City and working with folks on a project, it would just be, let's say, New York and Kansas City. But now, we have multiple offices collaborating on similar stuff more often, because we've just found a way to manage through the time zones, and without the travel component, it's a little bit easier.
And how has it gone in terms of work? Has there been a lot of slowdown in the volume?
As a business, we had some projects slow down, for sure. And then, we also had surprises, people planning for the future [and] thinking about three, four or five years down the road, starting on smaller initiatives [and] concept designs that, you know, germinate into the larger projects that we deliver. So, there's been ups and downs. Getting into the new year, we've seen a pickup. It certainly seems like we've got a nice pulse right now.
In February, you went public with a project that you're leading, an entertainment venue and hotel project in Toronto, and released the initial designs. What was the process for that like?
It's been a totally virtual interface; I have not met them in person. The first call from that client was in, I believe, late 2018. We were supposed to get together at one point in 2019, you know, meet-and-greet intro stuff, and it didn't happen; it fell through. Then, we got a call, I think it was early summer of [2020], they were ready to start the project. And everything's been virtual. And so full-blown, concept-design presentations with large groups, and it's worked exceptionally well. I would love to go meet them, you know, physically. Number one, I can't get across the border yet, but that will come.
What about the site? Did you not need to be there to see it in order to design it?
Certainly, over the past 10 years, with the advent of Google Earth, and the ability to drop our digital models into live databases and see what we're developing in the site, plus all of the survey information and what have you, so much of it is digital. Plus, we set up drone photography and videography in order to take our own custom views and pictures and capture the areas that we weren't quite sure about.
As we continue to move forward with advancements in technology, more and more virtual interface is possible. Do we need to be there before we really start moving into heavier phases of design? Yes, we need to get up there.
So, tell us more about the Toronto project. It has an esports component as well, doesn't it?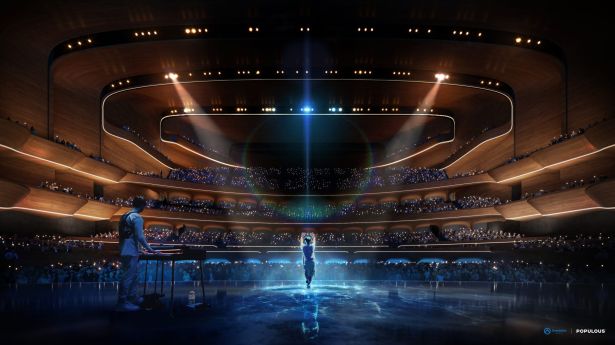 It has a performance venue and hotel, and "performance venue" is a term that we're using more and more to canvass the type of flexible entertainment environments that we're creating more and more of. In the case of this project, it's designed for concerts and esports events — the client [OverActive Media] owns two esports teams in Toronto.
We have the venue and it's also combined with a 30-story hotel in a very tight site. But [there's] this really incredible interaction between the venue and the hotel, and it's kind of [a] one-plus-one-equals-three model, where you have multiple types of shared experiences — whether you're a venue patron or a hotel patron, or you're an athlete that's staying in maybe one of the suites — and has that direct connection to the venue where you're going to play.
And so, we created a theater design, 7,000 capacity, and that's really so we could have that flexibility in service — [one venue that's] adaptable, flexible, different modes for different events, whether it's concerts, trade shows or esports.
You're also close to opening a soccer stadium in Cincinnati.
Another incredible success story, [due to] the fact that this project was largely built during the pandemic and everything that, you know, the safety measures that were put in place by the construction team and the ownership group, and even our design staff. We have continued to go out and serve, as architects do during construction, to administer the construction and look after the design on behalf of the owner. All of that's occurred, you know, during the pandemic, and it will be opening in May.
We're really excited about the opening of [the] FC Cincinnati [stadium] in terms of what it will mean for Major League Soccer in the U.S. It's a 26,000-capacity stadium. I stood inside the seating bowl for the first time on [Feb. 9] and it was an incredible feeling to see, after we put pen to paper, it come alive, and the continuity of the seating bowl, the energy of the fans when they all return in full capacity — because it'll happen, it'll just take a little time.
And the exterior design as well. All of the facade elements, these vertically oriented aluminum fins, have this video LED technology embedded in their leading edge, and so the facade will come to life. It'll be an incredible lighting effect on the exterior. So, that's pretty exciting, architecturally.
What will it be used for?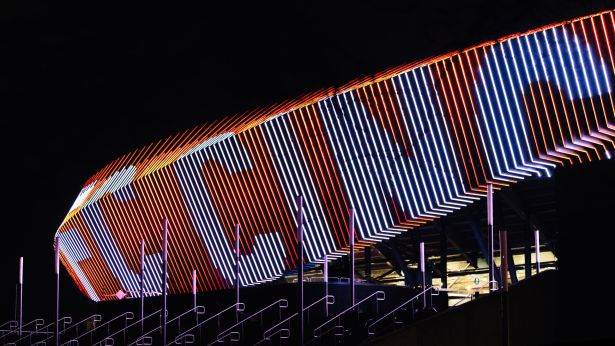 Everything from atmospheric environmental graphics to team-branding logos to reflecting what's happening in the match. So, if there's a goal scored, there might be some incredible graphics that will display on the exterior.
That's something that we really look at now, in terms of almost all of our projects, and especially happening more and more today, which is thinking of digital content and how it's delivered as a building material. It's part of the look of the building; you know, we try to avoid slapping videoboards on the outside of the building, so it's not a kind of additive afterthought — really integrating digital content into the design, and it can make it really powerful.
How do you think this year without live sports and large crowds will affect stadium design, and the relationship between sports teams and their audiences, if at all?
I think it will, in many ways. Pre-pandemic, we'd already been focusing on different types of viewing experiences, or social experiences within our stadiums or arenas — less about the seated section and more about platform areas, where people can stand and gather in smaller groups, and just have a different experience watching the game.
So, we may see fan attendance, in terms of seated attendance, drop a little bit, and start to create an architecture around the court or the field or the pitch that offers these new social experiences. Like, maybe, there's more open area to move about within the stadium, which would provide more flexibility.
Further is the technology piece. Another thing we were looking at pre-pandemic was viewing sites, and so, that's less about watching a live event, but rather groups coming together to see on really large video displays an event that might be happening on another continent. Right? Viewing parties where people are getting together.
So, you have a live game going on, and then you have viewing sites, like another room or space where you're viewing a different live event on a screen?
The next generations of fans and spectators are always looking for the new, next way of interfacing with a live experience. And so, maybe in the past, you would buy your plane ticket and fly to that city, and watch the game. And, maybe now, there'd be an opportunity to watch that same game with a whole group of people in your city, and still feel like a live experience.
We think about technologies like 5G, different technologies that are leveraging the internet and moving information faster. That's going to have a dramatic impact on the way that we experience live sports.
You recently moved into a new office in the Starrett-Lehigh Building in Chelsea. Can you tell me why you chose this space? And about the interior design?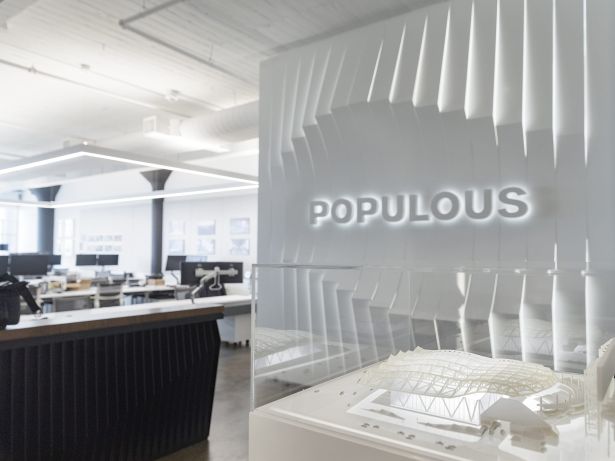 Well, first and foremost, we love the building. There's a creative culture and a creative energy in this building. And it's been around for decades. It's a bit of a historic landmark in its own right.
It was a white box, open plan, so we could do whatever we wanted when we came in. The number one thing to preserve was to come in and have that 'wow' moment of the glazing; we were fortunate enough to find a space here that was facing north. And we think that the north light is just incredible, because you don't get that direct sun, and it's an incredible view and you can see the river, and then all the buildings popping up around us. And so … I think that's an edge for us, because it gives us an energy. It's very New York.
Everything is black and white, which is the kind of true Populous brand colors. The painting of the columns black and this kind of very strong, vertical expression of black throughout, with all the white and the light coming through, is probably the key feature there.
And you also have this piece on the wall, which is pretty important for us. It's essentially reflective of a lot of the work that we do and it's indicative of mass customization of parts. And so, that gets into digital fabrication.
In many ways, that's how we go about our facade designs or many of the interiors of our projects that are more complex in nature. And the way you can leverage digital technology to deliver design and some incredible results — in this case, it's simply a sign. So, it's a nice kind of talking piece, as well as the custom-designed reception desk and some of the other elements.
So, each of these elements here on the reception desk, or that wall, were cut out via laser cutter and direct-to-fabrication information from our computer model.
Can you elaborate a little on digital fabrication and what that means?
I've been working with digital fabrication techniques for my whole career in architecture. It started in undergraduate school and then progressed in graduate school — thinking about how we can leverage computer technology and manufacturing techniques, so that what we designed in the computer can go directly to a manufacturing plant and be fabricated through digital information.
Traditionally, you develop a drawing, you hand it to a general contractor, the general contractor has to interpret it, then they have to provide some version of it to a fabricator. And what happens there is a lot of confusion, a lot lost in translation, cost overruns and schedule implications.
When you can develop information in the computer in a digital model, and then it goes direct to a fabricator, you're really streamlining the process. So, whether it's the FC Cincinnati facade — which was a perfect example of mass customization — or the Barclays Center here in New York — for which I was one of the leaders of that project almost well over 10 years ago now — with the Oculus [in Lower Manhattan] as well, it's often the case that some of the complexities of our designs have been delivered with direct-to-fabrication techniques.
Are there any materials that are particularly amenable or useful when using digital fabrication techniques?
Different materials align with different fabrication techniques. So, for instance, metals typically work extremely well with laser-cutting. So, you would have a CNC, which is a Computer Numerically Controlled laser-cutting machine that will cut out based on digital programming. Or, you could have a piece of Corian that's milled. And, so, that's a routing device that would mill, in multiple dimensions, a beautiful piece of Corian. That's like a solid surface for countertops, or an  interior wall application.
When you build, how long do you build your stadiums to last?
Decades. It ranges based on the requirements of the project, but they're built to last. That being said, we could see a turnover, maybe 30 years or 40, or maybe more in terms of some of our stadiums. I mean, we've been in practice for 37 years now. And so many of the projects that we've done, or [that] other architects have done over those decades, they require renovations, which certainly dovetails into, you know, the topic of sustainability.
And, you know, sustainability is a hugely important topic that we're taking very seriously as we move forward. Sustainability, 10 years ago or more, it was about satisfying checklists and not necessarily getting at the root focus of what sustainability should all be about. So, it's an incredibly important and timely topic. And maybe we all needed a little bit of a wake-up call in what's come out of the past year, to have a better focus on sustainability in terms of our industry.