Openings From Carbone to Moxy Hotel Enliven the Miami Scene 
From boutique hotels to destination restaurants, the city is throwing open the doors on some exciting new options 
---
---
Things were looking grim last year, when Miami's hospitality industry took an estimated $3.4 billion hit from March to August 2020, according to a recent study. 
Fast forward to March 2021, when the city's hotel occupancy rate hit 80.7 percent, according to data from STR, with many Miami Beach hotels reporting sold-out weekends — and Miami was back as one of the country's hottest hotel markets. 
And the city is ready for it, with a host of new hotel and restaurant openings in the works. 
Lightstone has launched a Moxy Hotel in Miami Beach, and even travel site KAYAK is getting in on the action with its first branded lodgings. Notably, New York heavyweights Pastis, Carbone and Cote are looking to put down roots in the Sunshine State. (We wager they're following the trail of breadcrumbs — or should we say loose dollar bills — left by New Yorkers fleeing to their new oceanfront pads.) 
Read on for some of Miami's most noteworthy hotel and restaurant openings, and the movers and shakers behind the scenes who are driving Miami's comeback.
Moxy Miami South Beach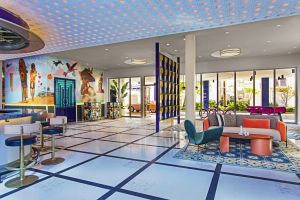 In February,  the 202-room Moxy Miami South Beach became the first new hotel to open in Miami Beach since the onset of the pandemic. 
Situated at 915 Washington Avenue in the heart of South Beach's Art Deco District, Miami-based Kobi Karp Architecture designed a modern eight-story tower rising above a row of restored, landmark Art Deco storefronts with a central courtyard, a breezy lobby and a rooftop deck with panoramic views of the Atlantic Ocean. 
Developed by New York-based Lightstone, a privately held real estate company with a $6.5 billion portfolio, Moxy Miami South Beach is a part of Marriott International's Moxy Hotels brand, which caters to youthful travelers with its stylish design, ample social space and budget-friendly price points. 
"We've always had a strong conviction in Miami as a hospitality market — it has a unique ability to cater to both leisure and business travel, and to international and domestic guests," Mitchell Hochberg, president of Lightstone, told Commercial Observer. 
The group previously launched a trio of Moxy Hotels in Manhattan's Times Square, Chelsea and the East Village, with three more forthcoming in L.A. and New York in 2022.
In South Beach, the hotel boasts six dining and drinking destinations by the team behind Miami's popular Coyo Taco, with interior design by Saladino Design Studios and Rockwell Group. The hotel also features a 72-foot elevated pool deck, 25,000 square-feet of meeting space and an indoor-outdoor fitness center. 
Carbone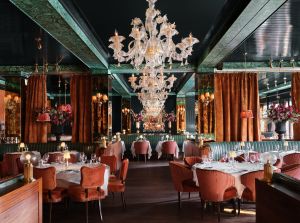 Major Food Group (MFG) made its move into Miami in January with the opening of Carbone, the cult favorite West Village Italian eatery established in 2012. 
Located in South Beach's glitzy South of Fifth neighborhood, on a 13,000 square-foot lot with a sculptural parking structure overhead at 49 Collins Avenue (owned by a realty LLC of the same name), the space was built in 2016 and was previously occupied by Stephen Starr's Upland restaurant. 
James Beard Award-winning designer Ken Fulk reimagined the space for the 150-seat Carbone Miami, where guests indulge in signature dishes, like Caesar salad prepared tableside and spicy rigatoni in vodka sauce, while tucked into emerald green leather banquettes with whimsical Murano Glass chandeliers overhead. There's also a 50-seat outdoor patio.
This marks Carbone's fourth outpost (after Hong Kong, Las Vegas and New York) and MFG's first foray into Miami's culinary scene. In April, the group will follow up with ZZ's Sushi Bar in the Design District and additional projects are forthcoming in Brickell.  
"MFG was made for the Magic City," said co-owner Jeff Zalaznick. "I recently moved here and, after a few months, I realized it was the perfect place for us to expand. The clientele is diverse, friendly, worldly, and enthusiastic. It's truly a perfect fit." 
Founded in New York by Zalaznick, along with Mario Carbone and Rich Torrisi, MFG operates 26 restaurants worldwide with concepts, including The Lobster Club, Dirty French and Parm.
KAYAK Miami Beach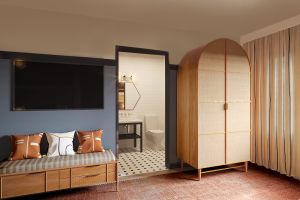 Set inside a historic, 1934 Art Deco building tucked away on the Collins Canal in South Beach's quiet, residential Collins Park neighborhood, travel search engine Kayak is teaming up with New York-based, venture-backed, hotel brand and management company Life House to open the first-ever KAYAK hotel with KAYAK Miami Beach in April. 
"We created Kayak to compare prices from hundreds of travel sites.  We now want our app to help with the hotel guest experience, too," said Steve Hafner, CEO of Kayak, in prepared remarks.
The three-story, 52-room boutique hotel will function as a "design lab to test and refine software innovations in the accommodation space," according to a release from KAYAK. The KAYAK app will provide 24/7 access to hotel staff, property event notifications, room-ready alerts and housekeeping requests. KAYAK Miami Beach will also feature a Middle Eastern restaurant, cocktail bar and rooftop plunge pool.
Before joining the Life House portfolio, the historic property was owned by family-held Encotel and operated as Vintro Hotel South Beach, part of Hilton's Curio collection. KAYAK Miami Beach is backed by an undisclosed New York City fund in partnership with Life House, which currently operates three other hotels in Miami, with a total of 10 properties open or forthcoming worldwide, from Bali to Bushwick.
Cote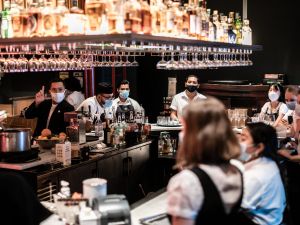 In February, New York City restaurateur Simon Kim expanded his clubby, Michelin-starred Korean steakhouse Cote with the opening of a second location in Miami's glittering Design District. 
Located at 3900 NE 2nd Avenue, the 5,892 square-foot space with 158 seats and a bar is part of the rapidly developing 18-square-block, master-planned neighborhood dedicated to design, fashion, architecture, dining and art, conceived by visionary developer Craig Robins of Dacra. 
Cote Miami, part of Kim's burgeoning Gracious Hospitality Management portfolio, fits seamlessly into the opulent neighborhood with its sleek, dimly lit interiors designed by New York architecture firm, MN Design Professional Corporation, and its menu of house dry-aged USDA Prime and A5 Japanese Wagyu beef sizzling on gilded tabletop grills. 
For Kim, the Cote experience is as much about "fun and fire" as it is about fine dining. "At the core, Cote's sentiment is that food and its experience should be thoughtful, timeless and lighthearted," said Kim. "We're thrilled to expand our footprint within this vibrant city, and get to know our Miami guests and neighbors."
His immediate neighbors in the Design District include Maison Margiela, Versace, Hermès and Harry Winston flagships, as well as the Institute of Contemporary Art, Miami.
Pastis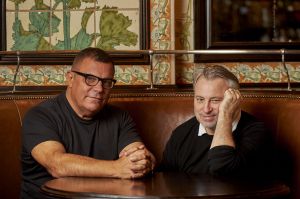 Pastis, the celeb-splashed French brasserie that put New York's Meatpacking District on the map back in the early 2000s is primed for its Miami debut. 
Powerhouse restaurateurs Keith McNally and Stephen Starr will open an outpost in Wynwood inside an 8,000 square-foot space at 380 NW 26th Street owned by developer David Edelstein, slated for summer 2022. 
"For the last few years, I've had my eye on Wynwood. I've witnessed the vibrant and artistic neighborhood transform into a booming cultural hub with an incredible dining scene," said Starr, whose STARR Restaurants group has had a footprint in Miami since 2009, counting Le Zoo and Makoto at Bal Harbour Shops today.
McNally's New York restaurants include fashionable classics The Odeon, Balthazar, Minetta Tavern and the original Pastis.
In 2019, Starr partnered with McNally to reopen Pastis in Lower Manhattan, a block away from its original location after a 2014 hiatus.
The Miami restaurant will be reminiscent of the original time-worn, Parisian-style bistro, designed by McNally along with Ian McPheely of Paisley Design, featuring a curved zinc bar, warm wood planks, vintage mirrors and subway tiles, situated in a neighborhood known for its street art and increasingly buzzy restaurant scene.