Boston Area's Union Square Project Set to Rise Near Pfizer, Moderna Facilities
New Somerville, Mass. life sciences development highlights the sector's post-COVID potential.
---
---
New financial backing for a large-scale life sciences development just outside of Boston signals that demand for this growing sector — further boosted during the pandemic — should last a long time after COVID's a bad memory.
The Union Square Revitalization project in Somerville, Mass., locked down $239 million in construction financing last month from Bank OZK, funding the development of the life science facility and multifamily building that will crown the development's initial phase.
Part of a public-private partnership master plan for Somerville's Union Square neighborhood that was first laid out in 2014, the project will deliver nearly 2.4 million square feet of mixed-use development three miles outside of Boston, including biotech space, labs, offices, housing and retail. The City of Somerville selected Union Square Station Associates (US2) as master planner for the transformative development, which coincides with the Massachusetts Bay Transportation Authority (MBTA) Green Line extension — set to add several light rail stations in Somerville and neighboring Medford.
The closing of the construction financing marks an important milestone for the broader master plan that is slated to take around a decade to build — with the life sciences and multifamily assets' completion anticipated for 2023 — but a protracted timeline is typical for any large public-private partnership project, where there is a balancing act with meeting community priorities on housing and retail, Greg Karczewski, president of US2, said. The parties have also navigated around delays in the MBTA's Green Line extension, which he said is a crucial piece of the overall project in creating a transit-oriented environment.
"There was an interest from all parties, whether it was the city, or the community, or us as the master developer, to ensure that the plan was well thought out and that it best met everybody's objectives," Karczewski said. "It took several years, but now, we are in a great position to capture what is a really exciting life sciences market right now."
While several lenders are playing catch-up when it comes to life sciences development, Bank OZK is no stranger to the nuances of the asset class, in addition to being one of the most active construction lenders in the country.
"This project benefits from its direct connection to the MBTA's new Union Square Station on the Green Line extension, proximity to the vast talent pool residing in Somerville, and the transformation of the area as part of the Union Square master plan," said Brannon Hamblen, president and COO of Bank OZK Real Estate Specialties Group, told CO of the bank's draw to the project.
More than half of the development's 2.4 million square feet will be set up for potential life sciences space, according to Karczewski. He said there has been a strong emphasis on the development's potential to spur jobs in life sciences and other innovation companies. The project neighbors the Massachusetts Institute of Technology, Harvard University and Tufts University, as well as Boston's Seaport District, which is gradually growing its own ranks of life sciences tenants.
Fortuitously, too, US2's project is also a brisk walk or short bus ride from Cambridge's Kendall Square, which hosts a number of life sciences firms, including large research facilities for Pfizer and the headquarters of Moderna, the two companies behind the most effective COVID vaccines yet in the U.S.
"We're a mile from Kendall Square, which is kind of the U.S. epicenter for life sciences, and in Union Square, there is a substantial population of young professionals, so all of the employees that these companies are seeking are already in our neighborhood," Karczewski said. "The tenants that occupy our spaces will be attracted to our neighborhood because of our proximity to that talent and those nearby institutions."
The COVID-19 pandemic has only bolstered the future of life sciences in the Boston metropolitan area after already building momentum for the past five years. Karczewski said around 75 companies in Greater Boston have contributed to COVID-related developments with vaccines or therapies, with venture capitalists continuing to aggressively invest in Massachusetts life sciences companies this year.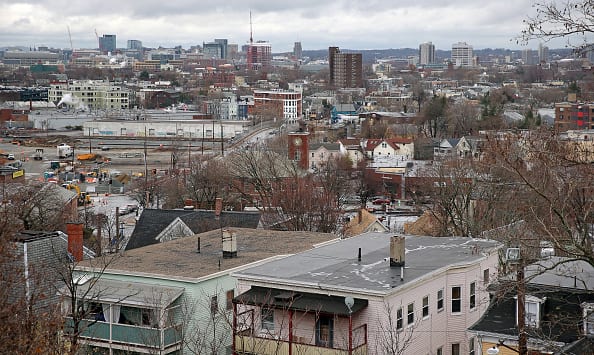 George Proakis, executive director of Somerville's Office for Strategic Planning and Community Development, said the city has been seeking to transform from a largely residential area into a municipality that can reap the benefits from its geographic location next to a major life sciences cluster in Cambridge. The pieces are now falling into place, he said, between the Union Square project and two other life sciences developments in the works at two other Somerville locations, Boynton Yards and Assembly Square, the latter of which was a former Ford motor plant.
"In many ways, an area isn't a life sciences market until you've put enough energy and planning into the area that at least one entity in the life sciences industry, or the people that finance these buildings, see it as viable, and then, after that, all sorts of other possibilities start to come together," Proakis said. "Over the last year or so, everything has really just started to click in a way where it is working and it is happening."
Union Square may be Bank OZK's latest foray into the life sciences space in the Boston area during the pandemic, but not its first. The lender has now financed five life sciences developments in the Boston area alone.
"We monitor supply and demand very closely, and each new project financing is informed by the strong leasing activity we have observed in predecessor projects," Hamblen said. "Capital investments are increasing in life science projects in key markets around the country to support scientific innovation and advancements. The sector is forecast for continued real estate development and we hope to be involved in additional such projects in the future."
Hamblen noted that life sciences remains a solid investment in the Boston market, due largely to the area being a "global leader" in health care with a large talent pool for companies to recruit. He added that the area is well positioned to support further growth in the research and development space, labs, clinics and health care facilities as aging demographics create additional demand.
The Boston area is already home to 19 of the 20 largest biotech companies by market cap, and three of the top four hospitals by National Institutes of Health funding, which Karczewski said gives the Somerville life sciences development an already strong infrastructure to work with. He said a strong, higher educational presence around Boston with more than 50 colleges throughout the immediate area also bodes well for spurring continued momentum for life sciences in the region.
Another factor bolstering the life sciences component of Union Square's development is how the industry lends itself to employees working on-site, as opposed to the trend toward remote work that fosters uncertainty for traditional office properties. Karczewski said this dynamic would help support the future retail component of the project and have a multiplier effect on the entire neighborhood.
"Life sciences and discovery really happens at the bench so employees will be populating the spaces," Karczewski said. "One of the goals from the city's perspective, and our perspective, was to really raise up our daytime population into the heart of Union Square that can help support some of the retail businesses, whether they are restaurants or shops."