Presented By: Essensys
As Office Occupiers Return, Technology Helps Landlords Solve Flexible Workspace Challenges
Future Of Flex brought to you by essensys
---
---
Given the chaos the office market has faced over the past year due to the COVID-19 pandemic, office landlords have found themselves with new and steep challenges. Now, even as the vaccine has placed hope on the horizon, one conundrum facing many due to our new health- and safety-oriented mindset is whether to embrace flex space, and how prominent it should be in a landlord's toolkit.
Proptech company essensys has been designing software and technology to help facilitate flex spaces since 2006, and just released its new Flex Services Platform with all the technology needed to deliver next generation flexible workspace experiences.
Jeremy Bernard, CEO, North America for essensys, explains why office landlords will need to offer flex space in order to stay competitive.
"Occupiers are demanding flexible solutions, and that demand is coming from their employees," said Bernard. "Ultimately, these companies are looking to retain and attract the best talent. A recent JLL study said that 66 percent expect to have some sort of hybrid work structure going forward. It's important for landlords to provide some sort of flexible solution in their portfolio. It's not a matter of if or when, but how and how fast."
Bernard said that the key to a successful flex rollout is ensuring frictionless experiences for tenants, as many will likely be working from multiple locations on unpredictable schedules.
"If an employee is working one day from their home, one day from a local flexible workspace, and another day from the company's headquarters in the city, how do they get a frictionless experience when they go to each of those spaces?" he said. "People want consistent and secure experiences. They want to open their laptops from wherever they're working without the need for multiple logins, security or privacy issues and just get to work. It's an important part of the equation for what employees in enterprise companies and their employers are asking for."
But while the ability to delivery flex space for tenants is key, it is also riddled with risks and challenges for landlords without experience in this area.
"One of the challenges is the transition from effectively being an operational asset manager to delivering flex, because it's fundamentally different in terms of the hospitality element," said James Shannon, essensys' Chief Product and Technology Officer.
"There's also the technology element. It can be tempting to engage with multiple different vendors to deliver all the tech solutions required including networking, security, physical access, network access, booking availability, and signage, to name a few. But there is risk and complexity around handling multiple vendors and managing the in-building experience across multiple systems."
On top of these, there is also a very real risk in attempting to control costs for first-time flex operators.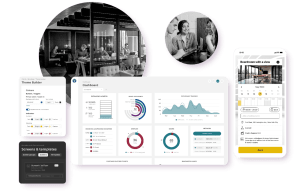 "It's very easy to spend a lot of money to implement technology," said Shannon. "But that may not necessarily scale with the space, or with your revenues or occupancy. So bringing in a partner that understands the space very well and has business models that tailor to that can help manage that risk."
essensys and their Flex Services Platform are just such a partner. The new platform was designed and built based on essensys' experience of delivering digital infrastructure to over 20 million square feet of commercial real estate over the past decade. The new platform easily automates much of the flex experience for landlords and occupiers alike.
"The Flex Services Platform is all about removing complexity," said Shannon. "It's designed to build on the digital infrastructure we've traditionally delivered, which has been about providing great networking, enterprise-grade security, Wi-Fi bandwidth management, firewalls – all the technical components."
Shannon notes that the platform's flexibility for landlords ensures smooth operation in designing and delivering flexible real estate.
"There could be a multi-floor building delivered in a hybrid fashion, having some floors flex and some floors traditional," he said. "The platform is flexible from a commercial and technology perspective, and in the ability to deliver flexible products. It goes above the infrastructure to deliver a great in-building experience in terms of managing and defining a space. This includes handling physical access control, signage, connectivity, and the operational side of the business where landlords and operators need to consume leads from brokers, execute contracts, and license or lease the space."
essensys highlights four key components of the new platform that provide premium value to its landlord customers: digital infrastructure, space management, flexible operations, and occupier experience.
"Managing digital infrastructure includes the spine of the building, but there's also the Wi-Fi connectivity and ensuring the infrastructure's resiliency," said Shannon. "That's about minimizing the amount of equipment put on premise by leveraging our private cloud. It's also about managing security by creating an enterprise-grade network environment so that our customers can attract the biggest and most demanding enterprise customers."
Shannon also notes that essensys' core connectivity experience delivers advantages such as touchless access; booking desks, offices, or video conferencing; and allowing for analytics around how the space is used.
This all happens thanks to the platform's digital replica of the physical space, which allows them to visualize their environment.
"The platform's flexible operations give landlords the ability to manage the full customer lifecycle," Shannon said. "This includes lead management, converting to a lease, and setting up recurring billing with integration to CRM and accounting systems."
As essensys continues to roll out the Flex Services Platform, they're already looking to the future, ensuring that it will remain one step ahead of occupier and landlord needs when it comes to the complex world of delivering flex space offices and the many factors that entails. 
"It's one of the reasons landlords and operators partner with us," said Bernard. "We have a division called essensys Labs where a team of people are thinking about what's going to be important in the flex space universe three, five, even ten years out. We're always thinking about the future of work and the future of flexible real estate. We're constantly developing our platform to keep our customers innovative and ahead of the curve for meeting occupier needs today and in the future."
View more articles on the Future Of Flex here.