What Retail Apocalypse? NKF's Jeffrey Roseman on Retail's Recent Shakeups
Newmark's Jeffrey Roseman has a message for the Chicken Littles of the industry: Good retailers do good business.
---
---
These past several years have been tough for retail. Major brands and department stores have declared bankruptcy — both Forever 21 and Barney's filed in just the past few months — and shuttered hundreds of locations across the country, leading some to dub these times a "retail apocalypse."
But don't tell that to Newmark Knight Frank's Jeffrey Roseman. The veteran broker, who has been at it for more than 25 years and signed more than 10 million square feet of space, thinks the whole retail apocalypse is a bunch of hooey.
"When chains like [Radioshack] go out of business, I don't think it's indicative of people not shopping in stores," Roseman said. "I think people are not shopping in those stores."
Roseman thinks the retail market is simply in a period of change, as less savvy and sometimes older brands shutter to make way for newer concepts and more experiential retailers that might just happen to take less space or open fewer stores.
"Anytime a retailer closes there's an article about the retail apocalypse," Roseman said. "It's changing, granted, but good retailers do business."
Roseman, a founding partner of NKF's retail division and a vice chairman in its New York City offices, has been signing plenty of deals around the city to prove his point. 
In January, Roseman worked on the deal for Legends Hospitality to operate a 35,000-square-foot food and live music complex at Fosun International's 28 Liberty Street in the Financial District. He also nabbed his fifth top retail deal of the year award from the Real Estate Board of New York in June with colleague Ross Kaplan for dine-in movie theater Alamo Drafthouse's 40,000-square-foot lease in the same building.
This year also marked Roseman's first foray into the forgotten borough when an NKF team of Roseman, Marc Frankel and Drew Weiss was named the exclusive leasing agents to lease the remaining 100,000 square feet of Empire Outlets in St. George, Staten Island. It's only been a few months, but Roseman said he's already close to inking deals with some "really good names" in the 1.1-million-square-foot outlet mall.
The 58-year-old Union Square resident — who has a 4-year-old son and a 17-month-old daughter — remains very optimistic about New York City's retail scene and thinks that no matter what, people will still want to visit brick-and-mortar stores.
Commercial Observer: What are some of the bigger deals you've worked on this year?
Jeffrey Roseman: Twenty-eight Liberty has been a great project for us. I think another deal that was interesting was … with a company called Salons by JC on 59th Street. [Salons by JC, which is like a WeWork for the beauty industry, took 16,235 square feet at 127 East 59th Street in April, taking space previously occupied by Williams-Sonoma and Pottery Barn.]
It was a nontraditional retail use for a second-floor that we thought would be traditional retail. It was indicative of what's happening in the market: There's a lot of new types of users out there. You set your mind and you look for specific usual suspects and we met this company and they were just fascinating. They have 200 locations across the country and they were very smart and very well prepared and have a great model. The best thing is that they bring a stream of probably 1,000 or 2,000 people a day to their facility [and] that's going to help the restaurant we're going to have downstairs and the other shops around.
There's been a lot of office tenants moving Downtown. Have retailers wanted to follow or did you have to convince them?
Early in my career, you couldn't get retailers to go Downtown. That's changed a lot. The whole complexion of Downtown has changed. The makeup of the office tenants, with Condé Nast and Spotify and companies like that, it's much easier. What I say to people to put it into perspective is that Nobu moved from Tribeca to Downtown. If there's a cooler restaurant anywhere in the country, I don't know what that is. It's pretty indicative of who's going downtown and who wants to be downtown now.
What are some of the other hot markets now?
Flatiron and Union Square are very hot. They've got the office, residential, the nightlife and the schools. Believe it or not, the Upper East Side is coming back. It sat dormant for a little while — I think the rents got too high — but the demographics of the Upper East and the Upper West are some of the best in the country. The amount of wealth up there and the education levels, retailers see that.
Meatpacking is one of the hottest districts. It's had an unbelievable trajectory. It started off very hot and then it sort of dipped a couple of years ago. People were questioning the staying power. But now you go and you'll see the new Restoration Hardware. It's mind-blowing. It really is what's happening in retail today. The Starbucks Roastery is unbelievable, [and also] Chelsea Market. You've got office workers, you've got tourists by the busload, you've got residents, and it's got that cool factor. People just want to go there. 
You haven't had any assignments on Staten Island before. What was it about Empire Outlets that drew you to the project?
It wasn't so much about Staten Island. I think what we realized early on is that the project is at the base of the ferry so it's sort of an extension of New York City. The ferry is incredible. Somebody who lived in New York, we took her out there and she had no idea the ferry was free. She said, "How have I not brought my kids on this?"
People were riding the ferry before they came to this project to see the Statue of Liberty. The project being there is now something for these people to do. They used to get off and if they didn't live on Staten Island would just go back and get on the boat. Now they're spending an hour or two shopping or eating. It appealed to me from a project standpoint. That's what we do: get excited by projects and spaces and tenants. [Empire Outlets], to me, was like, if I feel this way about it, I think we can convey this to others.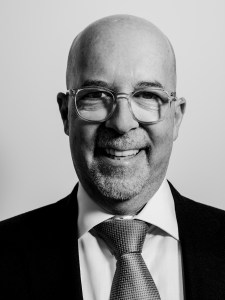 What other assignments are you excited about?
I've got the building at Union Square East that's the old Tammany Hall building [at 100 East 17th Street]. It's finally almost done with its construction. It was a massive overhaul — [owner Reading International] basically rebuilt the building on the inside and left the facade up. It was just an incredibly delicate job.
There's a deal for the office that's in the works. [CO reported that Slack has been in discussions.] We have the retail and we've got a bunch of interesting tenants that we're talking to, both for full-building and for divisions. The space is just so special. You walk in there and you feel this sort of history. It's time the other side of Union Square picked up. 
We're expecting to get a pretty sexy type of user for it because it really is a breathtaking space. Anyone who walks in really feels it. I love buildings that have incredible history. And believe it or not, we find retailers along the way that feel that.
When you have something like that, with all the history, is the goal to get the first retailer that would pay the rent or is it to find the right use for that space?
Ideally, you want to get somebody who will pay homage to the building.
Side story: We leased the Cipriani space [in the former Bowery Savings Bank building at 110 East 42nd Street] many years ago. Steve Green [one of the founders of SL Green Realty Corp.] bought the building and we'd been handling it for him. We had some initial interest from a couple of clothing retailers. Guys were walking in and saying, "We're going to drop a ceiling here." That's when you're really tested … [the landlord and the brokers passed and] then we found Cipriani. It's a deal that was done a real long time ago [1999], but I'm so proud of it still because of the magnitude of it.
That's one of those spaces that the right user took, and we always feel good when that happens. It doesn't always happen, but on those types of properties, you want to try to give it to someone who will pay the respect to it.
You've been vocal that you feel like the whole "retail apocalypse" is sort of overblown. Can you explain your thoughts?
You flip any channel on TV and that's what they're talking about. You've got weatherman talking about brick-and-mortar stores! It's very overblown. Retail is changing. You think about the retailers that they say have gone out of business, like Dressbarn for instance. I researched it a while back, they opened in 1960. That's almost a 60-year run. Payless Shoes, Radio Shack, how many companies have these types of runs?
You can't generalize. I really think retailers that don't execute close — just like restaurants close. The successful retailers will figure out how to be able to combine both bricks and mortar and online. Maybe it's less expansion. Maybe instead of 30 stores in a market, they'll have seven. Maybe instead of 50,000 square feet, they'll have 15,000 square feet. I think retailers will get a little bit more cautious and a little bit more conservative. That's all that's going to happen.
But do these storied retailers like Barneys filing for bankruptcy and being sold just for the name give you any pause?
Barneys situation is an unfortunate situation that should not have happened. I have a soft spot for Barneys, we represented them at one time. I did the deal Downtown and in Chelsea. I put them in their old home. [Barneys leased 57,000 square feet at its original location at 101 Seventh Avenue in 2014 nearly 20 years after it left the space.] I was very proud of that deal.
They should have figured out a way to stay. It would've involved probably giving back some space, reducing their footprint, but who cares? No one would have missed a beat. I'm really not sure what upper management there was thinking. That shouldn't have happened.
People were shopping at Barneys. They weren't shopping enough to pay the new rent, but nobody is. The new rent was unattainable … that business was no good for them.
A few articles have come out saying the era of the Fifth Avenue flagship is coming to an end after recent closures [Tommy Hilfiger, Calvin Klein and Henri Bendel]. Do you agree with that?
I don't think it's coming to an end. Fifth Avenue is the most famous street in the world. I think there will always be companies and retailers that want to brand themselves in the U.S. and specifically in New York. Might they not take 50,000 square feet on Fifth? Probably. I think stores will shrink in size to some degree, but people still want to be there. It's still a very heavily populated street. There's deals being done all the time. 
I think you're seeing retailers not be reckless. Perhaps 10 years ago it was just, "Eh, we'll figure it out." Shoot first, ask questions later type of thing. I think now you've got more responsible folks on the other side who are truly going to look at how to make it work.
In light of all the retail store closures, there was the same week when Nordstrom, American Dream and Wegmans opened. That was certainly an endorsement for people really putting their blanks on the line for retail. Those companies certainly didn't believe retail is dying because those are big investments.
A lot of online-only retailers like Casper have recently started opening up brick-and-mortar stores. Do you think we'll see more of that?
Yeah. It's such a validation of bricks and mortar when the online guys realize that people want to come in and they want to lay on the mattress or they want to touch the clothing. That's retail evolving. There's a lot of those types of companies that have come on board. What I'm seeing more than ever before is just a really sophisticated group of people that are getting into business that have done their homework — that have gone to business school — and really understand retail. Understand commerce. It's not just a guy opening a business because he's bored and he's got some money.
This year was the year of the food hall. What do you expect next year is going to look like? What's going to be the next big tenant?
I think entertainment. There seems to be a lot of focus on dining and entertainment uses — whether it's bowling or billiards, it seems to be making a comeback. I'm bullish on the city. I think landlords have prepared for what's ahead. I think there's a lot of partnerships happening, more so than I have ever seen, which is a good thing. Where owners are giving some money upfront for tenants to build out, taking a piece off the backside. It's a true partnership. It's going to help everybody's business, they don't have to worry about a rent that's going to choke them. I expect to see more interesting concepts.