FRESH Take: Are New York City Grocery Stores Moving Into New Developments?
---
---
Grocery stores aren't the most profitable or trendy retail tenants in New York City. But they do tend to be stable businesses with good credit, and developers are starting to turn back to supermarkets as anchor tenants for new buildings in both affluent and underserved neighborhoods.
For example, Whole Foods will anchor the pricey redevelopment of One Wall Street, a former corporate office building that developer Harry Macklowe is converting to 566 condominiums. The upscale grocer will occupy 44,000 square feet in the basement, first and second floors of the 50-story Art Deco skyscraper between Broadway, Wall Street and Exchange Place. 
"I can't emphasize how much of a game changer Whole Foods will be for the Wall Street area," said Peter Whitenack of Newmark Knight Frank, who brokered the lease for Whole Foods in 2016. He said that Macklowe originally wanted to put a food hall on the ground floor of the building, which will have 175,000 square feet of retail. But most food hall tenants don't have good credit, so Macklowe opted for a different kind of food amenity. 
The Wall Street Whole Foods will feature a bar on the Exchange Place side of the store and a coffee shop and cafe by the Broadway entrance in addition to regular grocery options. 
The Amazon (AMZN)-owned grocery chain has also claimed 60,000 square feet at Manhattan West, Brookfield (BN) Properties' multi-building megaproject near Penn Station. The store will be the main retail tenant at 5 Manhattan West, a 16-story office tower at the corner of 10th Avenue and West 31st Street. 
"If you look at what [Whole Foods] is doing at Bryant Park and what they're going to do at Manhattan West, people hang out there," Whitenack explained. "There will be cooking classes and wine tastings at Manhattan West."
Brookfield wants the store "to be a lifestyle center for the neighborhood," he continued. "Intentionally in their landscaping, they've built places for people to sit."
Whole Foods' parent company Amazon has also leased 360,000 square feet of office space in the building, a Brutalist 1960s office tower that Brookfield revamped with a new, mirrored facade in 2017.
The city offers zoning bonuses and tax breaks for landlords who choose to include large grocery stores in their buildings in certain neighborhoods. Those benefits aren't available or financially necessary for developers in the Financial District or Hudson Yards, but companies constructing new buildings in upper Manhattan, central Brooklyn, the south and central Bronx, and southeastern Queens can take advantage of them.
However, policy experts and community groups have begun to question whether the incentives are effective in attracting new grocery stores and keeping existing ones open. 
The program, known as Food Retail Expansion to Support Health (FRESH), was created by the Bloomberg administration in 2009 in an effort to bring more grocery stores to low-income areas of New York City. Large swaths of the five boroughs lack full-service supermarkets, and many grocers have been redeveloped or forced to close. 
Thanks to the program's zoning bonus, developers can negotiate up to 20,000 square feet of additional residential space in a new building in exchange for constructing a FRESH grocery store of at least 20,000 square feet.
New developments may also get an additional 15 feet of height and reductions in parking requirements to accommodate a grocery store, with permission from the City Planning Commission. Landlords can receive a slew of tax benefits, including abatements on land and building taxes, a deferral of mortgage recording taxes, and a sales tax exemption on construction materials. The state also offers financing for energy-efficient equipment and retrofitting measures.
Only 41 supermarkets have received FRESH zoning and tax benefits since 2009, according to new data provided by the New York City Economic Development Corporation. Of those, 21 received zoning bonuses, while the other half only received tax incentives.
Nevin Cohen, the research director at the Urban Food Policy Institute, said that he and his colleagues recently conducted a study of all the new and renovated food stores in the Bronx and found that less than 10 percent had utilized the FRESH program. Using Google Street View images from 2007 and 2017, the CUNY researchers discovered that only six out of 102 food stores that had opened, renovated or relocated in the borough took advantage of FRESH.  
"It seems like relatively few supermarkets have taken advantage of FRESH in the Bronx compared to the number of supermarkets that have made investments on their own," said Cohen. 
One reason for low participation is that stores must meet specific requirements to qualify. In order to secure FRESH benefits, a store must be at least 5,000 square feet and devote a minimum of 30 percent of its space to perishable goods like dairy, meat, produce, fish and frozen foods.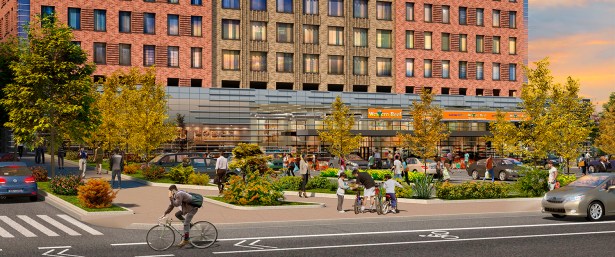 Researchers and activists argue that the minimum square footage excludes smaller produce, meat and fish shops that often cater to ethnic communities. These smaller stores often face greater financial pressure and are at greater risk of closing. 
"I think this program could be expanded to include smaller stores," said Lena Afridi, the policy director at the Association for Neighborhood Housing and Development, a progressive group that represents nonprofit housing developers. "There are so many more small businesses and small grocers that could use some kind of program to keep them in business as well."
She explained that the owners of smaller produce and convenience stores may not even realize the program exists, or they may not have the tools to navigate the city's application process. 
"The kinds of small businesses that New York needs to keep around aren't the ones that are going to access this," said Afridi. "The small businesses that we work with don't know about this. They don't know about zoning. They don't know about tax incentives. Some of them don't even work on the books. They don't have a computer; they're working on pen and paper."
Afridi felt that the city should offer special financing for nonprofit, neighborhood developers who want to bring small, potentially struggling businesses into new buildings. The New York City Economic Development Corporation, which administers the FRESH program, could partner with the city Department of Small Business Services to do outreach to and organize trainings for owners of small food markets. 
FRESH mostly incentivizes large-format supermarkets, but there are a much broader array of fruit-and-vegetable shops, bodegas, and meat-and-fish stores that could use the same kind of financial benefits. 
"There's this notion that supermarkets are the [only] type of store that will improve health," said Cohen. "And that's not necessarily the case. There are small ethnic grocers that sell fresh produce and other kinds of food. There are cooperatives and buyers' clubs that are important [for neighborhood shoppers]."
There's also the question of affordability; the city doesn't make any rules about whether a grocery store participating in the FRESH program has to be affordable for the neighborhood, and while many FRESH supermarkets are moderately priced chains like Western Beef, Food Bazaar or Key Food stores, that's not always the case: An upscale Union Market is coming to the base of a new rental building at 1535 Bedford Avenue in Crown Heights, and the developer received a zoning bonus and tax incentives for including a grocery store. 
The program "doesn't address the fundamental food-access problem in New York City and elsewhere, that people have insufficient incomes to buy healthy, fresh food," said Cohen. "And that's particularly true in New York City, where large concentrations of low-income people live amidst relative affluence in public housing projects in gentrified neighborhoods."
Meanwhile, some people view the FRESH program as a success. 
"I think it's a great example of using the zoning resolution to stimulate the developer providing a public benefit," said Mitch Korbey, the chair of the land-use group at Herrick Feinstein. "The zoning resolution can't resolve all neighborhood issues, but this is one way to help in this area."
He did feel that the program could be improved upon by reducing parking requirements for FRESH stores across the board: "That might improve it on the margins" for developers, he said, because grocery stores often need onerous and expensive parking. 
Of course, FRESH doesn't account for many of the new grocery stores coming to underserved parts of the outer boroughs and upper Manhattan. Last year, All Year Management leased 15,000 square feet of retail to a Foodtown at its massive rental project on the former Rheingold Brewery site in Bushwick. The company led by Yoel Goldman inked a 50-year lease with the grocery chain for the base of its 433-unit rental building at 54 Noll Street, which has been branded "Denizen Bshwk." The site was rezoned by the city before All Year purchased it, which means the developer didn't need FRESH's zoning benefits.
Similarly, Arker Companies has committed to leasing 20,000 square feet to Western Beef at its planned affordable housing development, Edgemere Commons, in Rockaway, Queens. Last month the City Council approved an extensive rezoning of Arker's site in Edgemere, so it does not need separate FRESH zoning benefits. 
"Their supermarkets are affordable, which is important to us," said Daniel Moritz, a principal at Arker. "And they're a smaller, family-operated business, and they're focused on local hiring."
He said the inclusion of Western Beef came after several months of community meetings. Locals demanded a full-service supermarket in the area, which is a federally recognized food desert. 
Arker is building the 2,050-unit project on the site of the former Peninsula Hospital, which shuttered in 2012.
"With the closure of the hospital, there were a lot of jobs lost," said Moritz. "It left a big hole in that neighborhood. There's no retail for 10 blocks, from 49th to 59th Streets on Beach Channel Drive, except for a Papa John's."
Western Beef will open in 2022 in one of two buildings that will be part of the first phase of Arker's massive residential complex. The pair of structures will hold 400 to 450 apartments, which will be reserved for low-income and senior housing. 
The developer plans to build 75,000 square feet of retail and another 75,000 square feet of community facility space, including a community center and medical office spaces. It wants to rent some of its retail to small, local businesses, in an effort to revitalize the neighborhood.
"We want it to feel like homegrown entrepreneurship in the Rockaways," said Moritz. "The goal is to have smaller, more restaurant-type retail along that walkable street."
Arker Companies
,
Association for Neighborhood Housing and Development
,
Edgemere Commons
,
Five Manhattan West
,
Food Retail Expansion to Support Health
,
FRESH program
,
Harry Macklowe
,
Lena Afridi
,
Manhattan West
,
Nevin Cohen
,
New York City Economic Development Corporation
,
One Wall Street
,
Peter Whitenack
,
RKF
,
Urban Food Policy Institute
,
Whole Foods
,
Amazon
,
Brookfield