Political, Brokers: DC's Other Kind of Power Players
---
---
Election season meant two things in the Lugar family.
For Dick Lugar, the late Indiana senator, it meant staking out positions, assessing any primary challengers and general election opponents, and thinking about ad buys.
For his son, John, an executive vice president of occupier services at Transwestern, it means thinking about what the new congressmembers, staffers, ad agencies, think tanks and so on were going to need, office-wise.
D.C. is, after all, a politics town. And assessing the office needs of its denizens requires brokers of cool judgment and bipartisan credentials.
When Lugar's father passed away in April, former President Barack Obama praised him for "eschewing partisan divisiveness to instead focus on common ground."
Like father like son.
"My dad was known in D.C. as sort of the gold standard of bipartisanship," Lugar said. "In my particular case — even though, obviously, I'm a Republican, my entire political philosophy really revolves around the idea that you can belong to a party — but you've got to work with the other side in a principled way to get things done."
That reputation helps in business, too: "I've actually found it to be an advantage, honestly," Lugar says. "People don't look at me like I'm this hardcore Republican. They look at me as somebody who really understands their business. I've represented Democrats, Republicans and Independents. I've represented everybody."
While being identified as nonpartisan can certainly broaden the pool of clients for commercial brokers, possessing the knowledge that only comes with having been personally involved in the political process is a great asset that can help in preparing clients for a busy period, such as an election year.
While the idea of which tenants fits into the political brokerage category varies by firm, the group usually includes politicians, political campaigns, advocacy groups, lobbying firms and party organizations. Some brokerage firms, such as Transwestern, also place lobbying arms for large companies, such as Facebook or Boeing into that category.
The Right Background
Though he comes from the Democratic side of the aisle, Ken Biberaj, a managing director in Savills' suburban D.C. office, can relate.
"I ran the [Manhattan] Chamber of Commerce," Biberaj says. "I have a lot of Republican friends."
Biberaj, a political science major at American University in D.C. who attended grad school at Harvard's Kennedy School, discovered commercial real estate when he went to New York in 2004 to work for an uncle who had bought the historic Russian Tea Room. While there, Biberaj caught the political bug and jumped into the eight-way Democratic primary for New York City Council in 2013. "I got clobbered," he told Commercial Observer.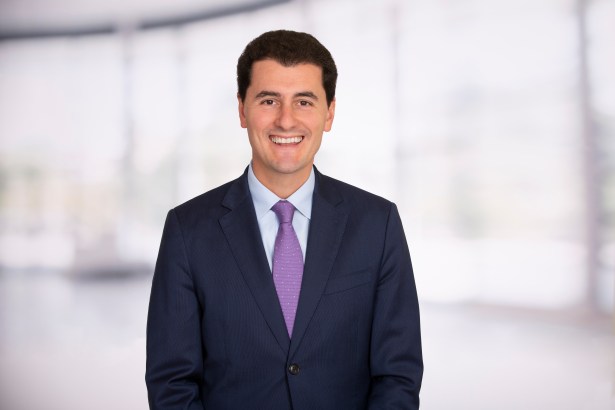 Even though he lost, people took notice of him. In 2014, the Manhattan Chamber of Commerce approached Biberaj to freshen up its brand and improve its outreach efforts. He did that and more. "We got legislation passed that provided relief for commercial real estate taxes," Biberaj says. "I lost the city council race, but I was still able to do advocacy work and change things."
When Biberaj moved back to the Washington area in 2017, he took his current job with Savills and eventually launched the Democratic Business Council of Northern Virginia. "My job is about leveraging long-standing relationships," he says. "We have all kinds of clients. We're not particularly political."
Lugar's past is also impressive. After running an overseas private equity firm for many years, he returned to D.C. and found a job with JLL, where he worked for 10 years before moving to Transwestern five years ago.
"I wanted to be on the tenant side, and I knew a lot of people in town," he says. "I got to deal with all the sorts of political people I've known for many, many years."
Like Biberaj, Lugar finds that political clients care more about his market knowledge than who he voted for in the last election.
"At the end of the day, what they're looking for is somebody who really understands the market from their perspective," Lugar said. "I never lobbied, but I did business for a lobbying firm. So, I can really step into my clients' shoes and know exactly what their issues are."
Lucy Kitchin, managing director in JLL's Government Investor Services group in Washington, D.C., also has political background, having served as a staff assistant to a U.S. senator and at the now-defunct Southern Governors' Association. Part of her job includes monitoring legislative actions that affect ongoing or anticipated federal leasing activities, which involves clients such as the Department of Education, the Department of Housing and Urban Development, and the Department of Homeland Security.
Distinct Needs
While both Lugar and Biberaj agree that it pays to be seen as someone who can work with all sides, it's also important as a commercial real estate advisor to understand the political climate and the needs of politicians as well as, more broadly, the advocacy world.
"These groups go in cycles," Biberaj said. "If you get funding, you may need to expand the next year. If not, you may have to contract. They need to have a structure for leasing that's flexible."
For political campaigns, the flexibility to shutter operations quickly when things go south is even more important. "You have to be able to be in a leasing situation or real estate situation that allows you to close down when and if you don't make it through," Kitchin told CO. "Campaigns go through significant growth, and they go through significant reduction sometimes."
The problem is that flexibility often comes at a price — something cash-strapped advocacy groups and campaigns don't often have in abundance. To make the numbers work, they have to make concessions.
"Some of these leases are in Washington, D.C., but some [are] also in Maryland and Virginia," Kitchin said. "They're going to go where they can get a flexible lease term and yet not have to pay too much in rental rates."
With their need for flexible leases and space, Biberaj says coworking space is a natural fit for political groups. Lugar, however, sees issues with privacy.
"I think they saw a little bit of that in the beginning [with groups started by former Trump campaign officials], but those firms grew very quickly and that just really wasn't the right environment for them to be in given the sensitivity of the issues that they were involved with," Lugar said.
Michael Hartnett, senior director of Mid-Atlantic Research at JLL, agreed. "We haven't seen that kind of user benefit from coworking," Hartnett said. "There are too many security needs that coworking couldn't solve for that quickly."
Another way to shave costs is by taking over an office space as is.
"They're not going to be putting a bunch of tenant improvements into something, because they're not going to be getting a return on that," Kitchin said. "I think probably ideally what they'd like is some type of private offices, but, mostly, it's going to be a very collaborative environment."
And an environment that accommodates a lot of people with a large number of employees per square foot. "It's not a long-term use," said Hartnett. "You've got people coming in and out, so what they're looking for is to leverage every ounce of the space they can."
Running for an election is an exhausting, time-consuming event, and campaign staffers work long hours.
"When you're preparing for an election, you can't have people moving boxes," Biberaj says. "They need to be working. You need amenities that keep them close to the office with these schedules — like coffee shops, gyms and restaurants nearby."
A Big Year Ahead
You don't need a psychic to predict a big year ahead for political leasing, with the 2020 election just around the corner.
"As we get closer to election cycles or elections, we do see an uptick of political activity, whether it's on the activism side, whether it's on the super PAC side, or whether it's just candidates adding office space," Kitchin said.
Right now, much of the leasing action is taking place around the country in the early primary states. "The presidential game is really played in the field," Lugar said. "For those folks who make it through the first three or four primaries and have some traction, you'll see leasing in D.C. and in some of the big regional cities where they need to have larger field operations and cover a bigger geographic area."
Currently, the RNC and the DNC are the ones going out in the market to lease blocks of space, but Lugar calls that political leasing activity a "blip."
"The reality is that it's maybe 20,000 to 50,000 square feet that they'll go out and lease," Lugar says. "So, collectively, maybe 100,000 square feet gets absorbed. It's typically sublease space because it's a short-term type of situation."
Once the election is over, more changes will be forthcoming. After the 2016 election, for example, Biberaj says, there was a correction.
"Leasing office space is always tricky for any organization as it is always hard to forecast growth and funding, but in D.C., election results can have a material impact on groups, more so than in other markets," Biberaj says. "After 2016, as with any big election, groups that were betting on a certain outcome likely had to rethink their own real estate strategy in the wake of the results. Moreover, new groups emerged as a result that might not have needed to exist if the election went the other way."