Investors Bank Lends $30M on Suburban Retail Center in Pennsylvania
---
---
Investors Bank has provided a $30 million loan to The Cotswold Group to finance a retail center called Village at Newtown Center in Newtown, Pa., Commercial Observer has learned. 
The 20-year, fixed-rate and self-amortizing loan pays interest in the "mid-3 percent range," according to information from brokerage ABS Altman Warwick, a division of ABS Partners Real Estate, which arranged the financing for the 130,000-square-foot retail center. The firm's co-managing partner Brian Warwick, along with Patrick Rhea, procured the debt on behalf of the borrower. 
The shopping center — at 2120 South Eagle Road — is anchored by Petsmart, Ace Hardware, mattress chain Sleepy's, Rothman Orthopaedic Institute and also the local Newtown Farmer's Market, according to information from Cotswold's website. 
"Since we were tasked to find a 20-year loan, our challenge was to find a long-term, fixed-rate lender for a property whose tenancy is considered non-traditional by most life insurance companies," Warwick said in prepared remarks. "Although a 20-year, fixed-rate is not a product offered by most banks, we were able to find a savvy commercial bank willing to really dig in and take the time to understand the true value of this market in general and this retail asset specifically. 
Warwick added that despite the extreme cautiousness shown by lenders in financing regional retail centers and the market's relatively negative perception of the sector, "we were able to get this deal across the finish line because of the fantastic location and the market-specific mix of retailers that have made it a great place to shop for decades."
Other tenants at the site include a PNC Bank branch, a Wendy's fast food restaurant, a Smoothie King, Sherwin Williams, HR Block and Quest Diagnostics.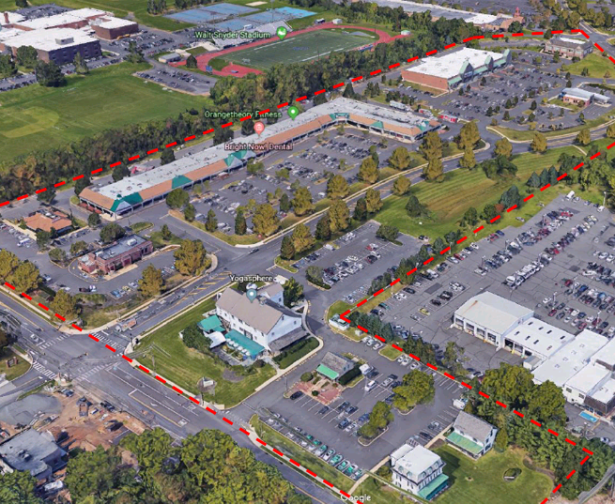 Village at Newtown Center sits on 22 acres and is fully leased, according to Warwick, and it had been appraised at around $50 million to $52 million. With its Newtown location, the shopping center is straddled by Trenton, N.J. — about a 25-minute drive east, across the Delaware River — and Philadelphia, which is just about 30 miles south. 
Warwick said that the appeal of suburban retail centers such as Village at Newtown Center hinges mostly on the surrounding demographics of the area and what else the asset can benefit from. For example, within a five-mile radius of the shopping center, the population sits at roughly 106,000 and there are around 38,000 households, with an average household income of $115,000, according to information on Harrison, N.Y.-based Cotswold's website; the center is also adjacent to the local Council Rock High School. Some of the surrounding retailers include a Ford car dealership, Bed, Bath & Beyond, Staples, Applebee's, Rite Aid, AT&T and Enterprise Rent-A-Car. 
Officials at Cotswold did not immediately respond to an inquiry. A representative for Investor's Bank did not immediately respond. 
2120 South Eagle Road
,
Ace Hardware
,
Altman Warwick
,
Applebee's
,
at&t
,
Bed Bath & Beyond
,
Brian Warwick
,
Enterprise Rent-A-Car
,
H&R Block
,
Investors Bank
,
Newtown Farmer's Market
,
Patrick Rhea
,
petsmart
,
PNC Bank
,
Quest Diagnostics
,
Rite Aid
,
Rothman Orthopaedic Institute
,
Sherwin Williams
,
Sleepy's
,
Smoothie King
,
Staples
,
The Cotswold Group
,
Village at Newtown Center
,
Wendy's
,
ABS Partners Real Estate