Robert Gladstone on Selling Out 212 Fifth Avenue and the 45 Broad Street Development
The head of Madison Equities (who sold an $80M apartment to Jeff Bezos) has conquered NoMad and is ready for FiDi
---
---
It's been a good couple of months for Robert Gladstone.
The head of Madison Equities was able to completely sell out the 48 units in the company's condo conversion project at 212 Fifth Avenue last month, after nearly four years of development and some turbulence—including a lawsuit against its original brokers, delays to construction, a fluctuating price to its penthouse and a struggling luxury market.
The average apartment in the building, which Madison developed with Building and Land Technology and Thor Equities, sold for about $10 million, and the building reportedly attracted some big-name buyers. The Real Deal reported that ESPN host Mike Greenberg plopped down $6.6 million for a condo in 2017, while JLL's New York head Peter Riguardi nabbed one the same year for $6.9 million.
But perhaps the one to get the most ink was Jeff Bezos' nearly $80 million purchase of the penthouse—which had its listing price bounce around from $73.8 million to $58 million—along with the two units below it last month, The Wall Street Journal reported. It was the most expensive deal closed in the city south of 42nd Street and the second-largest so far this year, according to WSJ.
But while Gladstone was glad to talk about his vision for the project and the complexities of retooling a more than 100-year-old building into condos, the 67-year-old developer remained mum about who actually bought units.
"I don't confirm; I often deny, and people hate me as a result of that," Gladstone said. "It's unethical" to our tenants, "but it's also bad business. It never increases the flow of people coming in, that's a fallacy."
Aside from selling out 212 Fifth Avenue, Madison is also near the finish line on the foundation for its ambitious—and risky—building at 45 Broad Street in the Financial District. The project will be the first residential in the neighborhood, planned to rise 1,100 feet, and Gladstone has spent the past few years installing 470 steel piles into the ground for the building.
Commercial Observer sat down with Gladstone in his Madison Avenue office to talk about the development of both buildings and his recent crusade to try to help make the subway system more accessible.
Commercial Observer: What was the process like for selling out 212 Fifth Avenue?
Robert Gladstone: When we look at a project, the concept is the most important. Who are you building the building for? Who's its ultimate user and what is their expectation? One of the reasons we sold so well was—[and] I'm very proud to say, hats off to the team here and to the designers and architects—because the execution was superb. 
Times have not been good for the last 24 months, but we sold out because people saw that the product was as advertised and better than the renderings, which is always the reverse. We also had a superb sales and marketing team, headed by Nikki Fields [of Sotheby's International Realty]. We worked hand in glove with them. Instead of having one meeting every two weeks, we had three meetings per week. 
For the most part, our customers could have bought anywhere, but they chose to move here. So I think it was a combination of all that hard work paying off.
You said the last few months have been difficult, was there any fear that this project might not pan out or the buyers aren't going to come?
Anyone who does not have fear is a person who takes no risks. A good general is afraid of the battle; Churchill was afraid of D-Day. I'm not Churchill and this isn't D-Day, [but] the idea is to prepare people for what might happen. You hope for the best, but you expect the worst.
There have been times where buildings sold out prior to the first person moving in [but] I tell everyone to assume that people will be living in the building while we are still selling. So if someone doesn't like the building that they're in, they're going to tell people that are coming upstairs.
You have to put together a good team of people and you have to assume that it's going to be a slow sale. If it's a fast sale, that's great. But if you assume it's going to be a slow sale then you are able to prepare and deal with it.
You mentioned earlier that when you're starting a project you try to conceptualize who the end-user is going to be. What was that thinking at 212 Fifth Avenue?
I have never been a believer of the old adage that the three laws of real estate are location, location, location. That's absurdity. It's concept, concept, concept. What are you building? Who are you building it for? If you can't name your end-user, then the whole architectural program is off.
We knew that we had to do something [at 212 Fifth Avenue] that someone who lived in a tony building on the Upper East Side would be happy and that someone living in Tribeca would also be happy, because this particular location is halfway in-between. Madison Square was rapidly developing into a very important place to live and we knew from some of the residents that were moving that this would satisfy that crowd.
How did you do that?
Our building has beams in it, so I knew there wasn't going to be crown molding unless you drop the ceiling. And that's the kind of detail we have to think about. Crown molding is more of an Upper East Side, Upper West Side, kind of older building vocabulary. And beam ceilings is Downtown vocabulary. So, we have to play the game of, if someone wants to drop the ceiling, would that ceiling work, and would they still be able to put it in crown molding? All these things come into play.
You can't leave that much flexibility because, after all, the developer has to make the choices. I'm happy to say that very few people changed anything. So, the research paid off, we got it right. Most people are American, or transplants to the United States. There are a number of foreign people and they call this their New York place. But for the most part, we found New Yorkers or Americans here.
That's not what you were expecting?
Everyone talked about the vast hordes of foreign buyers. Yes, we found them, but the people that understood this vocabulary very well were New Yorkers and Americas. They really appreciated it.
I think when someone looks at a building that is a masonry building they perceive what's going on. They understand that they could live there, instead of a building where all floors look exactly the same and you can't tell where one floor is and [the other] the floor is not. People are drawn to the kind of classical architectural concepts which were used until the 60s and 70s.
What was the construction process like at the building?
It being a loft building, there was a small bathroom for women and a small bathroom for men. That was it. There was cold water; they had advertised themselves in 1912 that they had ice water on the floor.
To put in significant bathrooms, HVAC, sprinklers, ductwork and introducing new vertical risers throughout the building became amazingly difficult. Sometimes they don't make them better back then than they do today and the steel wasn't lined up perfectly.
Every two or three floors, things had to be adjusted so that there was not a problem in the bathroom with a haunch in the ceiling. All of this was done very meticulously and with great difficulty. When you build a new construction from the ground up, you don't have any of these problems. You are surveying the floor and you know where everything is supposed to be. Nothing is in the wrong place. Here, had we not done it, everything would have been in the wrong place.
What's the status of the 45 Broad Street project?
[It's] still in the foundation stage. We had several methods presented to us to do the foundation. The building sits on rock, but the rock is 45 feet down. We had ways that would have shaved six to nine months off the foundation process and $5, $6, $7 or $8 million off of it.
We chose two years ago to go in the direction of this substantial foundation. We have 470 vertical elements [concrete rods drilled into the ground that create a wall] on the bottom floor—which is 9,000 square feet. It's something called secant piles. We're grabbing rock at all these locations.
All the drilling and piling is now completed and now we're starting on the actual pouring of the foundation. That will go on for four months and it will have taken us two years to do this and a lot more money then we wanted to spend. But the elevators will work perfectly because they will be sitting on solid ground.
What was the concept you had when you started this project?
The views [start in the Financial District] at 240 feet. So I said, "That's exactly where I want to start the apartments." Below that, we have amenity space and eight floors of office space, mechanical and so forth. Almost every apartment has a view of water, which is really very important.
We also sized the units so that the average sale would be in the mid-$2 millions and that this could be an alternative place for people to live. Mostly two bedrooms so it would satisfy couples, "baby maybes." A "baby maybe" says, right now we need a large one [bedroom] but we maybe might need two. There are a number of threes for families. Schools down in this area are sensational, some of New York's best schools, so we knew that we would be attracting families and yet we wanted to keep the prices as low as possible.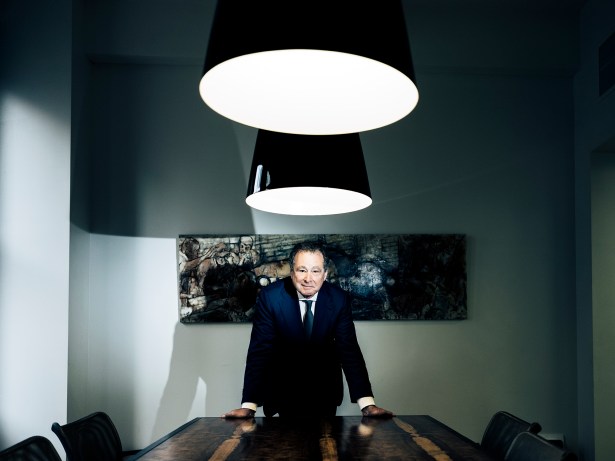 Can you talk a little bit about the subway elevators being built with this project?
When this began, I learned there was something called the subway improvement bonus [where a developer pays for an improvement to a subway station in exchange for a zoning benefit] which is a very enlightened idea the city uses. 
New York City has 24 percent of its [subway] stations that are accessible for people with disabilities. The next worse city is 60 percent and there are cities in this country that have 100 percent. At first, I thought, "This is an interesting thing. I'm doing social good and I didn't think it would cost too much." I understood that this is the J/Z line, so it's the terminus of one and the beginning of the other. [It has] split platforms and, especially after 9/11, we needed two elevators. I figured the cost would be between $8 and $11 million and it's costing $22 million, which is ridiculous.
When I met with the individuals with disabilities, who came to each one of our approval programs, it was very moving. These people were extraordinarily articulate and happily came, spent their own money, asked for nothing and spoke upon the building's behalf. Needless to say, we're very proud and happy to do that and the two elevators will be built. We've spoken to the borough president's office about expanding this program so that it can be done by other developers in other locations. Let private enterprise do what city can no longer afford. And I think that is the catch-all for what business citizens are supposed to do.