Ghost Towers of New York
Only 17 people in 432 Park are registered to vote, making it one of the least populated prominent pieces of real estate in Gotham.
---
---
In New York, it's accepted as fact that the glassy new supertalls rising along Billionaire's Row, and in Tribeca, and anywhere you look really, are largely owned by moguls and oligarchs who want to park their cash in New York real estate.
While there are few solid numbers to prove how many of the sky-high apartments are inhabited by living New Yorkers and how many are owned by tax-happy LLCs, we looked at voter registration numbers to give us a clue.
We found that in eight of the city's most expensive and notable apartment buildings, voter registrations fell far below the city's average. In February 2019, there were 1.2 million registered voters in Manhattan, or 71 percent of the city's eligible voters, per the New York State's Board of Elections and the Census Bureau respectively.
The proportion of apartments with at least one registered voter in each of the eight towers, which rank high up on City Realty's list of luxe buildings in the city, is far less than that.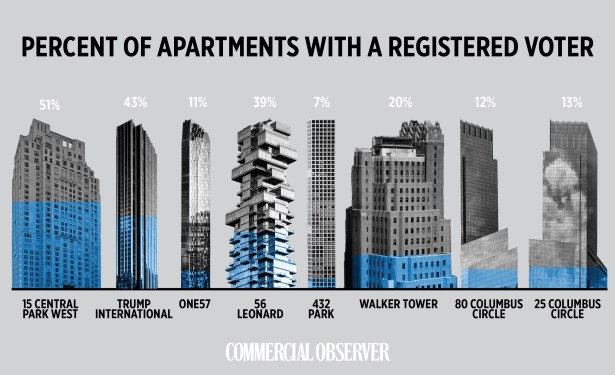 At 432 Park Avenue, where a penthouse sold for $75 million, there are just 17 registered voters residing in nine apartments, or seven percent of the building's 125 units. In One57, a Billionaire's Row skyscraper with 94 condos, there were 14 voters in 10 apartments, which works out to 11 percent.
The caveat is that those two buildings are new developments—they opened in 2015 and 2014 respectively—so there's a possibility that not all the units are sold or that people haven't yet moved in. However, the Jenga-looking tower at 56 Leonard Street, which opened at the same time as 432 Park, had 87 voters in 57 of 145 apartments, a much more solid 39 percent.
Plus, the numbers aren't much better for older buildings. In Chelsea's Walker Tower, which was built in 1929 and restored in 2012, there were just 13 voters from 10 out of 49 apartments.  
The best performing super condo, according to CO's analysis, was the coveted 15 Central Park West, where half of the apartments had at least one registered voter. Second was Trump International, right next door at 1 Central Park West, with registered voters in 42 percent of apartments.
(In Trump Tower, which wasn't near the top of City Realty's list, there were 44 voters in 30 apartments, just 13 percent of the 231 units in the building.)
We also found that the apartments tended to be more Republican than the city's average. According to the BOE's numbers, 68 percent of voters in Manhattan are registered as Democrats, nine percent as Republicans, and 18 percent left the party affiliation blank.
The same eight buildings tended to be more Republican than the city average, but still majority Democrat.
The average for all the buildings works out to 51 percent Democratic and 35 percent Republican, almost four times the city average.