The Plan: Historic Sportsmen's Lodge in Studio City Gets Retail Upgrade
---
---
Changes are coming to the heritage Sportsmen's Lodge property in Studio City. New York-based Midwood Investment and Development released renderings of a planned $100 million upgrade to the property, located at the interchange of Ventura Boulevard and Coldwater Canyon in the San Fernando Valley, which will include retail and restaurants and landscaping overhaul designed by international landscape design firm OLIN Studio.
Midwood's concept, The Shops at Sportsmen's Lodge, designed by Gensler, will bring 94,000 square feet of retail, dining, fitness and outdoor communal space to what was formerly the meeting and convention space, according to a company release.
Two anchor tenants have already signed on—specialty grocer Erewhon, which will be taking 11,000 square feet, and high-end fitness center Equinox will establish a 30,000-square-foot club on the grounds. In all, the center will house approximately 23 stores with restaurants ranging from healthy fast-casual, family-style restaurants and fine dining.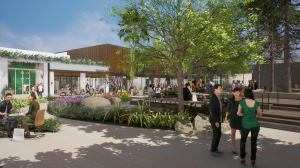 "The existing parking lot will also be expanded to over 450 spaces and moved to the edge of the property," reported the San Fernando Valley Business Journal in a May 17 story. The old-growth redwood trees that tower over the property as well as some of the other established vegetation will be preserved.
Groundbreaking is scheduled to commence in August, with an estimated opening set for fall 2020.
"The site, because it has so much history, is really about preserving that sense of place and history," John Usdan, CEO of Midwood, told Commercial Observer. "There are so many families that had events there and that [have] a real connection to it, so we really viewed our job as to preserve that sense of place, that sense of history and how to enhance it and revitalize it so that's what The Shops at Sportsmen's Lodge is all about."
The location of the original Sportsmen's Lodge has a long and storied history as both a recreation designation, dating back to the 1880s, and gathering place for Hollywood elite, including John Wayne and Clark Gable, as well as local families.
Usdan himself has history with the property, as his grandfather—who founded Midwood Investment— financed development of the complex in 1962.
The adjacent Sportsmen's Lodge Hotel, which is not part of the whole-scale redevelopment, will remain though Usdan said they were "going through a lengthy analysis as to how best to preserve and enhance the hotel," which dates to the 1960s.
"Its redevelopment into a mall has not been without road bumps," according to the Journal. "Last October, Midwood's preliminary landscaping designs for the retail center were stymied by the Los Angeles Cultural Heritage Commission, which felt the project was not made in the spirit of the original Sportsmen's Lodge. Midwood quickly developed new plans based on the commission's recommendations. These were approved in November 2018."
Editor's note: This story has been corrected since publication and includes a link to the original source.