Stephen Preuss Is C&W's Queens Sales Guru
---
---
When Stephen Preuss—now the senior managing director of Cushman & Wakefield's New York middle market investment sales team—was 26 years old, he was already the owner of 15 stores and the part owner and manager of 40 more.
He also lived in Wantagh, Long Island, with his mother.
"I was just so busy at the time," Preuss, now 39, told Commercial Observer at Cushman & Wakefield's offices in midtown Manhattan. "I was working 20 hours a day. I was so solely focused on it that when I had time to lay my head down, it was a lot easier [living at home]. And, I got a home cooked meal here and there."
Preuss, who grew up in Levittown, Long Island, until age 11 when his family moved to Douglaston, Queens, currently heads a 10-person team that sold 38 percent by dollar volume of all commercial real estate in the Queens middle market—from $2.5 million to $75 million—in 2018, a remarkable percentage that has risen every year since 2011.
"We've seen him grow tremendously and couldn't be prouder," said Joseph Caridi, the executive managing director and managing principal of Brooklyn, Queens and Long Island for Cushman & Wakefield. "As a firm, we love to see young guns rise through the ranks, and Stephen is paying it forward as well as he mentors younger mid-market investment sales brokers in their early careers."
"Steve is the exact opposite of a typical broker in my experience," said Scott Barone, CEO of Barone Management, who estimates he's done around 10 deals with Preuss since 2009. "Real estate brokers will inundate you with words and under-deliver on performance. Steve is efficient. He gets to the point. There is no broker babble involved…[For example], if a guy's got an asking price of $20 million on a property, he may tell me, 'Listen, the deal will get done at $18 million.' We don't always necessarily get to $18 million, but at least I know what I can get the deal done at."
Preuss chalks his success up to the same work ethic that led him to own so many businesses in his mid-20s that he didn't have time to look for his own apartment.
"I tend to think I work more efficiently than many people," said Preuss, who currently lives in Old Brookville, Long Island, with his wife Stephanie and their two sons, Dominic, 5, and Stephen Jr., 2. "I think I've perfected how to fit 15 hours of work into a 12-hour day, and I have a high capacity to run and negotiate a large amount of deals. Within my team, we run a state of controlled chaos at all times."
Listening to Preuss discuss his life and career, though, chaos rarely enters into it.
Preuss' grandfather Gus Preuss, a German immigrant, founded a truck repair business called Preuss Inc. in East Williamsburg in 1942, which was later run by his father, Roger. (His brother Ryan currently runs the shop.)
While he decided early on that working in the family business wasn't for him, it gave him a taste of entrepreneurship. Preuss had drive, playing baseball and basketball throughout high school, and knew early he'd want a business career.
"I was always very competitive, and I always took a liking to business-related items, and chair[ed] some of the business or political boards in middle school and high school," he said.
After attending Holy Trinity High School in Hicksville, Preuss earned a bachelor's in finance from Florida Atlantic University in Boca Raton, Fla., and obtained his Series 7 license. Moving back to New York after graduating in 1999, he worked on Wall Street at Josephthal & Company, which was later acquired by Oppenheimer, raising capital and advising financial clients.
After a few years, he took the money he was earning there and began buying businesses.
"I had the rights to do eBay drop-off stores throughout Long Island and eventually the east coast," he said. "I personally had 15 stores, and then I had part ownership or management of another 40. I also did fast food restaurants [Quiznos]."
His entrepreneurial period lasted for about five years, at which point he packaged all his stores and sold them. While he won't reveal the amount, he does say he sold them for "more money than a 26-year-old should have."
After finding his own place in Douglaston, Queens, Preuss now needed to figure out his next step, career-wise.
"I looked back over the past several years," he said, "and the one thing I enjoyed most was the real estate aspect of my different endeavors. I had negotiated most of my leases and the leases from my franchisees and partners, so at that point I'd negotiated hundreds of leases and scouted hundreds of locations. I realized I was really passionate about that and was actually very good at it. So, it was a natural progression for me to look into that type of business."
Preuss started in investment sales at Massey Knakal in 2006, and he was assigned a small portion of south Queens.
"It was really three sub-areas, so it was probably close to about 1,500 to 2,000 buildings of coverage in Ozone Park, Richmond Hill, Howard Beach and Woodhaven," he said.
He scored his first deal relatively quickly, selling a 9,700-square-foot warehouse with a 12,585-square-foot lot in Woodhaven on behalf of Calip Dairies to Elderts Land for $1.8 million in October 2007.
"It was the first listing I had, and I ended up selling that first listing, which people told me was very odd," he said. "Usually you had to go through a few listings and a few failed attempts. It was a long and arduous process, but it gave me good momentum and a lot of confidence going forward."
During this time, Preuss combined his business acumen with lessons he was learning about real estate from Paul Massey and Bob Knakal.
The financial meltdown that began in 2008 was a "gut check," but Preuss expanded his territory during the rocky ensuing years.
"Even though times were down in 2009 and 2010, my market share, my dollar volume and my transaction volume compared to my competitors was always a much higher rate," he said.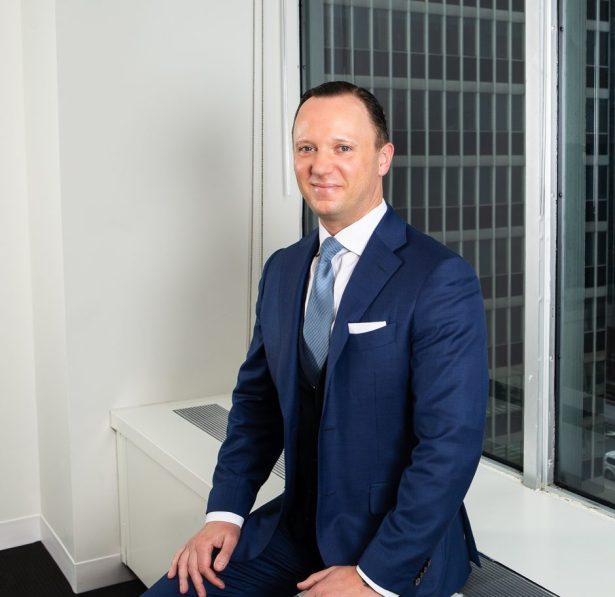 With the market finally on the upswing, he saw 2011 as the year he fully broke through, becoming a seven-figure producer for the first time.
"I was one of the top producers in my market [in 2011], not only within Massey but within the market I was focusing in. That was the year I brought my brokerage business to the next step, and I haven't looked back since." He has increased his share of the Queens market every year since.
In 2012, Preuss represented Barone in the purchase of 151-45 Sixth Road in Whitestone, the largest development site in Queens at the time.
"The Whitestone deal was complicated," Barone said. "We were finishing a big environmental cleanup on the site, which was in foreclosure from the prior developer. Steve could have pushed the seller to take a higher offer, but he knew that, because of the uniqueness of the site (due to the environmental issues), he would have gone to contract, and they wouldn't have closed. It would have wasted his client's time and money and could have potentially blown up a deal with us that was a solid deal."
A 38 percent market share of the borough means that Preuss and his team are remarkably busy.
"We are actively working on 20 to 30 contracts at any given time and 70 to 80 exclusive deals," he said. "We run anywhere from $600 million to $800 million in exclusive product, which is unheard of and unmatched in the outer boroughs. Our propensity, and my propensity, to handle that many deals at one given time really sets me apart from a lot of my competitors."
In 2016, he worked on the $65.8 million sale of the RKO Keith's Theater in Flushing, which had been on the market for three decades, from JK Equities to China-based Xinyuan Real Estate.
"That was a landmark site and has really been a blight on the Flushing neighborhood for the last couple of decades," Preuss said. "This was a closed-down movie theater that has been sold several times but never developed. We were able to take that site, market it to a very large marketplace and sell it to a buyer who's actually going to develop the asset. Xinyaun is one of the only publicly traded Chinese construction companies, and we got them to pay $200 a buildable foot. At that number, it really [makes sense] for them to develop it instead of holding onto it and selling it."
In January of last year, Preuss closed on the $55 million sale of adjacent lots at 163-05 and 163-25 Archer Avenue, which contain over 700,000 buildable square feet, from developer Chris Xu to BRP Companies.
Preuss notes that with this complex deal, which he worked on for over two years, he was able to significantly impact pricing barriers in the area.
"Pricing previous to this was only at $50, $60 per square foot," he said. "We were able to touch almost $100 per square foot in the Jamaica market on a very large scale site. That really set the market for Jamaica."
Part of being able to grow within a market and understand its complexities is having a deep understanding of that market. Preuss notes that given the city's high-end real estate boom over the past decade, the nature of doing business in Queens is changing.
"When I first started, a hundred percent of my business was a local Queens seller selling to a local Queens buyer," he said. "Over the last three, four years, that has changed. Fifty percent of my business is now either first time buyers in Queens, or first time buyers in the outer boroughs. You see a lot more institutional money or larger equity groups and money flowing out to Queens."
At this point, Preuss has seen enough of this to call it a trend but also noted that the trend is just beginning.
"A lot of that larger capital, that institutional capital, has really only touched the waterfront, Long Island City and Astoria," he said. "There are so many other places in Queens that have so much value and great transportation that I really think we're still in its infancy."
These shifts have changed the way Preuss and his team evaluate properties in the borough.
"It's opened up the mindset for potential buyers," he said. "We work closely now with our institutional group, Adam Spies and his team. We're bringing larger buyers into the marketplace. Instead of one property on one avenue, now we're looking at maybe assembling larger properties to go after those larger buyers with larger pockets. So the deal points and the transaction points have definitely risen over time."
But given his tremendous market share, Preuss is hardly a passive player in Queens real estate and sai he sees his work as having a significant effect on pricing throughout the borough, in Jamaica and elsewhere.
"In places like Flushing, our sales have pushed the price per land to $300 to $400 per buildable square foot," he said. "In places like Jamaica, where we have a tremendous market share, over 70 percent market share for larger development sites, we've been able to really push the price per development land over $100 a foot. So for development, we've really pushed the limits on pricing. And that's why buyers say a lot of times, I hate to buy from you, but I love to sell with you.
Moving forward, Preuss sees no limits on how dominant his team can be in Queens, as his next goal has him shooting for a 50 percent market share. And if he achieves that? Watch out, Brooklyn.
"This is the first year we've focused on the entirety of Queens," he said. "We really are trying to make our mark on having an even larger market share for the area. My goal is to sell 50 percent of all the property in my subject area. Then we're expanding into Brooklyn, into some of the parts that touch Queens like Williamsburg, Greenpoint, East New York, and Bushwick, where there's a natural carryover. We're hand-selecting a few deals in that area that we're going to be working on."
151-45 Sixth Road
,
Barone Management
,
BRP Companies
,
Calip Dairies
,
Chris Xu
,
Cushman & Wakefield
,
Joseph Cardi
,
Josephthal & Company
,
Robert Knakal
,
Scott Barone
,
Stephen Preuss
,
Xinyuan Real Estate