From Empty Lots to Mega Development: Essex Crossing Is Ready for Its Closeup
---
---
After years of bitter fighting between politicians and community groups over what to do with large empty parking lots around Essex and Delancey Streets, signs of life have finally started to appear.
Essex Crossing, the six-acre, nine-building, 1.9-million-square-foot mixed-use project that was eventually selected to take over the lots, opened a huge chunk of its first phase of residential buildings, senior housing and retail shops last year.
In 2019, the project's developers—known as the Delancey Street Associates, made up of BFC Partners, L+M Development Partners, Taconic Investment Partners, the Prusik Group and the Goldman Sachs (GS) Urban Investment Group—expect to put the finishing touches on phase one and begin completion of parts of the second phase.
"When we started six or seven years ago, you hoped that if you build it they will come," said Isaac Henderson, a development director at L+M. "We are really pleased that people really have come."
Essex Crossing was an ambitious project—standing, as it does, at the intersection of housing projects, hipster bars and restaurants, hotels and multimillion dollar condominiums—with no guarantee that it would succeed.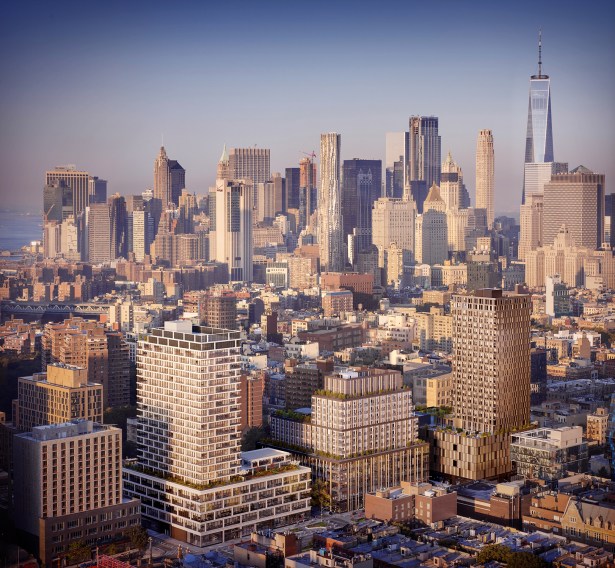 The project's first building opened in January 2018—the 14-story Frances Goldin Senior Apartments—and three others have since followed. So far, nearly 500 units over three buildings, a mix of rental and condominiums, have come online and some residents already moved in.
This includes the 55-unit 242 Broome Street condo building, which finished construction early last year and offers a mix of one-, two- and three-bedroom apartments with 11 set aside for affordable housing.
Benjamin Baccash, an assistant vice president at Taconic, said developers have already sold more than 80 percent of the units. The cheapest of the remaining stock is a $1.7 million one-bedroom apartment.
"We've had really great sale velocity," Baccash said. "We're doing deals on a daily basis. It's an exciting time for the project."
On the retail side, Target opened a 23,000-square-foot outpost at 145 Clinton Street in August 2018 and a much-hyped 30,000-square-foot Trader Joe's, the grocer's largest location on the East Coast, followed in the same building in October, according to developers.
And there's still more to come. A 14-screen Regal Cinemas is slated to open later this month at 125 Delancey Street while The Gutter bowling alley will launch its third outpost in the city in the basement of 242 Broome Street in the spring, developers said.
"There's not a lot of what folks call family entertainment in the neighborhood," said Rohan Mehra, a principal of Prusik Group who handles the retail leasing for Essex Crossing. "The community really wanted to see [the bowling alley and theater]."
The new headquarters for the International Center of Photography is also set to open a 40,000-square-foot space for galleries and classes at 242 Broome Street later this year, Mehra said.
Perhaps the two most highly anticipated projects in the area this year are the revamped Essex Street Market and the first section of the 150,000-square-foot The Market Line, which will run underneath 125 Delancey Street, 108 Broome Street and 202 Broome Street.
Modeled after places like Pike Street Market in Seattle and La Boqueria in Barcelona, The Market Line will span three city blocks and have food stalls, coffee stands, a beer hall, gallery space and fashion and art shops.
"It's really going to be a focal point," said Mehra. "You can go and buy everything you need."
The first section of Market Line focused on food will open its doors in May and include outposts from East Village pierogi spot Veselka, ramen bar Kuro-Obi, grocer the Southeast Asia Market and butcher Ends Meat.
Mehra said developers focused only on leasing space to local brands in The Market Line and tried to represent the different immigrant populations who have called the Lower East Side home over the years. Developers also avoided doing deals with chains.
"One of our mantras is that if the local community shops here, that's how it will be successful," he said.
The scores of new stores, buildings and residents is a far cry from what the three-block site looked like for nearly half a century. It was previously large empty lots that were home to junkies, drug dealers and prostitutes.
The lots originally hosted tenements but they were demolished by the city in 1967 as part of infamous master builder Robert Moses' "slum" clearance program to bulldoze buildings south of Delancey Street to replace them with high-rises, The New York Times reported.
Moses' "slum" clearance kicked out about 1,800 mostly Puerto Rican families and several hundred local businesses, but community stakeholders could not agree on what would replace them, according to the Times.
Latino residents and housing advocates pushed for low-income residences while nearby Jewish groups, led by disgraced Assembly Speaker Sheldon Silver, wanted retail or office space instead, the Times reported.
The fight raged on through several administrations, with different proposals being kicked down until Mayor Michael Bloomberg stepped in 2013.
Bloomberg put out a request for proposals for the lots that year and selected the Delancey Streets Associates' pitch for Essex Crossing in September 2013, according to the New York City Economic Development Corporation.
"Anybody who's been involved in development in the Lower East Side was aware of the vacant parking lots," said L+M's Henderson. "Everybody viewed it as a real opportunity."
To help win support from the community, the team decided to add some of the most wanted aspects of the project in the first phase, like the movie theater and food hall. While it made development more of a challenge, Henderson said, in the long run, it was the right idea.
"The payoff is that the community is ecstatic," he said. "It would have been a lot easier to get a lot of these uses later on, but we sort of went with a different approach. It's been a pretty incredible success."
But the team isn't across the finish line yet. The three-building second phase—202 Broome Street, 180 Broome Street and 140 Essex Street—is currently under construction and will bring with it another nearly 500 rental and condo units to the neighborhood.
It also will have the development's 350,000-square-foot office component spread out between both Broome Street buildings which they tapped Cushman & Wakefield to start marketing this year.
"It's an exciting office product," said Baccash, who's working on the office side. "We think it's going to attract a real tenant to the area, somebody that is looking to offer their workforce a very amenitized, unique experience."
The offices will have floor plates ranging between 35,000 to 50,000 square feet on the second through fifth floors of the buildings, Baccash said. The leasing plan is to try to target a large anchor tenant to take the entire space.
Phase two is expected to finish in 2021 and the project still has another two-building third phase on deck at 116 Delancey Street and 121 Stanton Street. The last two building will have more rental and condo units and retail space.
The last phase is scheduled to be complete in 2024.
242 Broome Street
,
Benjamin Baccash
,
BFC Partners
,
Delancey Street Associates
,
Essex Crossing
,
Essex Market
,
France Goldin Senior Apartments
,
Isaac Henderson
,
L+M Development Partners
,
Prusik Group
,
Regal Cinemas
,
Rohan Mehra
,
Target
,
The Market Line
,
Trader Joe's
,
Goldman Sachs
,
Taconic Partners