Can Ian Schrager Make Times Square Cool?
---
---
Ian Schrager has long projected two qualities: luxury and coolness. Two things that don't exactly leap to mind when thinking of Times Square.
But there's a lot more Times Square in the 72-year-old hotelier than one might remember; after all, he and his old partner, the late Steve Rubell, redeveloped the Royalton at 44 West 44th Street and the Paramount at 235 West 46th Street in the 1980s.
Now, the founder of Studio 54 and the Gramercy Park Hotel has opened the Times Square Edition this month with Marriott International at 701 Seventh Avenue, a 452-room tower at the corner of West 47th Street (which is owned by Maefield Development and Mark Siffin; the project has been in the works since 2012).
Earlier this month, Schrager and Marriott CEO Arne Sorenson sat down in the leafy, sunlit Edition restaurant called 701 West—courtesy of the Michelin-starred John Fraser, which is not particularly a Times Square-associated name, either—to be interviewed by the documentary filmmaker Matt Tyrnauer and a roomful of journalists, including this one from Commercial Observer.
"It's never, ever, ever an issue for me where a location is," Schrager declared. "It's always—build something special and people will come. It happened in Tribeca…the Lower East Side, Soho, the Meatpacking District, the West Village, the Far West Side, [Brooklyn's] Bushwick [and] Williamsburg, on and on and on."
Here's what else we learned about Times Square and what Schrager is calling the "first luxury hotel ever in Times Square. The first!"
Why Schrager, et al., are so interested in Times Square.
Times Square, in Schrager's words, "was always a combination of highbrow and lowbrow—and when you put those two together, that's when the magic happens."
The duo has definitely embraced the spectacle; the property features a 17,000-square-foot jumbotron LED sign facing Times Square ("the highest resolution sign in North America at 1 million megapixels," the press materials promise). And they have unveiled something that Schrager and company call "blade runner terraces" to look down on the hustle and bustle below. (What's a blade runner terrace? Just a nice, planted, 1,565-square-foot terrace with a view below. We're not 100 percent certain of the connection to the 1982 Harrison Ford movie.)
"It's the best light show in the entire world," Schrager said.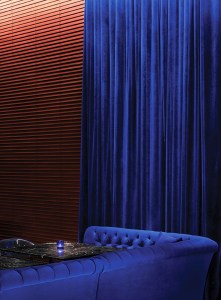 Schrager and Sorenson were not worried about competing in a very crowded Times Square hotel market.
Much like Schrager, this is not Marriott's first rodeo in Times Square. There's the Marriott Marquis, the 48-story tower at 1535 Broadway at the corner of West 46th Street, which opened in the 1980s. As Sorenson told the story, the area was so dicey back in those days Bill Marriott had to fake a bad connection on the call back to his father, J. Willard Marriott, to pretend he wasn't getting the instructions to abandon the deal.
Now, the same concerns are not as relevant.
"Times Square is a great market," Sorenson said. "All these hotels run 90 percent occupancy year-round. The demand for this location in New York is massive. It's simply about positioning our hotel in a place which is quite distinct from the other hotels in Times Square."
Clearly, Schrager has a great affinity for the Times Square of yesteryear.
As he mounted his case for Times Square, Schrager proceeded to describe the numerous buildings and attractions that he has always loved. The Brill Building, an Art Deco office structure which sits at 1619 Broadway and West 49th Street, was built in the middle of the Great Depression and served as the locus of New York's music industry. According to The New York Times, it attracted everybody from Johnny Marks, who composed "Rudolph the Red-Nosed Reindeer," to Carole King.
The Paramount Theater, another Art Deco building at 1501 Broadway between West 43rd and West 44th Streets, is now owned by Paramount Leasehold, a partnership of Levin Properties and the estate of Arthur G. Cohen. It now consists of boutique offices and got a spanking $50 million facelift in 2017.
Birdland, the jazz club at 315 West 44th Street, was opened in 1949 and took its name from Charlie Parker (a.k.a., "Bird.")
Schrager also loves the Whiskey bar in the Paramount. Okay, there might be a little patting oneself on the back here (after all, it was a bar in his hotel), but—as Schrager helpfully reminds us—this is where Cindy Crawford met Rande Gerber.
The New Amsterdam Theatre, at 214 West 42nd Street, was where the Ziegfeld Follies was originally performed. Schrager credited that building with helping bring about Times Square's revival thanks to The Lion King. "When they came in and started that, that brought all the tourists because Times Square never lost its allure to people outside the city," he said.
How the relationship between Schrager and Marriott came about.
The first time Sorenson saw Schrager he was giving a talk at a conference and Schrager said—as Sorenson remembers it—"I'm trying to do everything the opposite way that Marriott is doing it."
Despite that inauspicious introduction, whatever Schrager originally felt had changed by 2006, when the Gramercy Park Hotel first opened. Sorenson and another executive from Marriott requested a tour of the property—which Schrager led personally. It ended with the tiny party taking a seat at the hotel's Rose Bar.
"Ian, in his quiet way, said, 'It sure would be nice to do something together,' " Sorenson remembered.
After saying their adieus, Sorenson turned to the other Marriott exec and said, "What do you think Ian meant by that?"
A few months later, Schrager was in development talks. When they finally were ready to unroll the partnership to the public, one of the PR people suggested putting Schrager in a dapper, pinstriped suit at the announcement, and having the now-87-year-old Bill Marriott in jeans and a black T-shirt.
Marriott cheerfully agreed.
"Not on your life," Schrager responded.
There'll be a night club there . . . Right?
Dumb question. This is an Ian Schrager project. Of course there's a nightclub attached. The day before the press conference, Diana Ross showed up at the 3,000-square-foot venue called the Paradise Club and sang the same song she serenaded Schrager and Rubell with back in the last Studio 54 days.
"We'll be trying to capture the energy of the entertainment that was here before in a multimedia, performance, collaborative, artistic effort," Schrager said.
This includes murals by Chandler Noah and Diego Castano that are supposed to give off a Hieronymus Bosch and Salvador Dali feeling; a walnut bar with illuminated back bar; leather banquettes with Saint Laurent marble tables; VIP rooms; and a space which promises live cabaret performances.
 Schrager added, "It's very hard to put in a box."
1501 broadway
,
1535 Broadway
,
1619 Broadway
,
214 West 42nd Street
,
235 West 46th Street
,
44 West 44th Street
,
Arne Sorenson
,
Arthur G. Cohen
,
Chandler Noah
,
Diego Castano
,
Gramercy Park Hotel
,
Ian Schrager
,
J. Willard Marriott
,
Levin Properties
,
Maefield Development
,
Mark Siffin
,
Marriott International
,
New York Marriott Marquis
,
Paramount Leasehold
,
Steve Rubell
,
Studio 54
,
The Brill Building
,
The New Amsterdam Theatre
,
the Paramount
,
The Paramount Theater
,
the Royalton
,
Times Square Edition