Presented By: Avison Young
UK Acquisition Will Expand Avison Young's Reach to Foreign Investors
Avison Young Report Shows Canadian, European Investment in New York City Properties Increased in 2018, While Chinese Investment Continued to Fall
---
---
Avison Young's recent acquisition of GVA, one of the United Kingdom's leading and most diverse real estate advisory businesses, will add offices in countries throughout Europe and expand the New York office's reach to international investors, according to James Nelson, Principal and Head of Avison Young's Tri-State Investment Sales group.
Avison Young, which is headquartered in Canada, now has approximately 5,000 real estate professionals in 120 offices in 20 countries including Canada, the U.S., the U.K., Germany, France, Spain, Austria, Italy, Poland, Republic of Ireland, Norway, Greece, Bulgaria, Croatia, Romania, China, South Korea, Russia, Mexico and United Arab Emirates.
"The center of foreign investment in New York City has shifted from China to Canada and Europe," Nelson said. "In light of this, Avison Young is well-positioned to serve as an advisor to international investors. Our headquarters is located in Canada and the GVA acquisition brings with it additional offices in over 30 European cities and a broad portfolio of international clients."
NYC Foreign Investment Remains Robust
Nelson said his team's 2018 Foreign Investment Report shows that foreign investment in New York City remains robust, increasing to $8.3 billion in 2018, which corresponds to the overall uptick in investment sales citywide to $45 billion. Foreign transactions rose 8 percent from the previous year.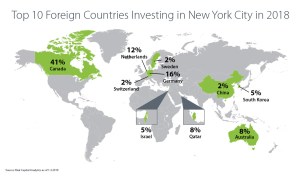 Canada led the way in foreign investments in New York City with $3.2 billion or 41 percent of the total dollar volume, Germany was a distant second with $1.2 billion or 16 percent of the total, and the Netherlands recorded $905 million or 12 percent of the total, according to the report, which analyzes data from Real Capital Analytics.
China was noticeably absent in New York City in 2018, accounting for only $160 million of the acquisitions or only 2 percent of the foreign dollar volume, a drop from its peak of $6.2 billion in 2016, the report showed.
Nelson noted, "This is likely due to stricter measures imposed in China in 2017 on overseas investments in property, with Chinese investors expected to continue to sell more foreign real estate than they buy in 2019."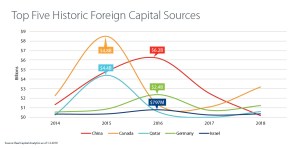 Of the foreign investment, office transactions accounted for 59 percent of the dollar volume, with multifamily at 31 percent and retail at 23 percent.
"We expect to see more interest in office properties for 2019 as proposed regulations for multifamily will deter foreign investment, even if they have a strong local partner," Nelson noted. "With Amazon bringing 25,000 to 40,000 jobs to Long Island City over the next few years, we should also see increased interest in commercial development in the boroughs."
Some of the most active foreign buyers in 2018 included Brookfield, GIC, OMERS and Allianz. Brookfield, a Canadian-owned company, purchased an option for a 99-year ground lease for $1.2 billion on Kushner Cos.' office tower at 666 Fifth Avenue. The company also spent $165 million on four acres in the South Bronx, where it plans to build 1,300 housing units, and bought seven storefronts on Bleecker Street to test out new retail concepts. With its December 2018 acquisition of Forest City Realty Trust for $11.4 billion, Brookfield became New York City's biggest commercial landlord.
Tri-State Investment Sales Group
Nelson said that Avison Young's Tri-State Investment Sales group is well-situated to offer foreign investors the best inventory in New York City.
Currently the Tri-State Investment Sales group has 50 active exclusives totaling $1.5 billion including the LES portfolio for $72,000,000, the Central Brooklyn Portfolio for $68,000,000, and 306 West 142nd Street and 531 West 159th Street for $47,500,000.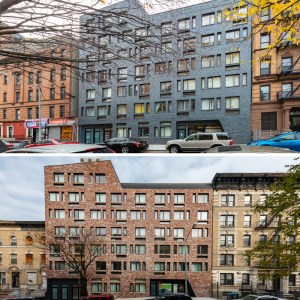 "The key to our success is that we have one unified, sales team that shares in all commissions," said Jim Kinsey, Principal and Senior Director of the group. "As a result, investors can speak to any member of our team to navigate our listings and be introduced to one of our asset specialists."
The Tri-State Investment Sales group finds that investors tend to focus on one particular asset class and will oftentimes consider locations throughout the city, which makes searching for opportunities much easier as opposed to having to jump from one agent and neighborhood to the next.
This unique team structure has already led to immediate traction and success. In 2018, the group closed 16 sales for $394,000,000, including the sale of a Brooklyn development site on Gold Street for $60,000,000; two office buildings on the Bowery for $48,500,000; 190 Prince for $19,000,000; and office condos at 20 West 33rd Street and 420 Fifth Avenue totaling over $80,000,000, among others. Foreign purchasers included an ultra-high net worth Korean investor for a TriBeCa loft building, an Italian eyewear company for their office at 420 Fifth Avenue and a private investor for a prime SoHo property.
"In today's market, it is essential to price listings properly and work with clients who understand the dynamics of the marketplace," Nelson said. "When a client lists with us, we provide confidence that they can transact. As a result, buyers take our listings seriously and are more likely to purchase."
For a copy of the 2018 Foreign Investment Report, please click here. To sign up for other Tri-State Investment Sales research reports including the 2018 Year in Review Sales Report, New York City Multi-Family Sales Report and the U.S. Net Lease Market Report, please click here.
190 Prince
,
20 West 33rd Street
,
2018 Foreign Investment Report
,
306 West 142nd Street
,
420 fifth avenue
,
531 West 159th Street
,
666 Fifth Avenue
,
Allianz
,
Austria
,
Avison Young
,
Bowery
,
Brookfield
,
Brooklyn
,
Bulgaria
,
Canada
,
china
,
Croatia
,
european
,
Forest City Realty Trust
,
France
,
Germany
,
GIC
,
Gold Street
,
Greece
,
investment
,
Italy
,
James Nelson
,
Jim Kinsey
,
Kushner Companies
,
Long Island City
,
Mexico
,
New york city
,
New York City Multifamily Sales Report
,
norway
,
OMERS
,
Poland
,
Real Capital Analytics
,
Republic of Ireland
,
Romania
,
Russia
,
South Korea
,
Spain
,
Sponsored
,
sponsored-link
,
Tri-State Investment Sales
,
U.S. Net Lease Market Report
,
United Arab Emirates
,
United Kingdom
,
United States