Greystone Provides $133M Refinance for Staten Island Multifamily Behemoth
---
---
Greystone has originated $132.9 million in Fannie Mae debt to refinance Staten Island Urby, a two-building multifamily property on Staten Island's North Shore waterfront neighborhood of Stapleton, Commercial Observer can exclusively report.
The 10-year, fixed-rate permanent loan to Urby developer Hoboken, N.J.-based Ironstate Development replaced a $100 million construction credit facility provided by PNC Bank in 2013 for the first phase of the two-phase project, which was completed in May 2016, according to a spokeswoman for Greystone and information from CoStar Group.
Drew Fletcher, Ken Rogozinski, Matt Klauer and Bryan Grover of Greystone Bassuk, Greystone's debt advisory arm, advised the borrower and secured the Fannie Mae loan through Greystone's affordable lending team. Greystone's Billy Posey and Jeff Englund structured the financing and spearheaded the loan origination through the firm's debt business.
The two buildings—one four stories and one five stories—are on a nearly four-acre site and together total roughly 450,000 square feet. The development features 35,000 square feet of retail space with views of the waterfront.
The property comprises 571 units  and is located within a designated opportunity zone at 7 and 8 Navy Pier Court in Staten Island, just south of the St. George entry point for the Staten Island Ferry. The asset is a 80/20 mixed-income affordable rental building, with 115 units priced at 60 percent of the area's median income.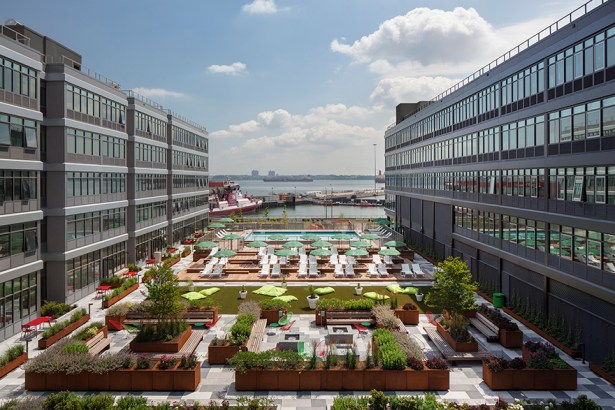 Staten Island Urby is 98 percent leased, with apartments averaging 624 square feet, according to information from CoStar, and monthly rents averaging $1,700 for studios to $3,580 for two-bedrooms, per the property's website.
The second phase of the development, which will see the addition of 320 more units, is set to begin sometime this year, a spokesman for Ironstate Development told CO.
Greystone's Fletcher said in a statement that the financing was appealing because "Urby has created a fresh new take on urban apartment living with hospitality-level services, curated amenity spaces and efficient, modern-design apartments at affordable prices."
The Urby concept—created by Ironstate Development President David Barry—aims to mix the "personal approach and design" associated with boutique hotel developments into residential assets. Barry worked with Amsterdam-based architect Concrete to develop the exterior and interior designs of Urby, which has another location in Jersey City, N.J.
Staten Island Urby is home to one of New York City's largest urban farms and an "Urby Kitchen," which hosts local chefs for cooking demonstrations as well as tastings. There is also a 5,100-square-foot gym, an outdoor saltwater pool, courtyards with fire pits and kids play areas, filtered water filling stations in the lobbies and a 300-car garage.
Retailers include a café in the lobby operated by New Jersey-based coffee roaster Coperaco; Mediterranean-style seafood restaurant Barca, from chefs Dave Pasternack and Vic Rallo; Rallo's Surf, a two-story, 200-seat space for wood-fired barbecue; and Seppe Pizza Bar, run by brothers Joe and John Iovino.
8 Navy Pier Court
,
Billy Posey
,
Bryan Grover
,
David Barry
,
Drew Fletcher
,
Fannie Mae
,
Greystone
,
Greystone Bassuk
,
Ironstate Development Company
,
Jeff Englund
,
Ken Rogozinski
,
Matt Klauer
,
URBY Staten Island