Draft Picks: A Growing Number of Breweries Now Call Brooklyn Home
With the opening of multiple new breweries, Kings County is officially hopping!
---
---
For the first time in 40 years, Brooklyn is brewing.
After beer production dried up around the borough in the 1970s, Brooklyn-produced suds are staging a comeback. A growing number of local breweries have opened in recent years, churning out pints quite different than the standard Budweiser and Coors lagers.
Just in the last year, Grimm Artisanal Ales opened a brewery in a former truck repair shop at 990 Metropolitan Avenue in East Williamsburg, and Braven Brewing took over a former Bushwick beer bar at 52 Harrison Place and turned it into a brewery, producing brews like hoppy triple IPAs and guava- and raspberry-flavored sour beers.
As recently as last week, the owners of bars Jimbo Slim and Northern Bell announced they were opening a new brewery at 300 Richardson Street in East Williamsburg called 18th Ward Brewing, while developer Two Trees Management Company said it will bring popular Carroll Gardens-based Other Half Brewing Company to its Domino Sugar Complex in Williamsburg at 1 South 1st Street.
"New York before 2012 was a great beer destination, but for beer that came from all around the world," said Lauren Grimm, a co-owner of Grimm Artisanal Ales, which recently opened a 7,500-square-foot brewery and taproom at 990 Metropolitan Avenue. "We're pushing out those out-of-state, out-of-country breweries and people are more interested in local beers."
Before 2012, after prohibition, de-industrialization and giants like Budweiser killed beer production in the county, Brooklyn was only home to three breweries: the famous Brooklyn Brewery in Williamsburg (which, while having a highly touted spot at 79 North 11th Street that offered great tours and tastes of the hooch, produced most of its beer out of the city), Sixpoint Brewery in Red Hook (which also contracted out most of its brews) and the now-shuttered commercial brewery Greenpoint Beer Works in Clinton Hill.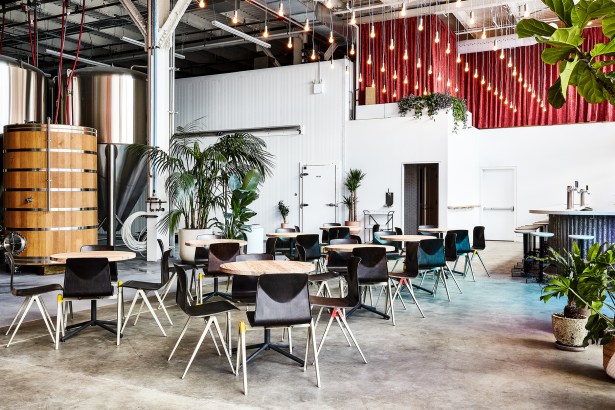 Since then the number has grown to 20 with more on the way, according to the Brewers Association trade group. Breweries have popped up as far south as Sunset Park with Five Boroughs Brewing and up to Greenpoint Beer & Ale Co. in the eponymous neighborhood. Owners tend to focus on industrial neighborhoods with plenty of warehouses in manufacturing zones that still have foot traffic, making Williamsburg and Bushwick popular options.
"You're looking for both low-cost manufacturing space that also has ability to do retail," said Max Lu, who leased space for Braven Brewing Company last year and Kings County Brewers Collective in Bushwick in 2015.
The high cost of business in the city has pushed out many industrial businesses, leaving plenty of empty space for breweries to pick up. And some don't need much. Staten Island's Kills Boro Brewing Company pumps out kegs from a 700-square-foot brewery in the back of a Stapleton barbeque joint.
"Businesses are moving out because it's getting expensive," said Jordan Beldner, a co-owner of 18th Ward. "You're seeing a lot of vacancies."
Even with the growing number of breweries opening around the city, some brewery owners aren't too worried about oversaturation and welcome their new neighbors.
"The more breweries that open the better it is for all of us," said Matt Monahan, a co-founder of Other Half Brewing, which first opened in 2014 at 195 Centre Street. "People see New York City as a beer destination now. I really don't think that was true a decade ago."
"We all can't possibly make enough beer to service everybody that lives here to drink," he added.
Companies like Other Half regularly collaborate and brew kegs with other local beer makers. Other Half has made beers with KCBC and Queens' LIC Beer Project, which opened in 2015.
"It's a huge benefit to have friends," Monahan said. "We all share info and resources. It's just a nicer day to day world to live in when you're friends with everybody instead of trying to chip away at them."
And beer can be big business. Beer sales around the country reached $111.4 billion in 2017 with independently owned breweries, (a.k.a., craft beer), accounting for more than 23 percent of the market with $26 billion, according to the Brewers Association's most recent data.
While the total sales were up in 2018 compared with 2015 and 2016, the percentage growth for craft beer started to slow in 2017 with a 5 percent increase compared with a 10 percent increase in 2016.
"Independent U.S. craft breweries continue to thrive but at a slower pace than recent years," Julia Herz, the director of the Brewers Association's craft beer program, said in prepared remarks. "Many competitive factors including challenges with access to market, big beer companies purchasing formerly independent breweries and consolidation at the distributor level are making it more difficult for craft breweries who want to increase their sales."
However, Herz added sales grew by 5 percent in the first half of 2018. The Brewers Association's sales data doesn't get down to the state or county level, but other data found that nearly 350 breweries across New York State produced almost 1.5 million barrels of beer and contributed $4.1 billion to the local economy in 2017.
And even with the sluggish growth, brewery openings don't seem to be slowing down in the borough. The Brewers Association shows at least seven breweries in the planning stages in Brooklyn. Nomadic brewer Stillwater Artisanal is currently searching for permanent digs in the borough and 18th Ward plans to open next month.
"It was a now or never kind of thing," Beldner said. "I wasn't expecting it so soon after we built up the last bar, but I saw the space and it was right. If there was a time to stress myself out it was now, so we pulled the trigger."
The 18th Ward owners—Beldner, his father Jim Beldner and Michael O'Brien—always planned on opening a brewery in the next couple of years but moved up the timeline when they found a perfect space across from popular music venue Brooklyn Steel, a former carpet cleaning factory at 300 Richardson Street.
"It's not saturated with bars," said Jordan Beldner about why the spot was a perfect fit.
Beldner said 18th Ward plans to brew beer "to appeal to the masses" because of its proximity to Brooklyn Steel, but head brewer Dailey Crafton will also focus on the farmhouse-ale style saison.
Brewing in Brooklyn is not a new phenomenon. Its history began when the original Dutch settlers came to the city but really kicked off in the mid-19th century when German immigrants moved here and started opening small breweries, The New York Times reported.
The number peaked at 45 breweries at the turn of the century with one 12-block stretch in Williamsburg being home to 11 itself, according to The Times. But by 1976, every brewery either moved or shut down and the borough was dry until Brooklyn Brewery started in 1988 and opened its production facility in 1996.
"When I first got into the business, nobody wanted to hear the word Brooklyn if you were outside the State of New York," said Ed Raven, one of the owners of Greenpoint Beer & Ale Co. who has worked in the beer world for more than 25 years. "I think over the years the name and the attitude has definitely changed."
Brewers also credit the recent massive growth of Brooklyn-made brews to the Craft New York Act passed by Gov. Andrew Cuomo in 2014, which eased restrictions for operating breweries and distilleries around the state.
"Craft breweries are hubs of activity and opportunity for local economies, and by rolling back red tape and modernizing the craft brewery industry, we are supporting farmers and small businesses, boosting tourism and driving robust economic growth in Brooklyn and in every corner of this great state," Cuomo said in a statement, adding he later passed other laws to help breweries.
"That kind of opened the floodgates for people to say, 'Oh, I can now afford to rent a building in New York City and sell beer,' " Grimm said.
One of the most significant changes in the law was lifting the ban on selling cans and glasses of beer inside the brewery itself. Previously, it was illegal for breweries to directly sell to customers, leaving some to come up with workarounds like Brooklyn Brewery's old system of selling wooden tokens that could be traded into a bartender for a beer.
"That sort of turned our world upside down in terms of possibilities," said Monahan, who opened Other Half before the law passed. "We can now really interact directly with our customers. That's the world to us now and that means everything."
Since the law was enacted, breweries have also opened in Queens, the Bronx and Staten Island, but Brooklyn has a quicker pace because of its reputation for locally made, artisanal products and, simply, because the brewers mostly live in the borough.
For Grimm, the new law meant her and her husband, Joe Grimm, were finally able to give up the nomadic brewing life and put down roots.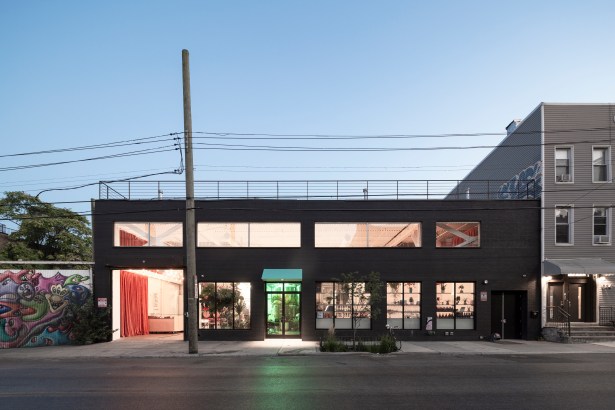 "When we thought 'Let's open a brick-and-mortar brewery in New York City,' the hold back was the law surrounding brewery sales," Lauren Grimm said. "If the law had been different in 2012, and we had been able to get loans, we would've opened immediately."
The couple started home brewing out of their Gowanus apartment more than a decade ago and decided to go pro in 2012. It was too restrictive and expensive to open under the old laws, so they decided to become "gypsy" brewers and rent unused tanks in breweries in Massachusetts, Washington, D.C., and across the Verrazano at Staten Island's Flagship Brewery to make their brews.
They would then package the beer on the site and worked with distributors to sell it to bars and beer stores around the city.
"We would just brew a batch of beer and then sell it and wait until we got the money to brew our second batch of beer," Grimm said. "We never had this grand plan for how this was going to work."
Eventually, Grimm secured small business loans and found an East Williamsburg warehouse. After negotiating with the owner, the couple was able to buy the building for $4 million in 2016 and started a $2 million buildout installing tanks and fermenters. Grimm eventually opened its doors last June.
While Grimm said finding the space was the least of their troubles, for other brewery proprietors it can be a struggle to find a landlord willing to take a chance on a new brewery. Unlike other warehouse users, breweries tend to need more concessions in order to open.
"Landlords have to be willing to work with them," said Lu. "[Breweries] need longer leases, free rent and more help with the construction."
Getting a landlord on board coupled with the high cost to buy brewing equipment can make opening a long process. Braven and KCBC each needed about five years to nail down their locations, Lu said.
And brewers are still subject to the problems retail stores face around the city. Raven, who opened the 6,500-square-foot brewpub Greenpoint Beer at 7 North 15th Street in 2014, was forced to move after his landlord sold the industrial building to Simon Baron Development last year. The new owner plans to raze it and erect an office building.
Raven said he had plenty of time to find a new location and signed a lease for a slightly smaller space at 1150 Manhattan Avenue 10 months ago, which should open its doors soon.
"We wanted to be in Greenpoint, obviously, and we wanted to find space that had some foot traffic," he said. "We found both of those things in our new location."
The space is about 15 percent smaller at 5,000 square feet, but it has a 1,000-square-foot roof deck to help offset the loss. Raven also dedicated a lot more space to brewing equipment in the new digs and it will allow Greenpoint Beer to produce four times the number of barrels.
"I think we went a little bit crazy on the capacity compared to the amount of space," he said. "It is really tight."
For Other Half, it has instead been fielding offers from developers looking to get it in their project. The founders—Monahan, Andrew Burman and Sam Richardson—randomly found their 195 Centre Street space through a residential broker on Craigslist and later expanded to take over a former brewery in Rochester, N.Y.
Earlier this month, Other Half announced the 3,600-square-foot outpost—with a small brewing system inside—on the ground floor of the Two Tree's residential development at the former Domino Sugar Factory site in Williamsburg.
"We just wanted to be able to serve a different section of the community," Monahan said. "It was a no-brainer."
Two Trees, which also recently announced that Bushwick pizzeria Roberta's will be opening an outpost at the development, reached out directly to Other Half to entice the proprietors to head to Williamsburg.
"As big fans of the product and overall vibe of the brewery, we felt it was a natural fit for Other Half to expand into Domino," Two Trees managing director Dave Lombino said in a statement. "So, we reached out and it just worked."
18th Ward Brewing
,
300 Richardson Street
,
52 Harrison Place
,
990 Metropolitan Avenue
,
Braven Brewing
,
brooklyn brewery
,
Domino Sugar Factory
,
Food & Drink
,
Greenpoint Beer & Ale Co.
,
Grimm Artisanal Ales
,
Jordan Beldner
,
Julia Herz
,
Lauren Grimm
,
Matt Monahan
,
Max Lu
,
other half brewing
,
Two Trees Management Company