A Developer, by Design: How an Architect at SOM Started Building Condos and Offices
---
---
When developer Michael Kirchmann moved from South Africa to New York City as a twenty-something in 1997, he spent his first few nights in a wood shop on Renwick Street in Tribeca. Now he lives, works and flips real estate in the neighborhood, which has long since shifted from wood shops and artists' lofts to condominiums and upscale restaurants.
The 46-year-old married father of two spent 11 years designing office buildings in western Europe at Skidmore, Owings & Merrill (SOM), before setting off on his own to found an architecture and development firm called Global Design Strategies (GDSNY) in 2008. While he had originally planned to focus on development, the Great Recession waylaid his plans for a couple years. His small firm rode out the lean years doing architecture work, including two 34-story light installations for the 2012 London Olympics, the master plan for a mixed-use development in Bahrain and interior design for a restaurant in London. Kirchmann also got into designing products, including jets, classic motorcycles and Porsches.
Perhaps his biggest coup has been a gig helping L+M Development Partners build and renovate affordable housing projects throughout the five boroughs. In Far Rockaway, Queens, he revamped a 1,093-unit Section 8 housing development, Arverne View, that had been damaged by Superstorm Sandy. His firm and OCV Architects came up with the idea that they could reclad the facades of the 11 low- and mid-rise buildings with an exterior insulation system, giving them a new, patterned white-and-gray look and much-needed insulation from the elements.
The buildings "weren't insulated and they leaked," said Jeffrey Moelis, the development director of preservation at L+M (and cousin to L+M co-Founder Ron Moelis). The new facade panels "solved those problems and allowed Michael to create this [architectural] vision. And [they] allowed us to do it in a way that helped us achieve our budget."
In Brownsville, Brooklyn, Kirchmann teamed up with L+M to reimagine the Marcus Garvey Apartments, a townhouse-style residential complex with 693 federally subsidized apartments. GDSNY created a new lighting scheme for the exterior, devised new landscaping for the courtyards in between the buildings and installed solar panels on the roofs of the sprawling development. As part of the facade renovation, they designed two-story, perforated metal panels that resembled patterned ivy and installed them on tall, light-up panels, which cover narrow stretches of the facades above the doorways on the Marcus Garvey buildings.
"He really buys into that idea that there's no reason why people who live in affordable housing can't live in a beautiful place," Moelis said. "It doesn't cost a whole lot more. If they feel like they're in a nice place, they're going to respect it and take care of it. We've seen a big drop in vandalism [at Marcus Garvey]. It's not all attributed to the architecture—there's beefed up security—but I think people are proud of where they live, and they don't want their neighbors and guests destroying the place."
Kirchmann estimated that he has completed 20 projects with L+M, including the redevelopment of six New York City Housing Authority complexes with 875 apartments—Bronxchester Houses in the South Bronx, Saratoga Square in Bedford-Stuyvesant, Brooklyn, Millbank-Frawley Apartments in central Harlem, and Campos Plaza in Alphabet City. He also brought his artistic talents to L+M's four-year-old residential buildings at 1951 Park Avenue in East Harlem, where he created what he calls an 80-foot-long metal "art wall," with fins of differing depths that seem to undulate as one passes by on the elevated Metro North tracks.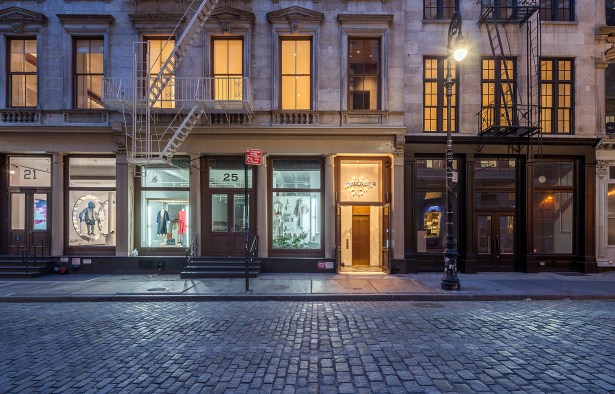 But in the past two years, he's finally started to work on the kind of projects he set out to do more than a decade ago—ground-up buildings. Next to the High Line in West Chelsea, GDSNY is constructing a 10-story, eight-unit luxury condo building at 500 West 25th Street. Each upper story except for the penthouse holds a full-floor, three-bedroom, three-bath apartment with a private terrace. Asking prices range from $5.5 million for a 2,100-square-foot condo on the third floor to $16.9 million for a four-bedroom, four-bath duplex penthouse spread across 4,300 square feet. The boxy structure cantilevers over the High Line, which Kirchmann considers the most significant piece of architecture in New York City. Its facade, clad in pale gray Alabama limestone, will borrow design cues from the elevated-freight-line-turned-park. Kirchmann brought in the lighting designer that worked on the High Line, a French firm called L'Observatoire, to craft night-time lighting for the exterior of 500 West 25th. Wrought iron railings along the balconies and gold aluminum accent panels are also supposed to invoke the 1920s design and stainless steel railings of the High Line. The developer also hired Swedish-born local street artist Tony Sjöman, also known as Rubin, to create a geometric wooden art piece to adorn the lobby.
"We wanted to do something interesting but not crazy" on West 25th Street, he said. "Our apartments are very high-end, but they get to the point. We try not to have any mirrorballs or anything hanging in the lobby. It's just like clean Scanda-modern type stuff."
In fact, working with artists—and creating art of its own—is a big part of GDSNY's business. Before he converted a Soho loft building at 25 Mercer Street into condos, he allowed British artist Shantell Martin to draw faces on the walls. (He left her drawings beneath the drywall for condo owners to find when they renovate their apartments in a decade or two.) He also hosted a laser art installation and dance performance in the building, with lasers by artist Matthew Schreiber and choreography from Kathryn Boren of the American Ballet Theatre. And in February of last year, he teamed up with an ad agency to spray-paint a sky-blue and fire-engine red mural featuring flying seagulls on his development site at 10th Avenue on West 25th Street, next to the High Line. The mural was part of a larger project called "Wall That Unites," and was meant to protest President Donald Trump's planned border wall with Mexico.
And Kirchmann has finally gotten back to designing new office buildings. He and his business partner, Alan Rudikoff, inked a 99-year ground lease in April for one of the last undeveloped sites in NoMad, at 1241 Broadway at the corner of West 31st Street. They plan to build a 170,000-square-foot boutique office building, with Kirchmann's former bosses from SOM handling the design.
T.J. Gottesdiener, a managing partner at SOM's New York City office, is working closely with Kirchmann on 1241 Broadway. When Gottesdiener met him 15 years ago, Kirchmann was his employee. Now he's a client, which is "kind of awkward but fun," Gottesdeiner said. At SOM, "he was tenacious. He'd have an idea and he would pursue it. It's not a surprise to me that he went into development." As a developer, Gottesdiener added, Kirchmann "talks about the art of architecture. You can see his wheels turning when we show him the ground-floor space or the lobby. He talks about what he can do to bring some kind of art into the program and how people will react to it, how it will be lit at night. [There are] great urban issues that he's thinking about."
Douglas Mass, the president of engineering firm Cosentini Associates, has known Kirchmann since he started at SOM 21 years ago. The pair first met while working on an office tower in Paris for developer Howard Ronson, whose HRO International was a prolific builder of office space in Manhattan and western Europe in the 1980s and 1990s. They've worked on over 20 commercial projects together, mostly in Paris, London and Germany,  Mass said.
"I probably worked on every project with him at SOM," the engineer explained. "Not too many people his age or any age have done 8 million square feet of space in 25 buildings." Mass called Kirchmann's aesthetic "classic appropriate architecture" while acknowledging that "he knows about budgets and he's a great collaborator."
The South African architect also met his business partner, Rudikoff, while working on Ronson's projects. Rudikoff was Ronson's right-hand man, Kirchmann said, and he later went on to found his own development firm in Sweden in 2007. During his five years living in Stockholm, Rudikoff helped finance and develop a $350 million, 800,000-square-foot office, hotel and convention center complex called the Waterfront.
Kirchmann has come a long way from his childhood in Johannesburg, where he was one of seven kids born to a real estate developer father and interior designer mother. He left to study architecture in Cape Town and moved to New York City in 1997, where he soon landed a job as a design architect at SOM under Roger Duffy. Once he decided to get back into the development game, he went back to school to learn the financial side of the business and completed a master's degree in real estate at New York University in 2007. He ended up giving a few lectures on architecture as a master's student. Then Columbia University's Graduate School of Architecture, Planning and Preservation asked him to teach a real estate course with Jared Della Valle and A.J. Pires, two more architects-turned-developers who founded Alloy Development.
Although GDSNY is still a small fish in the development world, Kirchmann argues that his experience as an architect—combined with his business partner's work assembling a huge mixed-use project in Stockholm—makes them a particularly nimble firm.
"We see all the pieces in front of us from the marketing to the design to the architecture to the engineering to the finance," he explained. "We're in a unique situation where we can synthesize those very effectively and very efficiently. [When] we look at projects, for example, we're able to underwrite those projects very quickly because we can do zoning studies in-house. We can do planning in-house. It's something that happens in a few hours as opposed to a few weeks. That definitely gives us a competitive edge when we are out there looking for properties."