Eye On Dallas: One Developer's Push to Remake Downtown
An oil and gas giant looked at Dallas 15 years ago and foresaw a Downtown real estate bonanza.
---
---
In 2003, Dallas-based private oil and gas behemoth Headington Companies hadn't yet considered commercial real estate ownership.
Fifteen years later, it's taken over Downtown Dallas' Main Street with fresh office, hotel, multifamily and retail product, reenergizing what was once a dormant central business district.
Headington wanted to expand its investment presence, first targeting opportunities for local investment. Headington Companies President Michael Tregoning found direction in commercial real estate; he wanted to start by bringing strong hospitality representation to Downtown Dallas.
"Downtown Dallas is the only authentic urban environment in the city and since the area had fallen into chronic disrepair, we felt that by making a significant investment we could create something very different and lasting," Tregoning told Commercial Observer. "Our interest in Downtown was initially limited to hotels, but as we progressed and began to see some success, we became more confident that by continuing to invest, we could raise the value of our existing projects and stimulate further growth."
Over the course of the investment wave, the firm scooped up 16 addresses across 12 assets on Dallas' Main Street in an effort to spark a residential and retail renaissance. "[What Headington did] was substantial," said John Alvarado, a senior vice president at CBRE capital markets' institutional properties in Dallas. "I credit them to being the pioneers in creating the enthusiasm and the momentum you see there today."
The firm's decade-and-a-half, $500-million real estate expansion effort officially began with the acquisition, restoration and repositioning of a vacant prewar building at 1530 Main Street in Downtown Dallas into its flagship asset, The Joule Hotel. The redevelopment more than doubled the size of the property in order to include new ground floor retail and restaurant space to supplement the hotel. The 160-key luxury boutique opened in 2008. (In an effort to maintain privacy in Headington's business activities, Tregoning declined to provide specific financing details on the portfolio).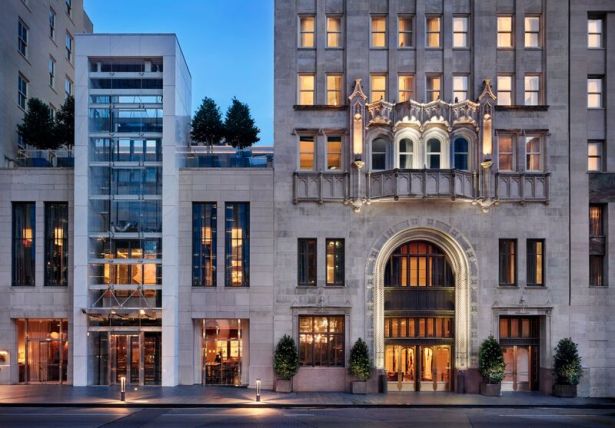 "They did something smart and took a segment of Main Street and bought everything on either side," Alvarado said. "[At the time] there was a Neiman Marcus that was probably the only remaining draw. They bought every single building near Neiman Marcus and had each property—building by building—renovated and tenanted with very attractive food and beverage and high-end soft goods, and that transformed what was a completely vacant stretch in the heart of Downtown.
"The Joule was the most important catalyst just in terms of the traffic it drew," Alvarado added. "A lot of my clients prefer to stay there when they're here."
Tregoning said he had a vision to remake Downtown into a walkable arts and cultural destination, even using some art pieces from the personal collection of Tim Headington, a billionaire film producer and the head of the firm, to spruce up interiors.
Headington bought Dallas-based fashion designer FortyFiveTen in 2014 and quickly established the brand's flagship shop at it's Downtown stretch at 1615 Main Street. The designer moved into the four-story, 37,000-square-foot building in 2016. In March, the brand officially opened its second-largest store at New York's Hudson Yards.
Last year, Headington also opened The Commissary, a five-story office building located at 1217 Main Street that includes a bakery, a butcher shop and a market and café. The firm commissioned artist Jorge Pardo to cover the entire facade with 27,857 ceramic mosaic tiles in different shades of blue.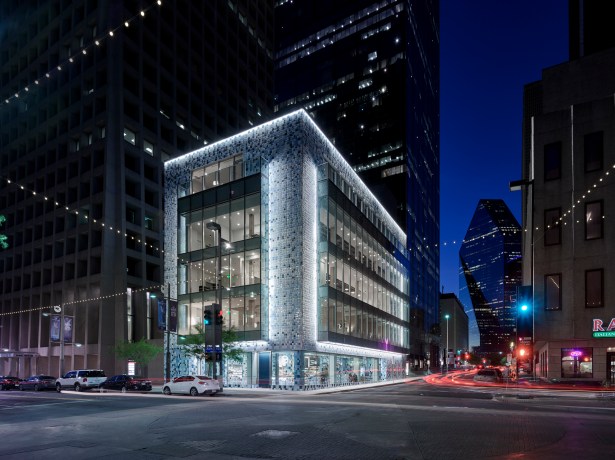 At the time the company began to invest in real estate, the Dallas-Fort Worth (DFW) market, especially Downtown Dallas, wasn't nearly as robust and attractive as it is today. Now, demographically speaking, and across the commercial real estate spectrum, it's booming.
"The Dallas-Fort Worth region is one of the strongest markets in the U.S. for both job growth and population gains," Lance Wright, a managing director at debt fund ACORE Capital, told CO in a statement. "The finance, healthcare, and technology sectors are all big employers in the DFW area, which reflect the new economy and promise for a bright future."
ACORE has been very bullish on the DFW area, where it has established its largest office. "We opened the office in September 2015 with two people and have now grown to 28 employees located in Dallas," Wright said. In August, the debt shop lent $157.6 million in first mortgage and mezzanine financing to Dallas-based NexPoint Advisors for its purchase of Cityplace Tower, a 42-story, 1.4-million-square-foot office building located at 2711 North Haskell Avenue—although outside of Downtown, in the city's Uptown district.
Dallas' downtown tenant roster in the 1990s mostly consisted of smaller regional and some national banking outposts, according Alvarado. The banking crises of the 1980s and the early 1990s led to many shops being absorbed or consolidated into larger operations, which produced vacancies in the area and led to disrepair.
"Downtown went through a repetitive cycle of bad things happening to it," Alvarado said. "First, the oil crisis and then the banking recession in the 1980's and the 1990's. We all remember how the smaller banks were swallowed up by major national banks; every major downtown tower had a bank as an anchor. As this happened, [millions of square footage] went away and a lot of institutional investors sold these towers to the guys we call the 'dudes with debt,' the CMBS guys from California or New York. But, many were overleveraged and overcapitalized, and when their leases started to roll, a lot of owners couldn't hold onto tenants as they were not investing in their buildings.
"The neighborhood became more and more vacant; elevators were trapping people, tenants were getting poached to uptown," Alvarado added. "Fast forward to now, these owners hold their buildings because they're drawing cash flow. Once banks took over and sold in foreclosure, you started to see the momentum we're enjoying now. You had guys like Headington coming in and buying properties in Dallas, [looking for long-term plays]."
And that's precisely how Tregoning and Headington strategized: The firm took the lead in revitalizing Downtown, without partners and with money from its own coffers, and it hasn't looked back.
"Where we [have opportunities] to acquire and restore a noteworthy historic building, we will make every effort to do so," Tregoning said. "The restoration of older structures is important for placemaking and creating architectural diversity.
"We're not a developer that's going to build and then sell and leave," Tregoning added. "This is our neighborhood, and we want every single person to succeed and we want that success not to be diminished in any way by what we're doing. That's very fulfilling to us. We don't pillage and then go back to wherever we came from. This is permanent."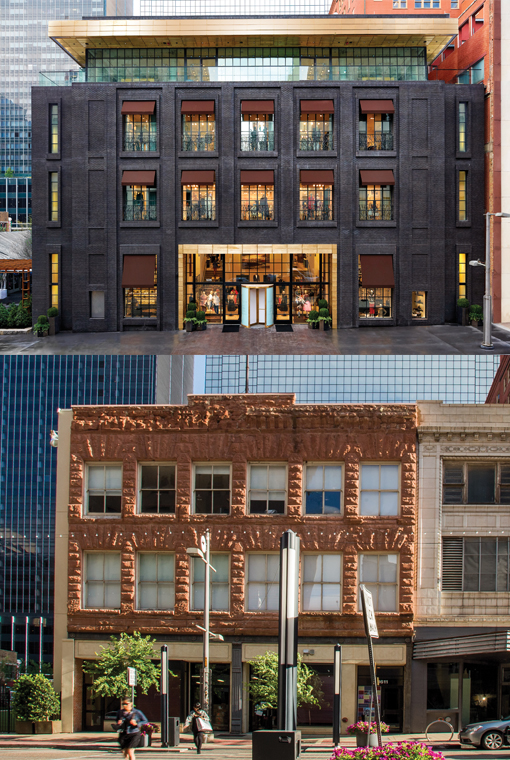 A healthy Downtown, Alvarado said, has been the long-lost piece of the puzzle to a revitalized Dallas.
"Ten years ago, we didn't have a 7-Eleven or a CVS Pharmacy Downtown. Now we have two or three. All of a sudden, it looks very different; it's more vibrant," Alvarado said. "There are more places to eat. The type of people in those buildings are fairly high income as many people that migrated to Downtown come from urban areas and actually want to live there. If you drive through today, there's a crane in every other corner."
The Dallas MSA has become one of the hottest office markets in the country and is a contender for Amazon's second headquarters, a "beauty contest" Tregoning hopes Dallas can win. Adding to a star-studded tenant lineup Downtown, last year WeWork established its "Southern headquarters" there, taking 84,000 square feet at the Thanksgiving Tower at 1601 Elm Street.
In the third quarter, office space in Dallas-Fort Worth continued to be absorbed at a robust rate; the market saw a decrease in vacancy; asking rents are experiencing strong upward momentum and there are currently 15 projects that remain in the construction pipeline, with a 65 percent pre-lease rate, showing a strong demand for new office product coming to market, according to a report from CBRE.
"Quietly, over the last four quarters, the Dallas central business district has led or come in second in total absorption," Alvarado said. He said he hasn't seen anything like that for 15 to 20 years.
In 2017, the Dallas-Fort Worth-Arlington metropolitan areas added 146,000 new residents, the most of any metro area in the U.S., while six of the top 10 fastest growing counties in the country belonged to Texas, according to the latest Census Bureau statistics. Alvarado said investors have begun to shift away from established core markets looking for high growth potential, which is currently exhibited in the Big D.
Adding to the population and job growth, the cost of living in DFW is nearly a third of the average cost to live in other major MSAs, like New York, Los Angeles and San Francisco. "It's the cost of doing business," Alvarado said. "The cost of renting or owning real estate is significantly lower and there is no state income tax."
Dallas has benefited the last several years from large corporations relocating or consolidating portions of their workforce in the city. Last year, Toyota inserted thousands of people into the local economy when it moved its North American headquarters to Plano, Texas from Torrance, Calif.
"[These moves] really changed the complexion of the type of investor that looks at Dallas," Alvarado said. "Toyota moving here made it a more international destination."
Insurance giant State Farm has been consolidating its operations and moving chunks of employees to Dallas after rounds of layoffs last year. Boston-based insurer Liberty Mutual has also moved a sizable portion of its workforce to the $3 billion Legacy West corporate campus in Plano, joining the likes of FedEx, Boeing and J.P. Morgan Chase.
"We started a search for the best places to put a new location. We started, believe it or not, with 900 cities; we ended up in Plano, Texas," Liberty Mutual CEO David Long said in November 2017.
What's more, a private company by the name of Texas Central Partners recently locked in a $300 million loan from Japan Bank for International Cooperation to begin construction next year on a roughly $12 billion high-speed bullet train that will connect DFW and Houston; it's slated to finish in 2024. The rail, using Central Japan Railway Company's N700-I Bullet high-speed rail system design, is the first of its kind in the U.S. It will serve millions of potential riders as well as the tens of thousands of "super commuters" who travel between Dallas and Houston at least once a week.
Texas Central Partners expects the rail to create 10,000 jobs for each year of construction, 1,500 permanent jobs once it's complete and it expects the direct economic impact of the train to exceed $36 billion over the next 25 years, as per information provided by Texas Central.
In Dallas, Headington's expansion push is far from over. In March, it announced the acquisition of the Davis Building, a 20-story residential building at 1309 Main Street, where it's planned a $45 million renovation. It's the firm's first residential project Downtown—to be renamed Drakestone—and it's set to open in the spring 2019.
The firm is also exploring development opportunities just a couple blocks north of Downtown at the intersection of Ross Avenue and Field Street, where it has scooped up 10 acres of development space since 2011. In a nod to Tim Headington's history in film production, Tregoning said the firm is considering adding a film center, with a museum as well as offices for the local film society, that would host festivals and screenings and production work.
Right now, "Ross and Field," as Tregoning refers to it, is mostly surface parking lots; but the sky's the limit. Allegedly, everything's bigger in Texas.