Presented By: Partner Insights
[Video] Backstage Pass: Flexible Workspace Providers, Featuring Servcorp
A Tour of the Most Popular Flexible Workspace Providers, October 29 Edition
---
---
Over the last two years, flexible workspace has accounted for nearly 30 percent of new space leased in the U.S. From startups to Fortune 500 companies, occupiers of all sizes are drawn to shared and short-term office spaces for their flexible concepts, amenities and sense of community. But the options can be dizzying. Today, there are an estimated 7,600 flexible space operators worldwide.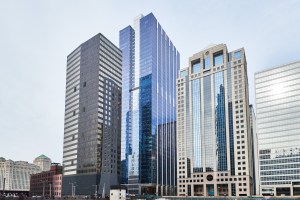 This fall, Commercial Observer's Industry Insights team is touring the hottest shared and short-term office space providers. Each week's feature goes behind the scenes to review a different flexible workspace provider, covering everything a successful CRE player needs.
This week, we are featuring Servcorp. Back in 1978, entrepreneur and Servcorp founder Alfred Moufarrige realized that the costs of maintaining premium office space in the MLC Centre Sydney, along with a receptionist and a secretarial staff, were eating into his company's profits. Chalk in hand, he proceeded to divide up his office space, in hopes that he could attract another growing business to move in and reduce his overhead. Within a year, his new company, Servcorp, occupied two full floors of the MLC Centre as well as a location in Melbourne, Australia. Today, Servcorp offers premium office spaces, virtual offices, coworking and IT solutions in over 160 locations between 54 cities in 23 countries across the Middle East, Asia Pacific, Europe, India and the U.S.
Quick Facts
Company: Servcorp
Year founded: 1978
Number of locations: 160+
Cities located: London, Paris, New York, Tokyo, Chicago, Los Angeles, San Francisco, Brussels, Dubai, Riyadh, Istanbul, Hong Kong, Singapore, Sydney plus 40 other cities
Total funding to date: $142M
Founder: Alfred George Moufarrige, Founder and CEO
Average tenant size: 1-20
Total number of tenants: 45,000 members and approx. 6,500 office clients
Commercial Observer Industry Insights: How do you think shared/short-term office space is changing the commercial real estate industry?
Marcus Moufarrige, COO, Servcorp: I don't think that shared workspace is changing the commercial real estate industry, I think that the tenant demand driven by technology and volatility in the marketplace is driving demand for more flexibility and amenities. I think the old model of commercial real estate where the landlords being "Lords" and the tenants being tenants would not have a relationship that revolves around customer service and I think that the tenants are starting to demand that as well as flexibility. So artificial intelligence, robotics and other changes in the way people work means that nobody is going to sign a 10-year lease for their entire enterprise as they don't know what their work for is going to look like in three years let alone 10 years and so the tenant demand is what is really changing commercial real estate. Flexible workspace providers are exploiting this change in demand in a good way and hopefully educating landlords that customer service is becoming important
What do you see as your competitive advantage against other flexible office space providers?
Moufarrige: Servcorp has a different philosophy as to what makes businesses successful and this defines our competitive advantage well. We believe that creating a great first impression, having access to the best enterprise grade technology no matter what the size of your business is and having a great support team so you can focus on your business and not on small tasks will make your business more successful. These things have all been created to help our customers make more sales, build more revenue and have more success. In reflection of this, Servcorp has only chosen iconic, recognizable addresses in every major city in the world. We have invested more than $100 million in enterprise-grade internet and telecommunication networks and we employ a large team of people focused on making every day of your business life easier. Other operators focus on collaboration and community creating your success. Servcorp also thinks this is important and has built a world-class community platform with over 45,000 members, but this is secondary to our main focus.
What amenities are available to occupiers?
 Office Space clients have:
Unbranded, fully furnished private office(s)
Premier business address with spectacular views
Secure, super-fast internet, IP phones and voicemail
A local telephone number and unlimited free calls within our global network
On-site support team to manage calls and assist with administration tasks
5 days per month office use outside of home location
Coworking access
Membership to Servcorp community and international networking events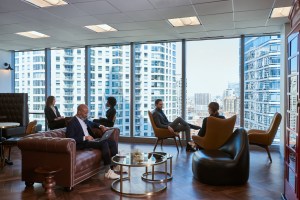 Coworking:
Dedicated Desk:
Access to your own desk in shared space every day
Hot Desk:
All-day coworking on a first-come, first-served basis
Virtual Offices:
Global access
Prestigious business address to use on website and marketing collateral
Local phone number and voicemail
On-site receptionist and support staff
4 hours per month office use at your home location
3 days per month office use outside of home location
3 hours coworking usage per day worldwide
All clients have access to:
Meeting rooms
Fast and secure Wi-Fi
Network printers and copiers
Private phone booths and spacious break-out areas
Secure storage
In-house IT support 24/7
Premium coffee, tea, filtered water and fully stocked bar
What incentives do you provide brokers who fill your spaces? 
Moufarrige: In the U.S., Servcorp provides 15 percent of the initial office access component of any Servcorp agreement. We also pay commission of 5 percent for renewals and 10 percent for expansions. It is Servcorp's view, however, that the most important thing to brokers is finding the right solution for their enterprise customers.
Servcorp meets this criterion better than any other for three reasons: One, the quality of our locations for an enterprise client is unbeatable; two, the technology infrastructure is world class global enterprise standard; and three, Servcorp has an unwavering focus on providing a level of service that makes our clients' businesses successful.
We firmly believe that these three factors make our clients' businesses grow faster and we provide total transparency to our brokers, returning them to the referring broker once Servcorp has served its purpose and they have outgrown us. Servcorp doesn't try to be everything to everyone and brokers can be certain that their clients will come back to them.
What are your plans for growth in the next five years?
Moufarrige: Servcorp was the niche premium player in a niche market, but now we are the niche premium player in a more mainstream market. We do not intend to be the biggest provider, but we do intend to consistently grow over the next five years. Right now, Servcorp occupies about 2 million square feet in 155 locations and it is our intention over the next five years to expand by around 10 percent per annum in terms of capacity, to maintain our position as the premium player, to expand organically and to remain profitable while doing so.