The Interior Designers of DC's Top Eateries Are Taking on Residential
---
---
After nearly two decades of living in Washington, D.C., restaurant design aficionados Lauren Winter and Brian Miller have a profound grasp of the city's culinary scene, block by block.
It's no wonder they've designed the interiors of seven restaurants like All Purpose, Columbia Room and Brixton, less than a mile away from their design firm's office in Blagden Alley, a budding historic district hidden in the Shaw neighborhood.
"It's really fun to be here and walk downstairs to show people our projects instead of showing them on a screen—being able to walk and talk through our thought process is really important," Winter, a co-founder of Edit Lab at Streetsense, told Commercial Observer.
Winter and Miller co-founded design house Edit Lab, formerly known as Edit, in 2008. In their early years, they built a reputation for designing many of D.C.'s most beautiful and distinct restaurants, including Satellite Room, The Gibson, Dickson Wine Bar, Hank's on the Hill Oyster Bar, American Ice Company and Rogue 24.
Since joining real estate and hospitality firm Streetsense in 2013, they're on a mission to dominate the residential market, which now makes up the majority of their projects.
Miller, 41, wanted to be an architect since he was 5 years old. "I was always drawn to construction, building and mentally piecing things together," he said.
He became best friends with Winter while they were earning their master's degrees in architecture at Savannah College of Art and Design. After graduating in 2000, they both moved to D.C. with plans to eventually leave.
"I was trying to get back to New York, I just couldn't afford it yet," said Winter, 43, who grew up in Long Island and had family in the D.C. region.
Working in D.C., she dabbled in various aspects of architecture, from base building and office renovations to residential and corporate design. "I liked it here and never went back," she said, admitting that she was always enthralled by what her best friend was up to.
Miller, an Army brat whose family also lived in the D.C. area, found job opportunities at Core, where he designed restaurant and retail spaces, and Studio Architecture, where he did mostly corporate interiors, as well as bars, restaurants and nightclubs.
"I hadn't intended on living in D.C. for more than a few years but the city during that time was starting to blossom in an amazing way and so I've been here since," Miller said. In 2008, Winter was laid off and the best friends decided to go into business together.
Many of their early projects were for friends or places where they had worked—Winter has experience bartending and Miller has moonlighted as a DJ. Many of their clients are new restaurant owners who lean on them for more than their design expertise.
"Real estate isn't what they do, day in and day out, so we find that our knowledge of neighborhoods, how buildings come together, how places are shifting and where we see the energy going is really valuable to the client," said Miller, who lives in Dupont Circle, but rarely spends time at home.
"Most architects sit in an office somewhere, you don't see them out," said chef Jeremiah Langhorne. "I guarantee you almost every night of the week, you'll find Brian in a different restaurant around town—he's always investigating."
When Langhorne moved from Charleston, S.C. to D.C., Edit Lab helped him scout restaurant locations. In October 2015, he opened The Dabney at 122 Blagden Alley NW in Blagden Alley. The cozy 55-seat outpost was awarded a star the inaugural 2017 Michelin Guide for Washington, D.C., as well as the 2018 and 2019 lists.
While conceptualizing The Dabney, Winter and Miller traveled to Charleston, S.C. where Langhorne spent five years as chef de cuisine at McCrady's restaurant. "It was invaluable to see the way that Charleston had been able to create this really amazing restaurant scene that was driving forward in so many ways," Miller said. "Seeing the things that drove and inspired [Langhorne and co-owner and general manager Alex Zink] was great."
Pulling from Langhorne and Zink's background and vision, Edit Lab turned The Dabney into one of the warmest restaurants in the District. The interior resembles a colonial home and a 10-foot long wood-fired hearth is visible from every seat. A courtyard garden provides produce and fresh herbs for dishes and cocktails.
Langhorne called Miller and Winter "brilliant designers" who "brought a level of professionalism and reality" to the design process. They're smart, calculated and "really want to get into your head and know what you're thinking—what inspires you," Zink said.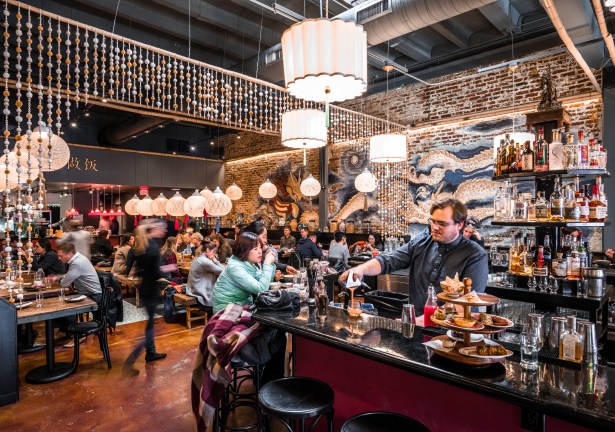 Outside of the U.S., the Edit Lab team has made several international trips with clients.
"To go somewhere and see the textures and the life of the place is incredibly important," Miller said of his trip to Hong Kong with Greg Algie for his Chinese bistro Tiger Fork, which opened in Blagden Alley in February 2017. "I think there's a lot that you can't get out of Pinterest or Instagram…to see a place with your own eyes—how it lives and breathes."
Noting Tiger Fork's "blast of color" and "elements of feng shui," Washington City Paper called the restaurant, at 922 N St NW, a "high-energy" dining experience that encourages conversation among strangers.
For a series of D.C.-based ramen restaurants—Daikaya, Bantam King and Haikan—Miller recalled traveling to Japan to discover the roots of ramen culture and different kinds of Japanese restaurants, from Kaiseki cuisine to street food. "It's just given me a really different way to look at how a project can come together," he said.
Meanwhile, Winter has found the most meaning in projects that have been very close to home.
The Red Hen, an Italian restaurant at 1822 1st St NW and co-owned by her ex-husband Sebastian Zutant, opened just blocks from where she lived in Bloomingdale.
"You'll find a warm room with brick walls and canela wood floors, chairs and tables fashioned by Edit Lab at Streetsense designers Lauren Winter and Brian Miller," Washingtonian Magazine said of the neighborhood haunt after it opened in April 2013. "Large windows and 13-foot ceilings create a feeling of openness in the 100-plus-year-old structure, where flickering candles and campfire aromas emanating from the open kitchen's wood-burning grill add to the rustic ambience." It's been on the magazine's 100 best restaurants list every year since opening.
Four years later, Winter and Zutant partnered to open wine bar Primrose, at 3000 12th St NE, which Eater DC called a "slice of Paris" with "romantic elements reminiscent of a street-side café straight out of the City of Love." Winter now lives in Brookland with her two children, around the corner from Primrose. "Living where you open is neat—you get to see what the neighborhoods want and you get to be part of that neighborhood fully," she said.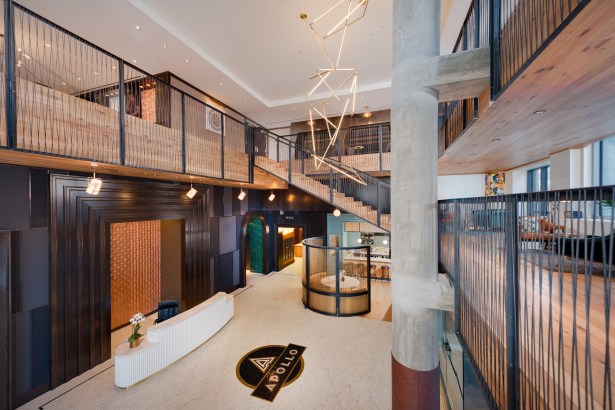 After five years in business, Winter and Miller joined forces with real estate and hospitality firm Streetsense in November 2013. They agreed to join Streetsense after a series of conversations over six months. "It was too many meetings, they wore us down," Miller said jokingly.
"They were a good company—they thought a lot like we did," said Winter, adding that they agreed to join forces with Streetsense after negotiating that Edit Lab could keep "a bit of our identity" which meant running their office in an independent way and "feeling like we have control of our own destiny." And for their division, they retained the Edit Lab name—Edit Lab at Streetsense.
Five years later, Edit Lab has grown into a staff of 11 people. "We're now confident to go out and take on bigger projects," Miller said, explaining that the firm's impact on the city has grown because of Streetsense.
Edit Lab's first foray into residential real estate came when Trent Smith, a partner at Insight Property Group, came knocking. He wanted a designer for The Apollo, Insight's 431-unit residential rental building at 600 H St NE .
"We wanted to do something extraordinary for the interior," said Smith, who envisioned The Apollo's lobby as "a de facto living room that really brought the community into the building."
After an international search, Smith found Edit Lab in his own backyard. "We researched online who was designing and building the bars and restaurants where all of our residents were leaving our apartments to go to at night instead of hanging out in the common areas," he said.
Within five minutes, "we instantly knew they were going to be the right people to bring to life the vision that we had for The Apollo," Smith continued. The building opened in October 2016, featuring a dramatic three-story lobby with reading nooks and working spaces that are open to the public, plus a second outpost of The Wydown Coffee Bar.
Smith said he suspects that many developers will seek to emulate The Apollo, but Winter and Miller's perspective is "critical in making the space work."
Insight has already hired Edit Lab for other residential projects including the 145-unit Lockwood Apartments, a rental development that's slated to open at 1339 E St SE in 2019. "The feeling will be almost a 180 from The Apollo," Miller said.
"I think that's something that drives a lot of our projects: when we have success with one thing, we want to make sure that the next thing feels like it really has its own personality and not just a duplication of the work we've done to date."
Bantam King and Haikan
,
Brian Miller
,
Brixton
,
Columbia Room
,
Daikaya
,
Edit Lab
,
Edit Lab at Streetsense
,
Lauren Winter
,
Primrose
,
Red Hen
,
Streetsense
,
The Apollo
,
The Brixton
,
The Dabney
,
Tiger Fork
,
Wydown Coffee Bar