Presented By: Partner Insights
How Newark Is Becoming A Tech Pioneer
---
---
When most people think of cities known for technological innovation, San Francisco comes immediately to mind, as do Seattle, New York, and Boston.
But Newark?
It may surprise people to learn that Newark, NJ offers some of the fastest internet connectivity in the US for a fraction of what it might cost in neighboring New York City, just one factor of many in Newark's ongoing revitalization.
Through Newark Fiber, the citywide, city-owned connection that takes advantage of Newark's long history of tech invention, companies can access up to 10 gigabit connectivity for less than 10 percent of what they might pay for a similar service in Manhattan. – if it was even available there, which it's not.
"It goes back to the history of Newark," said Ben Korman, Chief Executive Officer and Founder of Lotus Equity Group, which is currently developing the massive multi-use project Riverfront Square.
"The first Bell company's headquarters were built here in 1917. Under the streets of Newark, all the copper was replaced with fiber, and fiber allows a much greater connectivity than anywhere else."
In addition to Riverfront Square, Korman is also involved in C&K Properties' 18-story, 800,000-square-foot office building 2 Gateway Center – he's the "K" in C&K – which played a key role in introducing Newark Fiber to the city.
"The city of Newark needed locations where they could put their equipment to create a triangle of broadcasters and receivers," said C&K's managing director Kevin Collins.
"So they came to us and said. 'We'd like to put equipment on your roof, but we don't have the money to build in the infrastructure to your building.' So we built the fiber infrastructure in our building, then allowed the city to put their equipment on our roof. In return, the city allows us to buy Internet connectivity at the same bulk rate they do."
All of this means that tenants at 2 Gateway Center – which was the first building in Newark to connect to Newark Fiber – and in buildings and developments throughout Newark (including, once they open, Riverfront Square and Broad Street Axis), can purchase WiFi at minimal cost.
"In Manhattan, you cannot get 10 gigabit connections to the desktop. The service doesn't exist," said Collins. "If it did, it would probably cost you in the neighborhood of $6,000-$7,000 a month. Here in Newark, depending on the size of the company, it can cost as little as $200 a month."
Newark Fiber has helped set the stage for an influx of corporate residents who understand how Newark's easy-to-access location and incomparable Internet speed serve as a major corporate advantage. The New York-based SJP Properties has developed two office buildings here. The 337,500-square-foot, 12-story North American headquarters for Panasonic, Two Riverfront Plaza, was completed in 2013. The 750,000-square-foot, Class A headquarters for Prudential Financial was completed in 2015. Both buildings make use of Newark Fiber.
Now, in conjunction with Aetna, SJP is gearing up for its largest Newark project to date. Broad Street Axis, so named for its location by the Broad Street train station, will be a 2 million-square-foot mixed use facility, built at a cost of $1 billion. SJP Executive Vice-President Peter Bronsnick said that Newark Fiber has been, and will continue to be, a key selling point for all of the company's Newark developments.
"The fact that the technology with fiber was there gave both Panasonic and Prudential the confidence that this was a good long-term decision for their headquarters' requirements," said Bronsnick. "It separated Newark from the other alternatives in the marketplace."
Newark Fiber will also be a key selling point for the office component of SJP's development of Broad Street Axis.
"We see Newark Fiber as a competitive advantage for Newark as a whole, especially as it lends itself to technology companies. It's available throughout the city," Bronsnick said. "I think it's been imperative, and I think it's going to be important moving forward, especially as we look to attract technology, pharmaceutical, and financial companies to Broad Street Axis. It's a feature that other cities can't easily replicate."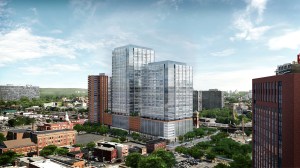 Advanced technology has been an uncelebrated aspect of Newark's story for several decades, as those behind 2 Gateway Center know well.
 The Class A office building opened in 1972 as the headquarters of Western Electric, a primary electronics supplier for AT&T. Given the building's initial tenant, it served as a high-level tech center from day one.
"The building was designed by engineers, for engineers who were designing today's modern phone switches," said Dudley Ryan, a senior vice president at CBRE and the building's leasing agent since 1989.
"To accommodate these platoons of engineers, the building was designed for one person every 120 square feet. So you have additional electrical power, additional air conditioning, additional vertical transportation, bathrooms, the works."
C&K purchased 2 Gateway Center in 2006, by which time it had already been converted to a multi-tenant office building. Collins said C&K has spent "in the double digit millions" in the years since upgrading the building in several phases, furthering its status as a technology pioneer. Current tenants include Broadridge Financial Solutions, Standard Chartered Bank, and =SPACE, a coworking space/tech startup incubator.
Two Gateway Center is located at the heart of the city's Billion Dollar Triangle, just steps away from NJPAC, the Prudential Center, and the Red Bull Arena. The building also teems with attractions and locations of interest on the premises, including the broadcast studios of NJTV, where visitors can watch the production of shows as they air live; the Gateway Project Spaces art gallery; and live jazz concerts hosted by WBGO.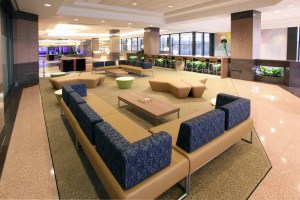 Newark Fiber and the city's new projects are the perfect representation of Newark today. Once known for high crime, the city's crime rate is now the lowest it's been since the 1960s, helping Newark attract investment and business galore. The statewide Grow New Jersey program has also been helping businesses relocate here. Offering tax incentives for companies that create jobs in New Jersey, it offers larger incentives for those that operate near transit hubs, which includes any tenants of 2 Gateway Center, Riverfront Square, and Broad Street Axis.
Signs of the city's evolution are everywhere. Goldman Sachs has invested over $575,000,000 in housing, education, and retail in the city. Edison Properties is spending over $100 million on its Ironside Newark office project – which will include the new headquarters of Mars Wrigley, and the 500 jobs they're bringing to the city – and other infrastructure investments. Basketball superstar Shaquille O'Neal, a Newark native, has invested in his hometown, contributing to the development of the city's CityPlex 12 movie theater and partnering with Boraie Development on the $75 million, 168-unit rental building One Rector. Amazon's Audible is headquartered here, and the Grammies opened their east coast museum here last year, with exhibits showcasing legends such as Michael Jackson, Beyonce, Taylor Swift and Jennifer Lopez.
Newark is also one of the 20 U.S. cities designated as a finalist to host the second headquarters of Amazon. If chosen, this would bring 50,000 jobs to Newark over the next 10-15 years. The city expects an announcement before the end of the year.
Aisha Glover, President & CEO of the Newark Community Economic Development Corp. sees Newark Fiber as crucial to the city's ability to attract business. She cites the example of Broadridge Financial Services, which brought 1,100 employees from its former Jersey City headquarters to 160,000 square-feet of space at 2 Gateway Center last November.
"It's critical for us to leverage Newark Fiber and make sure we're branding it, and make sure that entrepreneurs, small businesses and large corporations understand what it means to have such a robust data infrastructure," said Glover, who notes that Newark currently has over $4 billion in development underway.
One massive upcoming development is Riverfront Square, a 12-acre mixed-use project in Newark's Central Business District that will include up to 2 million square-feet of Class A office space, 1.4 million square-feet of residential space including up to 2,000 apartments, 100,000 square-feet of retail, 185,000 square-feet of hotel and conference space (including 240 hotel rooms), and 30,000 square-feet of arts and cultural space. The project, which Korman calls "a transformative project for Newark," is set to open in stages from 2021-2024.
All of this will accentuate the development's status as a premiere transit hub, as – just like 2 Gateway Center and Broad Street Axis – Riverfront Square will be located right next to a rail line, Newark Broad Street station. Only 17 minutes to Manhattan's Penn Station, Riverfront Square will be within easy walking access of PATH trains, Newark Light Rail, NJ Transit, and Amtrak, while also being just a 10-minute drive or train ride to Newark Liberty International Airport.
Ease of transportation was also very much a factor in SJP's decision to invest heavily in Newark.
"SJP made a conscious decision to identify transit and urban locations in the late 90s," Bronsnick said. "Steven Pozycki, our CEO and founder, understood the shift to urban centers well before anyone identified it. Newark has all the makings of a mature market ready to go, driven by access to labor and the accessibility from the western suburbs."
Korman, too, understands that Newark has the makings of a strong market all its own, and emphasizes that the enormity of Riverfront Square won't detract from a local vibe.
"We'll have different types of retail, most of which will be small, neighborhood-supporting, tenant-operated retail – your bike shop, your bookstore, your coffee shop or barber. A good part of our intention was to ensure that Riverfront Square doesn't look like a shiny, beautiful new development without a soul to it. We're allocating units for food-related outlets, and also large retail for more of a destination, Brooklyn Bowl-type establishment, or a beer garden and performance space type of thing."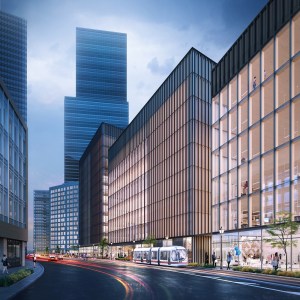 Another exciting aspect of the new development is that the main office building, at 12 stories and 500,000 square-feet, will be the largest timber-constructed building in the U.S.
"It turns out that the wellness of a company's employees is significantly enhanced in a timber structure," Korman said. "It also has a very low carbon footprint. When we learned about this method, we thought it would be perfect for us."
Riverfront Square will be joined in helping define Newark's future by Broad Street Axis, a 3.7 acre site that will be developed immediately adjacent to Newark's Broad Street train station, on the site of the former Westinghouse property . The site is scheduled to include office, retail, hotel, and residential elements, anchored by a large public plaza. The project will be an example of the "transit villages" Newark mayor Ras Baraka has spoken of, with entire communities, including sizable pedestrian space, connecting to easily accessible transit options.
SJP views Broad Street Axis as the final piece to fully transform the North Broad Street District, which already houses Audible, IDT, and Cablevision, into a fully functioning tech and business corridor.
"We envision the Broad Street Axis project as a critical component to the resurgence along Broad Street and a way to further utilize the benefits of the Broad Street Train Station," said Bronsnick. "The site is really woven into the social fabric of that part of the neighborhood. The proximity to Rutgers, to NJIT, to the light rail – we really see the project as a continuation of the Broad Street revitalization we've witnessed over the last couple of years."
All of this shows that Newark is a city on the rise, and developments like 2 Gateway Center and the upcoming Broad Street Axis and Riverfront Square will help usher it into a new era of prosperity.
"A project like ours fundamentally changes the dynamic in the city," says Korman. "Riverfront Square will ignite significant growth and change for a city that has all the amenities of a 24/7 live, work, play destination."
2 Gateway Center
,
Ben Korman
,
Broad Street Axis
,
C&K Properties
,
Kevin Collins
,
Lotus Equity Group
,
New Jersey
,
Newark
,
Peter Bronsnick
,
Riverfront Square
,
SJP Properties