60 Miles Northwest of NYC, $350M 150-Acre Lego Park Will Emerge
---
---
For the third Legoland in the U.S. (and the ninth in the world), Merlin Entertainments is building and spending big.
The U.K.-based family entertainment company is shelling out $350 million—its largest investment in a single children's theme park to date—to create an 150-acre Lego wonderland for children ages 2 to 12 called Legoland New York Resort, the first Legoland in the northeast.
Situated on 500 lush acres in Goshen, N.Y., just off Route 17 and 60 miles northwest of New York City, Legoland New York will offer far more than Legoland Discovery Center Westchester. Slated to open in spring 2020, Legoland New York will feature more than 50 rides, shows and attractions, as well as a hotel.
At an on-site media and community event to offer a first look at the upcoming theme park and hotel site this morning, spokespeople talked about the eight themed "lands" in which kids can learn the ancient art of Spinjitzu, take a balloon ride over Pinefall Woods, ride a roller coaster, learn how to be a Lego City firefighter, attend Lego driving school and check out the panorama of interactive Lego-built cities from across the country. Reporters were even given helicopter rides to show the expansive site that will become Legoland New York.
With 250 rooms open all-year long (the park will be open seasonally from spring to fall), the hotel will have five different themed rooms, Phil Royle, the development director for Legoland, told Commercial Observer. The hotel will include a kid-sized buffet table and castle play area with adjacent bar for parents.
"A Legoland hotel is not only designed to look like it's made of Lego, but also designed from a child's perspective," a spokeswoman later emailed. "All of the rooms are Lego-themed from the walls to the flooring and, of course, include Lego models. Other kid-designed features include a child's height peephole on the door, potty-training seats in the bathroom and a Lego building station in every room. Children begin their experience with a treasure hunt when they check in and unlock their own treasure chest in every room."
Legoland New York, a subsidiary of Merlin Entertainments. purchased 500 acres in Goshen from three individuals in fall 2017 for roughly $12,000, as per a spokeswoman, making Legoland New York a park within a park. Royle highlighted the site's proximity to Manhattan (ShortLine Coach USA will provide a one-seat ride from Port Authority Bus Terminal to Legoland), Woodbury Common Premium Outlets, the United States Military Academy, also known as West Point, and the casino at Resorts World Catskills, which opened this year in Sullivan County. Besides, he said, people typically travel eight to 10 hours to get to Legoland.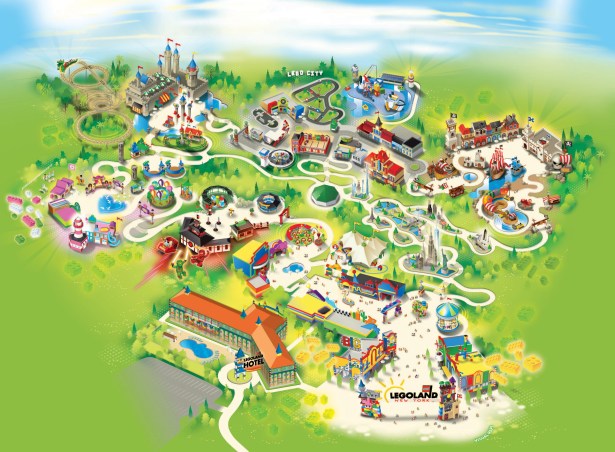 Thirty million Lego bricks will be used to create 15,000 Lego models at LegoLand New York. This morning, Merlin unveiled its 10-by-10 Legoland New York model, made with 135,000 Lego bricks. As the curtain came down, so did a shower of 60,000 Lego pieces (see video above). It took 20 master builders working 1,300 hours to complete the model, which will be featured in the theme park.
Lego
,
Legoland Discovery Center Westchester
,
Legoland New York Resort
,
Merlin Entertainments
,
Phil Royle
,
Pinefall Woods
,
Port Authority Bus Terminal
,
Resorts World Catskills
,
ShortLine Coach USA
,
United States Military Academy
,
West Point
,
Woodbury Common Premium Outlets