The Plan: A New Food Hall for Astoria
---
---
Astoria is getting a new food hall.
Local development and brokerage firm Vass Stevens Group is converting a building that housed a restaurant supply store, print shop and dollar store into a new retail space featuring a variety of eateries. Vass Stevens has demolished the interiors of the single-story brick structure at 34-39 31st Street on the Long Island City-Astoria border and plans to divide it into eight 2,000-square-foot storefronts.
Although the company hasn't signed any leases with tenants yet, it is negotiating letters of intent with a handful of outer-borough artisanal vendors, including a coffee roaster, a microbrewery, a specialty dessert bakery and an Asian concept. Steven Lysohir, the president of the firm's retail and office investment and leasing division, said he was talking to a number of "high-end pressed sandwich places, high-end Asian concepts that do dumplings, and ethnic Hispanic concepts that are well known in Queens." He also hopes to bring in a Brooklyn-based butcher shop, which would set up a specialty sandwich spot and sell cheeses, meats and other groceries. The first few tenants are expected to move in before the holidays in November, and the remaining shops would open in the first few months of next year.
Lysohir said the firm is aiming for a mix of high-end and more approachable food tenants. "We want to have authentic Brooklyn, Queens and Bronx establishments, priced right but with a great vibe for the customer to enjoy a meal and sit down," he said. Fitness concepts, performance groups and creative tenants have also approached the developer about renting space in the building, and a fitness boutique could end up being part of the mix as well, Lysohir added. Asking rent is $50 a square foot, and tenants are currently being offered 10-year deals.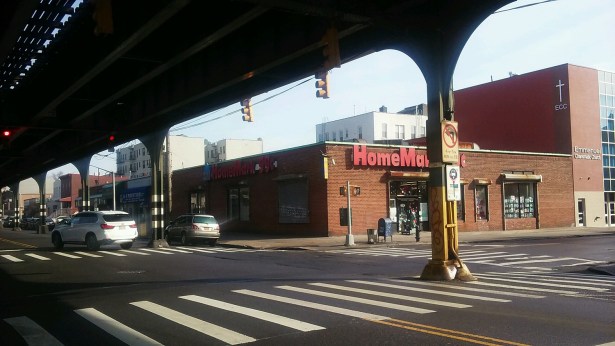 The renovation of the property between 34th and 35th Avenues will involve carving out new, glass storefronts and doorways in what is now a mostly featureless brick warehouse, installing new utilities, and building out the interiors as a marketplace and food hall with space for each tenant. Vass Stevens purchased the 16,000-square-foot building for $7.5 million in October of last year and then vacated the property's three tenants, which were on month-to-month leases.
The neighborhood is sandwiched between the sleepy, residential blocks in Astoria, the bustling commercial hub by Steinway Street, and an industrially zoned part of Long Island City known as Dutch Kills, where warehouses are quickly being redeveloped into creative office space. Over by the Steinway Street stop on the M and R trains, Kaufman Astoria Studios is building 100,000 square feet of new commercial and production space, and there's the Museum of the Moving Image, a Regal Cinemas, a WeWork, and a few public and charter schools. A few blocks to the south, near Queensboro Plaza, three new hotels—a Sheraton, a Marriott and a Hilton—have been built in the past few years. All of these attractions promise to help drive customers to the food hall, Lysohir explained, along with the fact that the Broadway and 36th Avenue stops on the N/W trains are each about a block and a half away.