Why the School Construction Authority Is Getting Cozy With Developers
---
---
The School Construction Authority—the city agency tasked with designing and building new schools to meet capacity—was in a jam. 
A plethora of skyline-changing condominium and multifamily buildings have been popping up around Downtown Brooklyn in recent years, and SCA needed a new school to accommodate thousands of incoming families to the area. But plots of land are difficult to find in the area.
So, in a spirit of "if you can't beat 'em, join 'em," the SCA turned to a developer, JEMB Realty, as a partner. Last year, the SCA agreed to lease 87,000 square feet of JEMB Realty's One Willoughby Square project, a 36-story office building under construction in Downtown Brooklyn for a new school. The new 322-seat institution will occupy the first six floors of the FXCollaborative-designed office building and both are expected to be completed in 2021.
"In an ideal world, they want to build a school that looks and feels like a school. But there are situations where they can't get into a neighborhood," said Cushman & Wakefield (CWK)'s David Lebenstein, who has represented the SCA in acquiring sites in Queens and the Bronx. "[This strategy of partnering with developers] may grow and increase in the next several years as land becomes more sparse."
In fact, this arrangement is already being implemented in other parts of the city where public schools are overcrowded, and it's difficult to find vacant lots, such as in Long Island City, Queens and Lower Manhattan.
There are good reasons why both the SCA and developers find this the ideal solution; it gives developers a well-funded tenant (the city) or bonuses to build taller. Also, if the developer was seeking a rezoning, adding a school could help convince the City Planning Commission and City Council that the development deserves approval.
In JEMB's case, they liked the thought of having a tenant with taxpayer-backed funds.
"The SCA has been very proactive in identifying areas where there is a residential boom like Downtown Manhattan and Downtown Brooklyn," said Morris Jerome, a principal at JEMB (the other kind of principal), who praised the developer's relationship with the SCA. "It's always good to have a stable tenant [like the City of New York]. But also, it enhances the neighborhood."
And, of course, the SCA was excited to have found space to help fill its need.
"We are excited to be a part of this unique development and bring needed school seats to the Downtown Brooklyn community," Lorraine Grillo, the president and CEO of the SCA, said in prepared remarks during the July 2017 announcement of the project. "With over 300 seats, this project is a meaningful investment that supports our growing neighborhoods."
Lebenstein said the challenge of finding a new site for the SCA starts with identifying a 20,000- to 30,000-square-foot parcel—because schools need to have at at least those floor plates —but those plots of land are becoming rarer in the city.
Also, the SCA prefers to acquire sites with outdoor space (although it has put plenty of play spaces on rooftops) and the buildings usually need to have double-height ceilings indoors for gyms and auditoriums.
While the SCA completed 117 schools between 2014 to 2017, which comprise more than 35,500 pre-K through 12th grade seats, the authority still has to add 83,056 seats to accommodate all students, according to a City Council review of the Department of Education (DOE) and SCA's five-year capital plan (ending in 2019) released on March 26.
But working with developers is a small (but growing) part of its strategy for new sites. The SCA noted that it has funded the design and construction of 5,000 seats in partnership with private developers that don't have a hard completion date, according to its capital plan. (A spokeswoman for SCA did not return requests for comment.)
One recently completed project is The Dock Street School for STEAM Studies at Two Trees Management's 60 Water Street in Dumbo, which the SCA opened in September 2016. The 333-seat middle school occupies the entire 45,000-square-foot second floor of the 300-unit apartment building and has its own dedicated entrance and a "gymnatorium"—a hybrid gym and auditorium.
In this case, the developer had tried unsuccessfully to get the city to approve the rezoning of the site from manufacturing to residential. The community board voted against it, saying the project was too close to the Brooklyn Bridge, according to Two Trees Managing Director David Lombino.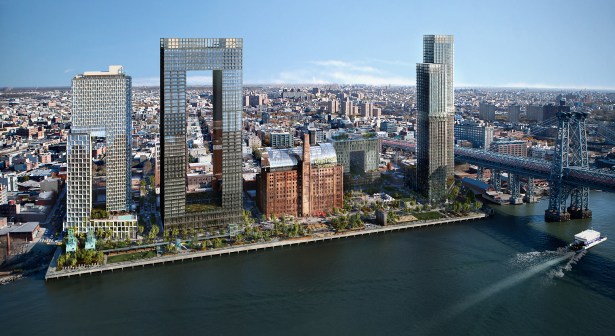 So Two Trees went back to the drawing board and decided to incorporate a school. That helped push the proposal through the rezoning process, Lombino said.
After building the "core and shell" for a school on the entire second floor, it sold the space as a condo to the SCA for $1 and the city agency built out the interior of the school. 
Two Trees has also allocated space at its 3-million-square-foot mixed-use Domino Sugar Factory redevelopment in Williamsburg, for a school if the DOE determines it needs to build one in the area. (It was not clear when that school will be built or its specifications. A representative for DOE did not return a request for comment.)
"We would like to see a school there," Lombino said. "It adds a lot of energy to a neighborhood. It makes it busy at times of the day when [the energy in] neighborhoods tend to turn down."
There are also public schools planned for Park Tower Group's Greenpoint Landing project, a 22-acre, 5,500-residential unit development on the Greenpoint waterfront (where Brookfield (BN) Property Partners is working in partnership on four sites), and at Greenland Forest City's Pacific Park Brooklyn megaproject in Prospect Heights. The Pacific Park school will have more than 600 seats and will be part of a residential building the developer will construct at 664 Pacific Street. A Brookfield spokesman did not return a request for comment, and a representative for Greenland Forest City declined to comment via a spokesman.
In Queens, a partnership of TF Cornerstone, Greenpoint manufacturing and Design Center, C4Q and BJH Advisors won a bid in July 2017 to develop a 1.5-million-square-foot mixed-use development in LIC that will include an 80,000-square-foot public school. The project includes 1,000 residential units (25 percent of which would be affordable) and 400,000 square feet for commercial uses. The New York City Economic Development Corporation selected the developers for the project.
Developer Plaxall has proposed an ambitious plan to develop nearly 5,000 housing units (1,250 of which would be affordable), 335,000 square feet for production and light industrial uses and a 3.1-acre park on a stretch of land it owns in LIC near Anable Basin. A school will be included there.
The project needs a rezoning and the Uniform Land Use Review Process will begin in the fall. One thing sure to excite city officials is that Plaxall is offering to "gift" a parcel of the land for the public school upon approval.
"There's a current need for more school seats in LIC, and we recognize that our project will bring more families into the community over its 15-year buildout," according to the project website. "If approved, our project will alleviate that need by gifting the city a site for a new 700-plus seat public school on 11th Street that's located three blocks from the new Anable Basin District."
In Manhattan, there will be a new public school at Related Companies and Oxford Properties Group' 18-million-square-foot Hudson Yards megaproject thanks to the Bloomberg-era request for proposals that Related won in 2008. It will give the SCA some space for a new school after the developers deck over the train yards on the western side of the project site.
The school will have 766 seats for a middle and elementary school and project construction is expected to be completed in 2022, according to the SCA's capital plan.
And in order to build a new elementary school in Lower Manhattan, the SCA entered into a partnership in January 2016 with Trinity Place Holdings, a real estate investment company, to be part of the developer's 90-unit residential building at 77 Greenwich Street. The residential condo will rest atop a 476-seat elementary school, which will serve pre-K through fifth grade on the first eight floors of the tower. The school will be a commercial condo sold to the SCA. There will also be 7,500 square feet of retail at the project. The approximately 300,000-square-foot development, which was designed by FXCollaborative, is expected to be completed by the end of 2020. 
"We are proud to be working with the New York City School Construction Authority in connection with their efforts to bring a much-needed new public school to Lower Manhattan," Matthew Messinger, the president and CEO of Trinity Place Holdings, said in prepared remarks at the time of the announcement of the project two years ago. "We expect 77 Greenwich to be the latest milestone in the neighborhood's evolution as a highly desirable live-work community."
After the completion of the project, the SCA will complete the interior construction of the school portion of the building, according to a recent Trinity Place press release about construction financing for the project.
Although this developer won't have stable income from the project (like JEMB at One Willoughby), having the school at the base of the building will certainly provide better views for the apartments. 
"What makes the residential component unique is that all condominium residences will start at an elevation of 150 feet, sitting above the school, allowing for panoramic views of New York Harbor, the Hudson River as well as the New York City skyline from every home in the building," Messinger added in the statement.
The SCA was created in 1988; today, it has a five-year capital plan budget of $16.5 billion and its workforce has been growing. It currently has 865 employees, up from 796 employees in 2017, according to the capital plan. The SCA gained prominence working on constructing more pre-K schools thanks to Mayor Bill de Blasio's 2015 Pre-K for All initiative, with $872 million allocated in the current capital plan for 71 pre-K projects around the five boroughs, adding 8,771 seats. Beside building new schools, the SCA has the challenging role of repairing the city's more than 1,800 existing public school buildings (accounting for 130 million square feet), which house just over 1 million students.
Public schools are "one step from a nuclear submarine," said John Hagen, the vice president of the education division at EW Howell Construction Group. "They far exceed what the normal life expectancy of a normal building could be."
EW Howell has worked as a contractor for the SCA on a variety of projects for about two decades. It is currently working on a $66 million project to add 82,000 square feet at P.S. 303 in the Forest Hills section of Queens, which is not one of the SCA's projects with developers.
Hagen said the most challenging aspect about working with the SCA is the timeline, as contractors must complete schools before the school year commences with no room to budge.
"They do not miss and and will not miss a school opening," he said, adding: "There are a lot of sleepless nights in June, July and August."
The SCA's model to build schools in larger developments is not a brand new idea; it's a borrowed one that is becoming more popular.
The new One Willoughby Street school will be the second public school in a JEMB building. The developer leased space in 75 Broad Street to Millennium High School in 2002. The school (in the building erected in 1928) occupies 90,000 square feet on floors 11 through 13 and has it own dedicated entrance.
But the roots go much further back than 2002; the Education Construction Fund, part of the DOE, is a public corporation that was created in 1967 with the goal of creating mixed-use real estate projects that feature schools. To date, ECF has constructed more than 18,000 school seats and 4,500 units of housing and 1.2 million square feet of office space, according to the DOE's website.
One of ECF's current projects is 80 Flatbush Avenue with developer Alloy Development.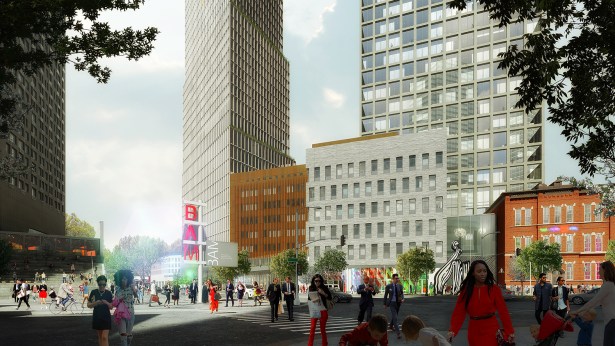 ECF issued a "request for expression of interest" for the redevelopment of the public school Khalil Gibran International Academy at 362 Schermerhorn Street in Boerum Hill, Brooklyn in June 2016.
Alloy, which owns parcels adjacent to the site, responded to the request for expression of interest with its plans for a five-building, 922-unit residential development called 80 Flatbush Avenue that would include two schools. One of the schools would be a new, expanded 350-seat Khalil Gibran International Academy and the other would be another 350-seat elementary school. The schools are expected to open in 2022 and will be owned by the city as condos. 
"80 Flatbush is designed to meet a number of essential needs for Downtown Brooklyn, and we're excited about the opportunity to include two new state-of-the-art public schools with a combined 700 seats in our project," AJ Pires, the president of Alloy, said in a prepared statement to Commercial Observer.
While building schools in developments solves the problem of finding space, it does introduce some other potential pitfalls, such as putting young children near busy intersections. Also it means the area will become more congested during school commuting times in the morning and afternoon.
As these mixtures of large residential or office buildings and public schools increase, the verdict is out on whether it's actually the best solution to solve the space crunch issue, according to folks at Localize.city—an artificial intelligence-powered website that helps buyers and renters predict what it would be like to live at any address in New York City.
"For some families, moving to a new [apartment] building with a school can be a draw: You can't get a better school commute. And even though new schools have no track record, they tend to have a lot of support from the DOE and strong principals, often quickly becoming the most coveted in the area," said Amy Zimmer, the head of content at Localize.city. "But not everyone wants to live near a school. You may have to contend with crowds of kids and parents at morning drop-off and other traffic jams."
In fact, Brooklyn's Community Board 2 voted unanimously to disapprove the Alloy and ECF project at a meeting last month, as CO recently reported. The community board is just the first stop; next up is Borough President Eric Adams' office, then the City Planning Commission and City Council, which has the final say. (The mayor could veto the City Council's decision.)
But developers appear to be warming up to the idea of schools in their buildings. Two Trees is currently planning an office development at 424 Hoyt Street in Gowanus and executives are thinking about adding a school to the project, although plans have not been finalized, Lombino said.
"It is something that we completely support, and support going forward," he said. "It's the best way to build new schools in New York City. Every school should be built utilizing value generated by the private sector."
424 Hoyt Street
,
60 Water Street
,
664 Pacific Street
,
75 Broad Street
,
77 Greenwich Street
,
AJ Pires
,
Alloy Development
,
Amy Zimmer
,
BJH Advisors
,
David Lambing
,
David Lebenstein
,
Department of Education
,
Education Construction Fund
,
EW Howell Construction Group
,
FXCollaborative
,
Greenland Forest City
,
JEMB Realty
,
Lorraine Grillo
,
Millennium High School
,
Morris Jerome
,
New York City Economic Development Corporation
,
New York City School Construction Authority
,
One Willoughby Square
,
Part Tower Group
,
Plaxall
,
The Dock Street School for STEAM Studies
,
Two Trees Management
,
Brookfield
,
Cushman & Wakefield
,
Oxford Properties Group
,
Related Companies
,
TF Cornerstone