Wendy Neu Is Bringing the Creative Office Revolution to an Old Shipyard in New Jersey
---
---
Spanning 130 acres on a peninsula straddling the Hackensack and Passaic Rivers—strategically situated between Jersey City and Newark, N.J., with New York City's towering skyline rising only a few miles to the east—Kearny Point was once a powerhouse of American military and industrial might.
From 1917 to 1948, the site was home to a massive shipbuilding operation that produced hundreds of battleships that helped win two World Wars. At its peak, during World War II, it employed more than 30,000 workers who were renowned for producing vessels at a rate faster than any shipyard in the world.
After the war, the shipyard was decommissioned. Scrap metals recycling giant Hugo Neu Corp. acquired the site in the early 1960s and converted it into a facility dedicated to dismantling once-great warships and exporting their scrap metal to steel mills around the world.
It was here where, after landing a job with Hugo Neu in 1980, Wendy Kelman Neu learned the ropes of the metals recycling trade, like how to identify and separate nonferrous metals like copper, aluminum and zinc from the vessels that would be lined up along the Hackensack, awaiting to be broken down.
"I worked here at the height of the ship dismantling, so I looked at these buildings as being cold, dirty," Neu, now the chairman and CEO of Hugo Neu, recalled recently from her office at what is now known as Kearny Point. "I always had this feeling like this is not some place that you'd ever want to be or work. The Passaic is a Superfund site."
By 1985, Hugo Neu had repurposed the site, shutting down the ship-breaking facility and converting it into an industrial warehouse and distribution complex that housed scores of tenants and, in Neu's words, "literally kept us going" through the down times of the cyclical and volatile metals recycling business. And it remained as such until 2012—when Superstorm Sandy blew through, ravaging the site and forcing Neu to rethink its future.
"That was devastating; we were three, four feet under water," Neu said of Sandy's aftermath. "We had a liquor distributor that had been with us since 1975, and when you came on the site you saw liquor bottles floating around. They lost $1 million of inventory. We thought, 'We're going to have to figure this out—[the tenants] are all going to leave. Why would you stay after an event like that?' "
But to the surprise of both Neu and her late husband John Neu—whom she met on the job at Hugo Neu and succeeded  as chairman of the company in the wake of his passing mere months after Sandy, in February 2013—virtually none of site's industrial tenants left the complex, something that Neu attributed to the its exceptional location from a logistics perspective. Still, she knew that something had to change.
"I pretty much was on my own," Neu said of the months after the superstorm, in which she had to deal with both the fallout from the storm and the death of her husband. "I didn't have a real estate background—real estate to me was, 'Oh, I have a house or an apartment'—and I had to decide what to do."
For advice, she looked to her friend Steve Nislick, whom Neu had met through their shared work with animal rights groups like anti-horse carriage organization New Yorkers for Clean, Livable and Safe Streets. Nislick had only recently retired as the CEO of New Jersey-based real estate investment firm Edison Properties.
"I'd call him up every morning and ask him some stupid, inane question and he'd try to help me figure it out," Neu said. "Finally, after several months of my calling him at 6 o'clock in the morning, he said, 'Well, why don't I just come in?' Within 24 hours, I had an office for him."
Nislick, now the CFO of Hugo Neu, recalled that he and Neu initially planned on enhancing the site into an "all-industrial, Amazon (AMZN)-type distribution" hub, given the "insatiable demand for that kind of space within that area." While that would have been the common-sense move, as Nislick put it, "neither one of us are particularly common-wisdom people."
What the two of them decided to do, instead, was pursue an ambitious undertaking that Neu said would be "compatible and consistent with my values—which is creating jobs, protecting the environment, building something that's going to last and is going to make a difference."
Today, Kearny Point is in the midst of a remarkable transformation into an office and light manufacturing complex that, similar to more heralded projects such as the Brooklyn Navy Yard, is seeking to renew and regenerate an industrial site that many thought had seen its best days into one equipped to thrive as an environment catering to the needs of today's economy.
"We had a strong desire to bring jobs back to New Jersey and create an office center, at least initially, for small startup businesses at affordable rents and not requiring long-term leases," Nislick said.
Both he and Neu said that when they initially floated the idea of a creative office development in Kearny, N.J., their plans were widely scoffed at, if not met with disbelief.
"When we started talking about this and saying we're going to do commercial office, maybe some light manufacturing, maybe some tech, they thought to a person that we were crazy—literally crazy," Neu said. "They didn't say it behind our back; they told it to our face."
Nislick noted that while "that type of development barely exists in New Jersey," let alone in relatively remote industrial locations like Kearny Point, that was exactly why he had faith that the project would succeed.
"It appeared to everybody that it was a very significant risk we were taking, but I didn't think it was," Nislick said. "I had so much experience in small [office] space and the demand for small space is very, very deep; for quality small space, you can't really find it unless you go into coworking, and there's a whole [segment] of the market that doesn't want to be in a WeWork."
Kearny Point's master plan calls for a complex initially spanning more than 2 million square feet across half a dozen buildings, and while Hugo Neu plans to take the project one step at a time and see how the market reacts, it could eventually grow into a sprawling mixed-use complex featuring as many as a dozen buildings spanning up to 4 million square feet in total.
So far, the project's first step—a four-story, 160,000-square-foot redeveloped former warehouse known as Building 78—has been an unmitigated success, one that has proven the concept of Kearny Point and paved the way for the rest of the development. The flexible office building, with its lofty ceilings and a polished, modern interior aesthetic, is 98 percent occupied by more than 150 companies in spaces ranging from 100 to 5,000 square feet and on lease terms spanning from a few months up to two years.
Asking rents at the building start around $20 per square foot, with current tenants including a printing company that fled rising rents in New York City to a chocolate maker that houses its chocolate-making operations in its space in the building. Building 78 is also home to Kearny Point's very own coworking space, the 20,000-square-foot Kearny Works, as well as a trendy ground-floor bar and grill that serves as a vital food-and-beverage amenity to the building's occupants.
"[Building 78's tenants] don't want to work in the traditional office campuses that you have in New Jersey; they want to be in something a little bit edgy and different," Neu said. "The market is such that it's helping us. Could we have done this 10 years ago? I'm not so sure. I think the timing, in this case, is everything."
Hugo Neu is continuing to advance the project via one recently completed building—the 200,000-square-foot, newly constructed Building 197, which is meant to cater to manufacturing- and logistics-oriented tenants via 14,000-square-foot blocks of space and is already 50 percent leased.
And then there are two other buildings meant to further enhance Kearny Point's office and light manufacturing footprint: the Annex, the redevelopment of a 90,000-square-foot building attached to Building 78 that is set to kick off construction this summer and, like Building 78, will provide flexible office space for small- to mid-sized users; and Building 100, also a redevelopment that is expected to commence construction before the end of this year and feature 300,000 square feet of office and light manufacturing space that will target larger tenants.
Additionally, the site's former powerhouse, known as Building 54, is slated to be converted into a food hall entirely devoted to providing the complex's tenants with food and beverage offerings. And further down the line, Hugo Neu is drawing up plans for Building 54, a 500,000-square-foot project for which details are not yet forthcoming, but which Nislick said will go ahead depending on the success of Building 100.
While Hugo Neu is handling leasing for Building 78 and Building 197 in-house, the company has tapped a Cushman & Wakefield team led by Mitch Arkin and Bob Donnelly (alongside Michael Burgio, Dan Johnsen, Brian Decillis and Robert Donnelly, Jr.) to oversee the office leasing charge for the Annex and Building 100 with the goal of finding larger tenants for those buildings.
"When [Neu and Nislick] were telling us about their commitment, I think a lot of people were questioning the site and how it's being transformed," Donnelly said. "With their leadership and commitment, it was brought home to us." He added that much of the project's success has come from word of mouth: "People see it for the first time and they say, 'Wow, I didn't know this was here.' The biggest thing is for people to come and experience it."
Arkin said that while he's handled leasing at similar "adaptive reuse" developments in Queens and Brooklyn, such projects are few and far between in New Jersey. "These buildings have very high ceilings and are very unique; you only see them at the [Brooklyn] Navy Yard and other [similar] projects," he said.
Neu and Nislick, and the C&W leasing team they retained, all acknowledged that transportation is one of the project's more prevalent challenges, with no public transit stop in immediate proximity to Kearny Point. However, they noted that with a predominantly New Jersey-based tenant base, most people drive to work and take advantage of the site's ample parking.
Additionally, Kearny Point has teamed with Uber to provide credits to tenants who can use the ride sharing app to get to work. And Neu said that as the complex is further fleshed out, there are plans to provide shuttle bus service from PATH and NJ Transit stops in Jersey City and Newark.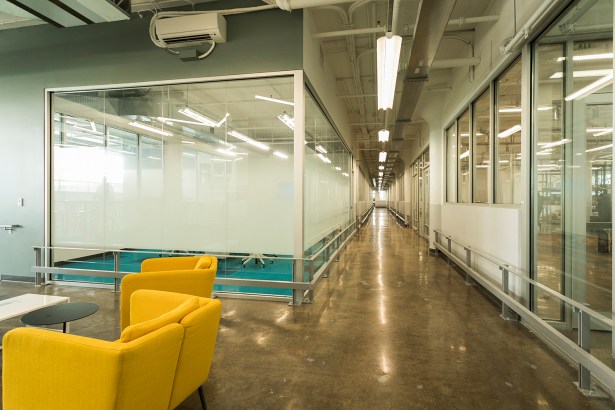 Given the sheer out-of-the-box nature of the development, Hugo Neu was forced to fund its initial investment in Kearny Point almost entirely out of its own pocket, pouring $30 million into the reconstruction of Building 78, Nislick said. "It's not something like the Brooklyn [Navy Yard] or Philadelphia Navy Yard, where this is seen as a normal type of development that causes lenders to jump up and down and there's no risk," Nislick noted.
But despite initial difficulties in finding the requisite financing, Nislick believes that now that Kearny Point has largely proved its concept successful, it should be easier to finance the next stages of the project. "I think in the long run it's not going to be [difficult], and the smart lenders who've looked at it can see the potential, see that we've leased up the space and that the pricing and the [net operating income] is attractive and that it's all heading in the right direction."
Hugo Neu has also received tax benefits from the local municipality—something that Nislick said was aided by the fact that the company already owned the site—as well as financing from Goldman Sachs (GS)' Urban Investment Group (representatives for Goldman did not return requests for comment). Should Kearny Point's master plan become fully fleshed out, the project could end up costing up to $1 billion.
But for the "60-ish"-year-old Neu, who lives in Chelsea and who in addition to her animal rights activism is an ardent environmentalist, it would be money well spent should Kearny Point end up reaching its goals. As part of the development, Hugo Neu plans to revitalize and activate the site's waterfront, restoring the surrounding wetlands and building a park and other amenities that would be open to the public.
And despite Hugo Neu's director of development, Michael Meyer, being quoted last fall as seeing Kearny Point as a viable candidate to house Amazon's vaunted HQ2 should the e-commerce giant select Newark as its second home, Neu was surprisingly cool on the subject.
"I'm not a big fan of Amazon," she said. "I think you've got to be careful in terms of the giveaways—frankly, that's taxpayer money that's going to subsidize Amazon coming here, and I think you've got to be very careful about how you responsibly use taxpayer money. And secondly, if it's not done properly it can be very disruptive to the [surrounding] neighborhoods and communities. Amazon is Amazon—they'll take over."
Instead, Neu seems to be more interested in having a varied and diverse composition of tenants, and the jobs they'll bring with them, at Kearny Point—in the process revitalizing a local economy that has drifted a long way from the days when 30,000 shipbuilders would crank out battleships at a prolific rate.
"Before we started working on this, this whole 130 acres didn't have more than 250, 300 jobs maximum," she noted, adding that "most of those jobs were truck drivers." Now, Building 78 alone houses around 300 workers. "At the end of the day, my goal is to have 7,000, 8,000 people [working] here."
Besides creating jobs and boosting the economy, there is a wider component to what Neu and her team are seeking to do at Kearny Point, and that is to build something lasting that can change the very perception of New Jersey as a place to live, work and thrive.
"If you had this site in New York, it would have been a done deal—no one would even think about it," she said. "It's a different world in New Jersey, and we have to change that. We have to have people rethinking New Jersey as not just the backwater for New York, but as a creative energy and engine of its own. That's part of the challenge, as well as the opportunity. This is not a short-term project; we're not looking to sell it, we're not looking to flip it. We're looking to build something and create something of real long-term value."
Brooklyn Navy Yard
,
Edison Properties
,
Hugo Neu Corporation
,
Hurricane Sandy
,
Kearny Point
,
Mitch Arkin
,
Mitchell Arkin
,
Robert Donnelly
,
Steve Nislick
,
superstorm sandy
,
Wendy Neu
,
Amazon
,
Goldman Sachs