Washington Heights Waits for Its Retail Close-Up
---
---
It's official: Retail rent is pricier on 181st Street in Washington Heights than it is in the heart of Harlem.
"It's higher than rent on 125th Street [in Harlem]," said Alan Napack, a retail broker at Cushman & Wakefield (CWK) who moved to Washington Heights last year. Asking rents along the most bustling stretch of 181st Street hover around $200 a square foot, according to retail brokers at C&W and CBRE (CBRE) who do business in the neighborhood. By comparison, average asking rents on 125th Street clock in around $124 a square foot, per the Real Estate Board of New York's just-released retail report.
The rent is justified because the busiest part of 181st between Fort Washington and St. Nicholas Avenues gets plenty of foot traffic on the weekends, he said. Successful retailers are able to do sales volume of $1,000 to $1,500 per square foot annually. As residential rents have risen, retail landlords have begun jacking up their prices on major thoroughfares like 181st Street. But an abundance of major national tenants hasn't arrived yet.
Along 181st, midrange national chains like Modell's, Payless and Footlocker are punctuated by mom-and-pop restaurants and pharmacies, discount stores, cell phone shops, salons and the occasional Dominican restaurant or bakery. A Marshalls and Gap Outlet store opened in the renovated George Washington Bridge Bus Terminal on West 179th Street between Broadway and Pinehurst Avenue last fall, becoming two of the few major clothing retailers in the area. The terminal's new market also has a Blink Fitness, a soon-to-open grocery store and a Citibank.
"You basically have to go all the way downtown [to Midtown and Herald Square] to get all the brands," Napack said. "You still have a lot of discounters on 181st Street."
Broker Roberto Guilbet, who's lived in the neighborhood for 20 years and handles retail leasing for Vass Stevens Group, said that Napack is probably aiming a little high with $200 a square foot. Landlords on the busiest corners of 181st might be asking $175 a square foot, he said, but it's more likely they're getting $150. Elsewhere along 181st—which runs from Cabrini Boulevard to the west to Amsterdam Avenue in the east—new tenants are more likely to pay $100 a square foot.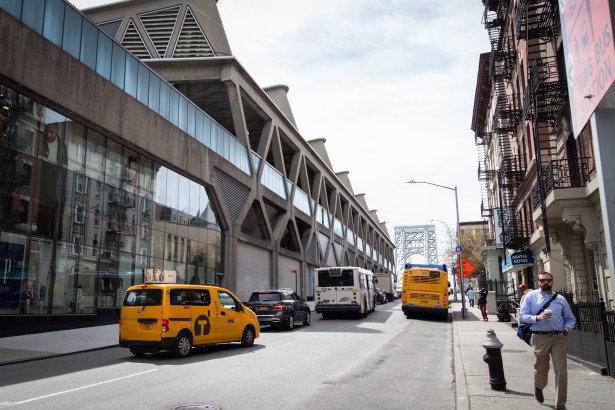 Some real estate observers think 181st Street could go the way of 125th Street, which has seen the wave of commercial gentrification crest over the past couple years with the opening of a Whole Foods, Marcus Samuelssen's Red Rooster restaurant, Starbucks, and a slew of big-name apparel stores, including Banana Republic, H&M, DSW and American Eagle. (A Victoria's Secret is coming soon, too.) The Goldman family's BLDG Management is even developing a new 42,700-square-foot ground-up retail building at West 181st Street and Broadway, which could attract a big box-type tenant.
"[The big chains] will come to 181st Street," Guilbet said. "I see it happening within the next five to 10 years. Chipotle is opening up there on 181st Street."
Although Washington Heights hasn't attracted as many national chains as Harlem, it's poised to get another harbinger of retail transformation: a food hall. Sugar Hill Capital Partners plans to open the North End market this fall at 4300 Broadway at the corner of West 183rd Street. The developer hasn't announced tenants yet, but the 6,000-square-foot space will host vendors selling fair-trade coffee, craft beer, tacos and burgers, according to the project's website.
The neighborhood is also a natural fit for Spanish tapas restaurants, like Manolo Tapas at 4165 Broadway between West 176th and West 177th Streets, Marcha Cocina a couple blocks south at 4055 Broadway, and even a vegan, Caribbean-influenced tapas and cocktail bar called Pocion at 704 West 177th Street between Broadway and Fort Washington Avenue. And of course there are the longtime Dominican standbys, which include Malecon Restaurant (4141 Broadway), Marisco Centro (1490 St. Nicholas Avenue) and La Reina del Chicharron (1249 St. Nicholas Avenue and 4840 Broadway).
Dean Rosenzweig, a CBRE retail broker, said that Hamilton Heights, the section of Harlem just south of Washington Heights, is starting to see its fair share of trendy coffee shops, upscale restaurants and art galleries. So Washington Heights is "ripe for it," he explained. "The signs are there that it's gonna happen. Developers are buying properties. If you see it going on in the 140s then it becomes logical that everyone's prices start to rise on housing there, then it's logical to take it a little farther north to the next subway stop."
He added, "Now we have to read the tea leaves. The foodies want it to be known that they want to live in the area or visit the area. Those signs aren't really there yet."
But the arrival of trendy boutiques and restaurants feels like a foregone conclusion given the neighborhood's steadily rising residential rents. Median asking monthly rents in Washington Heights have grown 17 percent in the past five years, to $2,100 in the first quarter of 2018 from $1,800 in the first quarter of 2013, according to data from StreetEasy. As wealthier tenants descend on the neighborhood, more coffee shops and juice bars and farm-to-table restaurants will arrive to accommodate them.
A little more to the south, Columbia University Medical Center and NewYork-Presbyterian Hospital control a sprawling campus that stretches from West 165th to West 168th Streets between Audubon Avenue to Riverside Drive and then continues north along Riverside to West 173rd Street. There isn't a ton of retail in the area, and the few shops that do exist are owned by the university or the hospital, which can demand rents of $150 to $200 a square foot, according to Rosenzweig. Elsewhere, he noted, landlords can't be quite so ambitious, and retail space along less busy stretches of Broadway and St. Nicholas asks $60 to $100 a square foot.
Rising retail rents along Broadway, St. Nicholas Avenue and 181st Street have also started pricing out old-school businesses. A neighborhood Irish bar called Coogan's faced a $40,000-a-month rent hike after sticking it out uptown for 33 years. When The New York Times reported in January that the business at 4015 Broadway between West 168th and West 169th Streets planned to close, playwright Lin-Manuel Miranda sent out a tweet lamenting the news. More than 15,000 people signed an online petition demanding that the landlord, NewYork-Presbyterian, find a way to keep the bar and restaurant; Rep. Adriano Espaillat and Borough President Gale Brewer even put in calls to persuade the hospital into lowering the rent on the new lease. Three days after the Times article first appeared, the restaurant and bar received an affordable renewal. It's also notable that Coogan's occupies a building where the retail space is almost exclusively populated by national tenants that can afford to pay higher rents—Sbarro, Chipotle, Bank of America and Starbucks.
Later that month, Washington Heights residents and local politicians rallied to save Galicia, a Spanish restaurant a couple blocks north of Coogan's on Broadway between West 172nd and 173rd Streets. The 30-year-old eatery faces a rent increase of $20,000 from its landlord, Edel Family Management, according to The Village Voice. It will be forced to close on June 30.
The hospital may also be pricing out other kinds of businesses. Napack, the C&W broker, claimed that NewYork-Presbyterian planned to take back the space occupied by Gristedes at West 170th Street and Broadway, which would mean that the store won't be around much longer.
Even as local activists bemoan the disappearance of long-running businesses, brokers note that Washington Heights' retail is slow to change, especially around the hospital.
"There are a lot of people at Columbia, and they all have money," Napack said. "It's surprising to me that no one is really catering to those people."
Alan Napack
,
Dean Rosenzweig
,
Footlocker
,
Gap Factory
,
George Washington Bridge Bus Terminal
,
Modell's Sporting Goods
,
Payless
,
Roberto Guilbet
,
Vass Stevens Group
,
CBRE
,
Cushman & Wakefield