Brooks Brothers Opening First Staten Island Location
---
---
Brooks Brothers has tied itself to the Empire Outlets for a new store, and first location in Staten Island in its 200-year history.
The high-end retailer, known for tailored formal wear for men, women and children, has signed a 4,040-square-foot lease at Empire Outlets, developer BFC Partners' planned outlet center on the North Shore of Staten Island.
The retailer will take space on the third floor of the approximately 340,000-square-foot development, according to information provided by the landlord. A spokesman for the developer declined to disclose the rent in this deal, however, Commercial Observer noted in 2016 that the average asking rent at the property was $125 per square foot.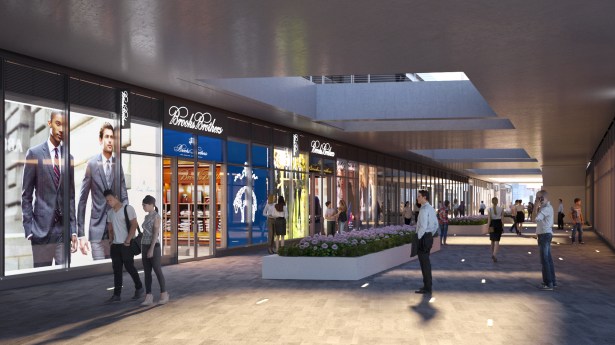 "A two hundred year tradition of excellence in men's clothing has made Brooks Brothers one of the most sought after apparel brands in the world," James Prendamano of Casandra Properties, who brokered the deal for both sides, said in prepared remarks. "This truly is a legendary addition to the growing Empire."
The store is scheduled to launch in the fall, when the outlet mall opens as well. Brooks Brothers' deal is for five years.
BFC started construction of Empire Outlets in April 2015. The property is part of the the developer's $352 million, 1-million-square-foot development at the site, which comprises a hotel and 1,250-spot parking garage.
To date, 73 percent of the outlet mall has been leased. Majority retailers there include H&M, Banana Republic, Nike, Nordstrom Rack, Gap Factory and Columbia Sporting Goods. Food and beverage tenants include Shake Shack, Artichoke Basille's Pizza and MRKTPL, a food hall.
"Bringing on a historic and peerless brand like Brooks Brothers is just another step toward making Empire Outlets one of New York City's top shopping and dining destinations," Joseph Ferrara, principal of BFC, said in a statement.
Crain's New York Business was first to report about the lease.