The Five Biggest Financings of the Year
A look at the biggest deals in the debt space over the past 12 months
---
---
The power moves of the last year needed some powerful bucks behind them.
Four office tower deals that exemplify the strength of Manhattan's Midtown and an unusually imaginative performing-arts renovation lead the list of the biggest financing deals Commercial Observer covered since our previous go at the Power 100 list last April. It was a quintet totaling nearly $11 billion in investment.
Given tenants' steadily building interest in leaving behind Midtown East for greener pastures in Hudson Yards or Lower Manhattan, perhaps it's no surprise that the Far West Side drew the year's biggest financing two times over, with a bevy of banks teaming up to lend the developers of 50 Hudson Yards a whopping $4 billion.
But though the West Side could be considered ascendant, none of the biggest deals strayed all that far from Manhattan's center of gravity. A tour of the year's other top financings takes us to the Theater District, where the Palace Theatre will pull off some classic stage magic by levitating 29 feet to make room for retail space; to Midtown East, for a headline-grabbing office refinancing at the southeast corner of Central Park; and even to Hell's Kitchen, where a 30-year-old mixed-use tower won new debt.
Some of the business's most forward-thinking developers have made big moves towards Lower Manhattan and even the outer boroughs this year, but the big bucks still flowed right towards the middle of it all.
A $4 billion development financing for 50 Hudson Yards
It took a trio of borrowers—and even more lenders—to make New York City's biggest financing deal of 2017 happen.
In September, three developers behind some of the biggest projects at Hudson Yards—Related Companies, Oxford Properties Group and Mitsui Fudosan America—came together to close on $3.8 billion in financing, including $1.8 billion for a single building, 50 Hudson Yards. The debt for that building came from some of the market's biggest mortgage lenders: Wells Fargo, Deutsche Bank, HSBC, Bank of China and Sumitomo Mitsui Banking Corporation.
The deal is set to fund ongoing construction at the site. Related CEO Jeff Blau said that the transaction represented the final piece of financing for the eastern part of the former railroad yards, bringing total funding for the project to $18 billion.
When completed—in 2022, if all goes according to plan—the 58-story structure will comprise about 2.9 million square feet of office space. It will also feature sky lobbies, outdoor terraces and executive valet parking. It stands to be the fourth-largest commercial office building in New York City.
Boston Properties (BXP)' $2.3 billion refinancing of the General Motors Building
Midtown East may have some competition for office tenants' hearts in Lower Manhattan and the Far West Side, but don't count it out just yet.
In the last week of April 2017, a syndicate of banks led by Morgan Stanley collaborated on a massive $2.3 billion refinancing of Boston Properties' General Motors Building, at 767 Fifth Avenue between East 58th and East 59th Streets. The 10-year loan closed at an interest rate of 3.43 percent, replacing a $1.6 billion Deutsche Bank financing that was set to expire in October 2017.
Owned by Donald Trump between 1998 and 2003, the building has since moved between major asset managers, doing stints in the portfolios of Conseco and Macklowe Properties before finding its way into Boston Properties' clutches. Once home to the set of CBS' morning news show, the building also hosted the flagship location of FAO Schwarz before it closed in 2004 amidst bankruptcy proceedings. Today, that space is home to Apple's flagship New York City retail location as the computer company renovates its legacy space below street level in the building.
Boston Properties and a group of Middle Eastern wealth funds took ownership of the building in 2008 in a $2.9 billion purchase.
The $2 billion renovation of the Palace Theatre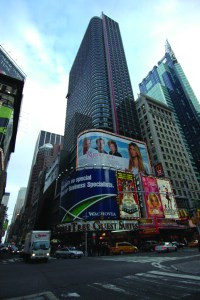 In August, the Palace Theatre, owned by century-old theater operator The Nederlander Organization, lined up $2 billion for an extensive renovation backed by the third-largest financing we covered last year in New York City.
This deal, too, assembled a bevy of financiers to do the heavy lifting. L&L Holding Company, Fortress and Maefield Development all put skin in the game alongside Nederlander with equity injections, and J.P. Morgan Chase helped jumpstart the project with a $250 million mortgage. (The deal's cumulative mix of equity and debt was never disclosed.)
Far beyond a typical performance-art renovation, the project is actually a major bet on Midtown retail. The theater currently occupies street-level space in Times Square's DoubleTree Suites by Hilton Hotel New York City, but the ownership group plans to physically raise the entire auditorium and backstage areas 29 feet, making room for 70,000 square feet of store space at grade.
But the timing of the project is uncertain. When the financing was announced in August, the theater was dark, but since December the Palace has hosted SpongeBob SquarePants, a well-reviewed adaptation of the Nickelodeon television show playing in an open-ended run. Presumably, any renovation would have to wait until the Bikini Bottom crowd shuffles offstage.
Landesbank's $1.2 Billion loan for 5 Manhattan West
Another of the year's biggest financings signals the promise that investors see in the area around Hudson Yards.
Landesbank closed the year strong by originating $1.15 billion to refinance Brookfield Property Partners' 5 Manhattan West. The mortgage loan is secured by a trio of properties on the island's Far West Side that make up Brookfield's 5.4-million-square-foot mixed-use development bordered by West 30th and West 33rd Streets and Ninth and 10th Avenues.
Brookfield owns the campus in partnership with Qatar Investment Authority, the Middle Eastern country's sovereign wealth fund. Major tenants in the most valuable building behind the loan, 450 West 33rd Street, include J.P. Morgan Chase, which leases 425,000 square feet, and Amazon, which signed a deal to take 360,000 square feet last September. The squat, oddly-shaped office tower got a major refresh in 2014 when architecture firm REX replaced the original drab beige facade with a more contemporary curtain-glass look.
One Worldwide Plaza's $1.2 billion refi from Goldman Sachs (GS)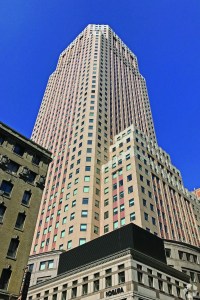 As interest rates across the economy look to close out 2018 considerably higher than they went into it, New York REIT is surely pleased it locked in a sub-4 percent 10-year mortgage to refinance its 47-story mixed-use tower, known as One Worldwide Plaza, at 825 Eighth Avenue between West 49th and West 50th Streets. The loan, from Goldman Sachs, came to light in late September, soon after it was reported that the real estate investment trust behind the complex had sold a large minority stake to RXR Realty and SL Green Realty Corp., a deal that valued the property at $1.7 billion.
Tenants in the building's 1.8 million square feet of office space include Nomura Holdings, WebMD, Rubenstein and CBS Broadcasting.
Deutsche Bank had supplied the building's previous $710 million mortgage in February 2013.
5 Manhattan West
,
50 Hudson Yards
,
General Motors Building
,
Landesbank Baden-Württemberg
,
Nederlander Organization
,
One Worldwide Plaza
,
Palace Theatre
,
power 100
,
Power 100 2018
,
The Power 100
,
Boston Properties
,
Goldman Sachs