How Allan Fried Is Transforming the American Stock Exchange Building
---
---
Every morning for 30 years, real estate developer Allan Fried's father would wake up at 3 a.m. and travel from his house in Mill Basin, Brooklyn, to the coffee shop he owned at East 26th Street and Park Avenue South in Manhattan. The Polish Holocaust survivor would butter the rolls, make the coffee, and, in Fried's words, "make the donuts."
Watching his dad open up his 300-square-foot shop (since closed) every morning made Fried realize he didn't want to have a business that he had to run with his own two hands, where he had to be physically present around the clock. He wanted to have control over his time, reschedule meetings if necessary, and come in when he liked. Real estate, with its freewheeling, entrepreneurial spirit, ended up being a good fit.
Fried studied accounting and pre-medicine at New York University, and while he was still in college, he worked part-time for a now-defunct real estate development firm called Real Equity. Then he went to law school, also at NYU, and practiced law for two years at Weil, Gotshal & Manges, before he realized that real estate development was his true calling.
Joseph Wilf, a New Jersey-based developer who, like Fried's parents, was a Polish Holocaust survivor, hired Fried in the mid-1990s. His first big development job was the conversion of the former New York Evening Post headquarters at 75 West Street, just south of the World Trade Center in the Financial District. The Wilf family purchased the 18-story, 258,000-square-foot Art Deco office building in 1985. After the property's anchor tenant, the Bank of New York, departed, the Wilfs began converting it to 200 luxury rentals in 1998. Fried was the point man on the project, handling nearly every piece of it from start to finish: general contractor work, construction consulting, leasing and building management.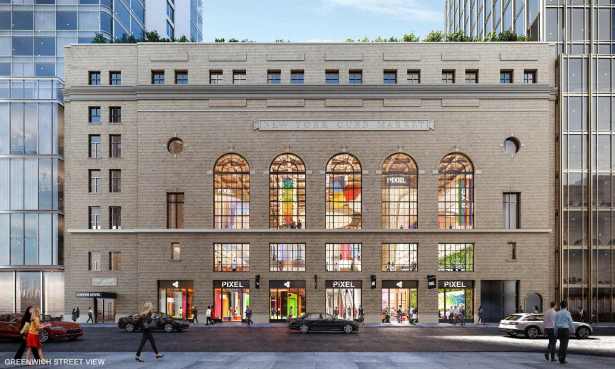 "During construction [in 1999], there was a four-alarm fire [at 75 West Street], so then I was an insurance adjuster," he explained. "I oversaw a $10 million settlement with the insurance companies. And I was in charge of interior design. I oversaw the leasing and the management of the building. Then 9/11 came and half my windows got blown out. I had to do an environmental cleanup of the property. So I can at least do one building very well, to the tune of three times."
While he was working on 75 West Street (now known as Post Towers), Fried happened to meet billionaire hedge fund pioneer Michael Steinhardt. Steinhardt, a now 77-year-old philanthropist who contributes millions to Jewish causes and co-founded Birthright Israel, is famous for trying to play shadchan ("matchmaker" in Yiddish) to young Jewish couples. (This reporter experienced Steinhardt's matchmaking attempts firsthand in his Midtown office last week. After introductions, he quickly asked, "Are you Jewish? Do you have a boyfriend?" without missing a beat.)
Naturally, when Fried approached the investor one night in 2001, Steinhardt tried to pair him off with a woman.
(Steinhardt is hardly reticent about explaining his technique, or how he would push matches along: "If I found a girl I thought was attractive, I would ask her to come over, and when [the male match and her] both were in the same place, I would reach into my wallet, pull out a hundred dollar bill, and say to them, this hundred dollar bill is for the two of you, who don't know each other, but all you have to do is spend 10 minutes together—and I'd point to one of the corners of the room—speaking to each other, with the hope that you'll get to like each other. That's how we [Steinhardt and Fried] met each other.")
The match didn't take, but nine years later, in 2010, Fried and Steinhardt made a marriage of their own and founded GHC Development. They made their first big purchase in February 2011, shelling out $65 million for the American Stock Exchange building at 86 Trinity Place and a neighboring development site at 125 Greenwich Street. Real estate watchers were wary because the Downtown development boom—led by Brookfield Place and the reconstruction of the World Trade Center—hadn't yet materialized.
"At the time it was a good deal but people only recognized it three, four years later," Fried said. "Because when I bought it all my friends told me I was crazy and stupid and did not know what I was doing."
Over the course of a year and a half, Fried nailed down a 421a tax break for the development site and transferred over 300,000 square feet of air rights from the Stock Exchange building. GHC flipped the Greenwich Street parcel—which had cost it $48 million—to Fisher Brothers and the Witkoff Group in October 2012 for $87 million. (The property then changed hands again in September 2014, for $184 million. The current owners, Bizzi & Partners Development and Howard Lorber's Vector Group, are building an 88-story, 273-unit condo tower that will reach 912 feet into the sky.)
But Fried and Steinhardt held onto the American Stock Exchange building, which is being marketed as 123 Greenwich Street. They secured landmark protection for the 1920s, neo-Renaissance structure in 2012, and negotiated permission from the landmarks commission to enlarge the ground-floor windows, to make the space more attractive to retail tenants. Fried hopes to convert the upper floors of the 14-story, 183,000-square-foot building into a 174-room hotel with a four-story, 80,000-square-foot retail base.
The ground floor, trading floor and mezzanine offer ceiling heights of up to 60 feet and as much as 100,000 square feet of column-free space, if a tenant wants to add an extra mezzanine floor above the existing one. Asking rents range from $400 to $500 a square foot for the ground floor to $150 a square foot for the mezzanine level. Fried said he's in discussion with three types of tenants—theatrical or musical performance spaces, "experiential" retail concepts and traditional retailers.
Experiential retail, he explained, would involve a company that "wants to have a flagship marquee property to highlight their brand where they don't necessarily want to have products for sale."
And, so far, the unique space has already drawn tenants. Louis Vuitton rented out the building for a few months, from October 2017 to this January, for a sprawling exhibition highlighting the history of the brand's fashion and leather goods. Calvin Klein and Bottega Veneta rented out the building for Fashion Week, and Samsung hosted a product launch for a new TV there last week.
The retail space, which is being designed by Elkus-Manfredi and SBLM, could hold one tenant or several. Plans have not yet been finalized for the hotel, because GHC is still searching for an operator or joint venture partner.
Despite rising retail vacancies Downtown and a struggling retail market across Manhattan, Fried remains confident that his building will succeed. The area's growing residential population and increasingly diverse kinds of office tenants give him hope.
"It's not your father's or grandfather's Wall Street where it's 9 to 5, finance, real estate, insurance," he said. "There are people active on the street till the wee hours of the morning."
He also said that they expect to draw tourists coming from the World Trade Center and the National September 11 Memorial & Museum a block away. Even with these potential pulls the hotel will face steep competition. Roughly 135 hotel projects are planned or under construction citywide. And in the Financial District alone, 12 hotel projects with 1,917 rooms are under construction or in planning stages, according to hotel data research firm STR.
GHC is finalizing a $65 million construction plan for the historic property, with the help of real estate investment firm Clarion Partners. Clarion took a 70 percent stake in the project in 2015, buying out Fried's previous partner in a deal valued at $150 million, according to public records.
The deal with Clarion came together because Frank Sullivan, one of the firm's founding partners, was Fried's college mentor. Sullivan, a former real estate finance professor at NYU, taught Fried in the early 1990s. The pair kept in touch, and Fried ultimately brought on Clarion as an investor in the Stock Exchange at Sullivan's urging.
"He has what I call a nose for real estate," Sullivan said. "He can suss out, see and understand and figure out whether a transaction is worth pursuing. My faith in him is not quite boundless, but he has an extraordinarily good track record of saying I want to do this deal and here's how we're going to make money."
Jonathan Mechanic, a partner at law firm Fried Frank who handled the purchase of the Stock Exchange and the joint venture with Clarion, agreed, having known Fried for more than 20 years. He described the developer as creative and loyal, adding that the transactions have been savvy. "He negotiated with sophisticated people in Witkoff and Fisher. He did a deal that was very good for him and them, because they turned around and sold it to someone else."
But Fried's world doesn't revolve exclusively around real estate. In his spare time, the Upper West Side resident, who declined ot provide his age cooks, plays tennis and basketball, and travels extensively. In 2017, he found his way to Rio de Janeiro, Sao Paolo, Cartagena, Medellin, Panama, Israel and Turkey. He feels like he's built his life and business around the values his parents taught him—hard work, integrity, frugality and follow-through.
That ethos even carries over to the name of his company. "GHC stands for three very essential elements that one needs to be successful in any real estate deal," he said. "It stands for G, for 'gezunt,' which means health [in Yiddish], H, which stands for 'hatzlacha', which means luck, and C, which stands for chutzpah, which you need always in real estate. So you need health, luck and chutzpah."