Crescent Heights Lands $27M Loan for LA Hollywood Palladium Project
The developer will be back in the market for a roughly $250 million construction loan later this year.
---
---
Ullico has provided a $27 million bridge loan to Crescent Heights for its Palladium Residences development in Los Angeles, Commercial Observer can first report. The project will include the construction of two 28-story luxury residential towers on a former parking lot adjacent to the historic Hollywood Palladium theater.
The transaction closed Tuesday and the financing was arranged by Cooper-Horowitz Principal Richard Horowitz, sources said. Horowitz confirmed the deal but declined to comment further.
Crescent Heights acquired the Hollywood Palladium—located at 6215 Sunset Boulevard—and its adjacent 90,000-square-foot parking lot in 2012, paying $55 million, according to Hollywood Patch. The L.A. City Council approved the Palladium Residences project in May 2016, according to the Los Angeles Times.
When completed, Palladium Residences—being designed by award-winning architect Stanley Saitowitz of Natoma Architects in keeping with the Hollywood Palladium's streamlined architectural style— will include 731 units and 75,000 square feet of retail space.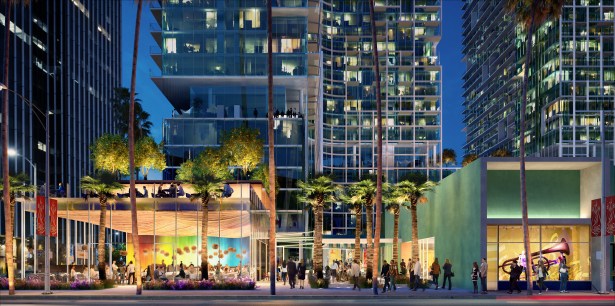 The two-tower development preserves the iconic landmarked theater it neighbors, which was built in 1940. The venue is currently leased to Beverly Hills-based events operator LiveNation through 2027.
"The Hollywood market is very dynamic and benefitting from a tech resurgence right now," Casey Klein, Crescent Height's head of development and capital markets, told CO. "It has a great live-work-play environment and is an epicenter of activity. The Hollywood Palladium gives this development a lot of character, we're extremely excited about it."
Crescent Heights and Ullico have a long-standing relationship and have been transacting for more than 20 years, Klein said.
Matthew Downs, regional manager, northeast region, led the Ullico team in the financing.
"This was another great opportunity to execute for a longstanding client," Downs told CO.  "The iconic property is rich with history and its location within the Hollywood submarket speaks for itself," Downs told CO.
Crescent Heights will be back in the market for a roughly $250 million construction loan in the next six to nine months, Klein said.
The Palladium Residences is the latest of several L.A. properties developed by Crescent Heights.  Previous developments include Ten Thousand, a 283-unit luxury multifamily building for which Ullico provided construction financing and Bank of China provided a first mortgage.