How Mario Faggiano and EXR Built Brooklyn's Fastest-Growing Brokerage
With the right contacts and tech, the Williamsburg-based firm has closed $300M in deals in less than four years
---
---
The offices of brokerage EXR are on the fifth floor of the William Vale Hotel, the 22-story luxury hotel, office and retail complex that straddles Wythe Avenue between North 12th and North 13th Streets in Williamsburg, Brooklyn. With its ivory-hued, glass and concrete facade, the year-and-a-half-old William Vale towers imposingly above the surrounding, predominantly low-rise architecture of North Brooklyn—a testament to the area's rapid, continuing transformation over the past decade into a high-priced, in-demand residential and commercial destination.
As such, it's a fitting home for Brooklyn-focused EXR, which launched in 2014 as the brainchild of Mario Faggiano, John Le Vine and Sam Rubin—three men in their mid-20s at the time, who came from diverse backgrounds but were bound by an entrepreneurial spirit and a desire to build something successful that they could call their own. Parlaying Faggiano's experience in the hospitality and startup worlds, Le Vine's tech nous and Rubin's connections in the Brooklyn real estate market, the firm has grown in less than four years from a four-man operation into a 150-person company that claims roughly $300 million in transactions to date across its residential leasing, residential sales, commercial leasing and commercial sales platforms.
"The idea of the firm is to manage portfolios, both residential and commercial, for both big landlords and emerging landlords," Faggiano, 30, said on a recent February afternoon at Leuca, chef Andrew Carmellini's swanky restaurant at the base of the William Vale. "We have mammoth-sized residential projects, but we also handle landlords' entire commercial portfolios—everything from a corner bodega [retail space] to an office building."
As a startup entering a hugely competitive industry, establishing and developing relationships with landlords who will entrust them with those portfolios has been critical to EXR's success to date. Among the firm's most notable clients is All Year Management, the prolific real estate investment firm led by developer Brooklyn-based Hasidic developer Yoel Goldman, whose footprint has become one of the biggest in all of Kings County.
In addition to the retail and office portion of the William Vale—which All Year built in partnership with fellow Brooklyn firm Riverside Developers—EXR has exclusive marketing rights on All Year projects including The Dean, a 120-unit luxury rental building at 1040 Dean Street in Crown Heights, and the retail portion of Goldman's massive 911-unit residential development at 123 Melrose Street on the former Rheingold Brewery site in Bushwick.
While the bulk of the firm's listings are residential, Faggaino said EXR's revenues are approaching an even split between its commercial and residential brokerage operations. Likewise, while retail listings represent around three-quarters of the company's commercial business, EXR is increasingly making a push into the office sector; it is currently marketing the SLJ Management's office redevelopment of the Hecla Iron Works building at 110 North 10th Street in Williamsburg, which Faggiano noted is commanding rents of $60 per square foot.
"We want to be a big office leasing firm," he said. "We started in retail because a lot of our clients had mixed-use [residential] properties, and we started renting those. But a lot of these players are now getting into office. We want to be about 50-50 [between retail and office leasing]—we want to be a balanced, quality firm in all of our service areas." Indeed, EXR claims to have experienced "100 percent" year-over-year growth across most measures of its business—including revenue, head count and number of transactions—since its inception in 2014, a rate of expansion Faggiano said he expects to continue as the firm enters its fourth year.
The company's ability to foster relationships with the likes of Goldman's All Year and fellow Hasidic developer Simon Dushinsky's Rabsky Group—for whom the brokerage is handling retail leasing at 10 Montieth Street, the 392-unit residential project comprising the other major development at the Rheingold Brewery site—is due in large part to Rubin, 28, who himself is a member of the Hasidic community.
In fact, the partnership that became EXR (the name was originally intended as an acronym for "experiential realty" but now stands alone) was sparked by a chance encounter after Faggiano had rented a loft in a South Williamsburg building owned by Rubin's father, real estate investor Abraham Rubin of Frontgate Management. (Faggiano now lives in the East Village, though he said he has plans to move back to Brooklyn in the near future.)
In the course of applying for and eventually renting the apartment, Faggiano met the elder Rubin, who was intrigued by his new tenant's entrepreneurial background in the realm of hospitality (he had worked for chef John DeLucie's ill-fated Crown Group Hospitality before briefly venturing out with his own startup) and suggested that he meet his son, who had designs on starting his own real estate venture.
While he "didn't really think of it too much" at the time, Faggiano eventually met the younger Rubin one day while on his way home from a jog—when, as Mario put it, he found Sam Rubin "sitting on the hood of a car with a bunch of his buddies, smoking cigarettes and talking about real estate."
The two struck up a conversation, and Rubin took Faggiano up to Frontgate's leasing office in South Williamsburg. "He opens a door, and there's this huge loft, and [inside] it's a couple of Hasidic guys and this guy Joe Loner, who's still with [EXR]," Faggiano said. "And they're smoking cigarettes, posting ads on Craigslist. They were really good at what they do, and bringing stuff to the market that hadn't been seen before."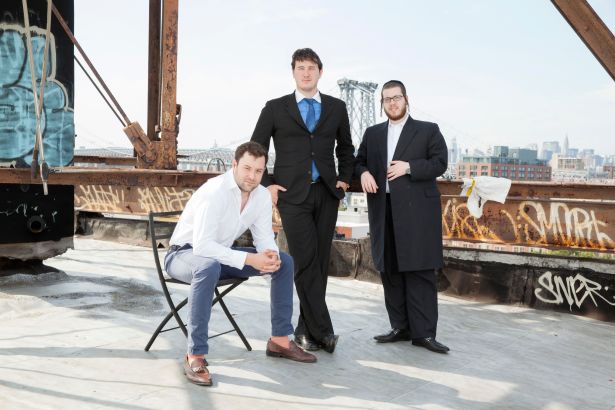 Faggiano, who admittedly "didn't understand the business so much" at the time, sensed an opportunity, and after more conversations with Rubin, the two decided to start their own operation. But the team wasn't yet complete.
"I'm like, 'O.K., Sam, you obviously have a lot of connections, and I'll organize the business and drive it forward, but we need one other guy before we do this—he's really brilliant, and he can make sense of operating, creating technology and all of this stuff we need to actually scale it.' "
That person was Le Vine, who at the time worked in marketing for fashion conglomerate LVMH and whom Faggiano had met through his dealings in the hospitality industry. The two developed a friendship and had for some time discussed striking out together with their own venture; the gestating enterprise that would become EXR proved to be just that opportunity.
"Sam was the local real estate guy with relationships with owners and landlords and a real keen sense of the industry. Mario was the entrepreneur. I had the more corporate, analytical background," Le Vine, 28, said. "It was three people with completely different skills, but we all have this common thing, which is extreme optimism—which I think is the bedrock of any successful venture—and this kind of 'work hard, keep your head down' attitude."
While Rubin went about building the exclusive inventory that would form the foundation of EXR's business and Faggiano spearheaded the firm's recruitment and organization, Le Vine led the development of a proprietary internal technology platform—what the EXR team now terms the "Hive," which it considers an integral aspect of its success to date.
"All the code was built from scratch," Faggiano said of the Hive. "It handles everything in our business: You can manage all your listings and assignments; it syndicates ads and advertises for [brokers]; it's where agents look for inventory and auto-comps; it stores all their historical data and photos. It's a sales tool, but it also manages and cleanses all the data—I can go in and see exactly how many deals we're at, where every deal stands, past performance, every single agent, every single listing, which clients are active or inactive. It's really all encompassing."
As Le Vine put it, the tech platform "allows certain efficiencies and provides agents time to work more productively" in an industry that, at first glance to Le Vine, appeared grossly behind the curve on utilizing technology to make life easier.
"I wasn't someone who came from the real estate industry. When I came in, Mario and I were like, 'Wow, there is just so much information flying around and no coordination happening at all—why does it have to be so disorganized?' " Le Vine recalled. "We all, as a partnership, thought, 'Can we build an automated platform for the real estate industry that evolves along with us and the industry?' "
Faggiano said EXR was motivated to develop its own internal tech platform, rather than buying into one developed by an outside firm, because "we didn't see a platform that provided end-to-end automation of the real estate brokerage process in the way that we envisioned it," he said.
"There's a huge opportunity to gather, mine, transform and analyze vast streams of data that our platform collects and use the data to further inform and refine our business model," Faggiano added.
But the EXR brain trust realizes that getting the right listings and developing time-saving technology can only get you so far in a sales business. Faggiano repeatedly stressed the importance of hiring "really good people," as well as the "right people" for each segment of the brokerage's business, while Le Vine noted that the firm desires agents "who are as aggressive about the industry as we are."
According to EXR's clientele, it is an approach that gets the job done.
"They have a great energy and are very aggressive," said Jacob Sacks, a co-founder and principal of Williamsburg-based real estate investment firm Cayuga Capital Management. "With some brokerages, there's a lot of energy to compete and get the listing, but what happens after you award the assignment—do they actually reach out to all the potential tenants, do they hustle to fill your spaces? They're a young, hungry group, and they're doing that."
Sacks, whose firm retained EXR to market a number of listings across Brooklyn—including the 13,000-square-foot retail portion of a new mixed-use residential building at 600 Bushwick Avenue—said that "hustle" sets the brokerage apart from many of its counterparts in a crowded commercial real estate industry. "The difference is they continue to hustle after they get the assignment," he noted. "That's not always the case, certainly with some more established brokerages."
Other brokers who have worked with EXR also cited the firm's top-down work ethic as a factor in its ability to carve a niche in the Brooklyn real estate scene.
"Culture can do a lot for a company, especially when it's starting out and your leaders are working as hard as they are, with that type of energy," Shaun Riney, one of Marcus & Millichap's top Brooklyn investment sales brokers, said of the EXR team. Riney, who has worked with EXR on multifamily property transactions in the borough, said the firm's leadership has instilled "a core company ethos and vision that people have bought into"—one that differentiates it from more established yet comparatively "stale" brokerage operations.
Josh Elstein, the director of asset management for residential and hotel development firm ASH NYC, said EXR's agents "hit the streets and connect with local retail in ways that other brokers say they will and wished they could." Elstein's firm retained the brokerage to market Glassworks, ASH NYC's new mixed-use residential building at 336 Himrod Street in Bushwick.
"EXR may not be the largest Brooklyn firm but they are committed to doing what they do well," Elstein said in an email. "Mario, specifically, has a unique management style that is to empower and trust the proper agents to head projects, yet be well-looped in to utilize his experience in the form of guidance."
Indeed, it is a testament to Faggiano's entrepreneurial spirit that he now finds himself helming a successful enterprise. A Manchester, N.H., native who "barely got out of high school," he got his first taste of New York City at the age of 17 during a stint in AmeriCorps. He found himself commuting every day from Washington Heights, where he shared "a two-bedroom apartment with six people," to Bedford-Stuyvesant, where he worked with underprivileged communities. "It was very challenging—the hardest thing I've ever done," Mario recalled.
Eventually, he "got [his] school situation sorted"—attending the Borough of Manhattan Community College, getting "really good grades" and heading to the State University of New York to earn his bachelor's degree in business. Today, with the help of Le Vine and Rubin, he leads an organization that is growing at a prolific rate by any standard; the firm is about to open its fourth office in Prospect Lefferts Gardens in March (in addition to its William Vale headquarters, it has outposts in South Williamsburg and Clinton Hill), and Faggiano noted a desire to eventually expand EXR's presence not only beyond Brooklyn but also outside New York City at large.
"I think what very few startups actually arrive at is a business model that you can actually scale and bring to other places," he said. "We very much feel, through our experience with clients, our technology and the competitive advantage we have to offer agents, that we can do it anywhere."
While noting that "responsible expansion" is imperative, Faggiano cited how EXR already has developed relationships with landlords and developers in markets like Boston and San Francisco—"places where we could walk into [client] portfolios that would match the size of our portfolios in Brooklyn."
And just like EXR capitalized on Brooklyn's extraordinary evolution, the goal would be to forecast the next emerging markets in those cities. "We're interested in major metropolitan markets anywhere there's an opportunity to be ahead of the curve," he said. "This year is about market share for us, and the end of this year, and next year, will be about other submarkets in New York City.
"And then after that," Faggiano continued, "if there are enough resources and everything is running at scale, you can say, 'O.K., I'm going to take on a portfolio or maybe a big new development in [South Boston].' And then you go there, you have a small team, you launch a huge project, and the model repeats itself."
10 Montieth Street
,
1040 Dean Street
,
110 North 10th Street
,
123 Melrose Street
,
336 Himrod Street
,
600 Bushwick Avenue
,
Abraham Rubin
,
All Year Management
,
AmeriCorps
,
Andrew Carmellini
,
ASH NYC
,
Borough of Manhattan Community College
,
Cayuga Capital Management
,
Crown Group Hospitality
,
EXR
,
EXR Group
,
Frontgate Management
,
Glassworks
,
Hecla Iron Works
,
Jacob Sacks
,
John DeLucie
,
John Le Vine
,
Josh Elstein
,
Leuca
,
lvmh
,
Marcus & Millichap
,
Mario Faggiano
,
Rabsky Group
,
Rheingold Brewery
,
Riverside Developers
,
Sam Rubin
,
Shaun Riney
,
Simon Dushinsky
,
State University of New York
,
The William Vale
,
Yoel Goldman