Fresh&co Partners With Chelsea Piers for Three New Eateries
Both companies will be making their entrée into the Brooklyn market
---
---
New York-based fast-casual restaurant group fresh&co is opening three new locations at Chelsea Piers sports complexes, two in Manhattan and one in Brooklyn, Commercial Observer has learned.
Fresh&co has taken two spaces at the 1-million-square-foot Chelsea Piers on the Far West Side—one at Pier 60 for a cafe-style outpost within the second-floor fitness center, and one at Pier 62, close to West 22nd Street at 12th Avenue in Hudson River Park, for a full-service eatery (to replace 'Wichcraft). In addition fresh&co signed a deal for a cafe inside the Chelsea Piers fitness center at the under-construction residential building at 265 Schermerhorn Street in Downtown Brooklyn, both companies' first foray into the borough.
The fresh&co and Chelsea Piers relationship is based on a like-minded approach to business, according to both sides.
"We're interested in people who approach food from a healthy food standpoint," David Tewksbury, one of the founders of Chelsea Piers NY and CEO of Chelsea Piers Fitness, told CO. "We talked to three or four [restaurant concepts]. Fresh&co rose to the top as the best match for what we were seeking—healthy food, good variety, reasonable prices and an emphasis on good service."
George Tenedios, the CEO and co-founder of fresh&co, said in prepared remarks: "Since the very beginning, we've been committed to utilizing only pure foods free of synthetic fertilizers, antibiotics, pesticides and other additives. We support local purveyors who are committed to sustainable practices. Furthermore, fresh&co and the Chelsea Piers community have a shared dedication to promoting wellness while offering excellent customer service. Our like-minded approach to business makes the relationship a great fit."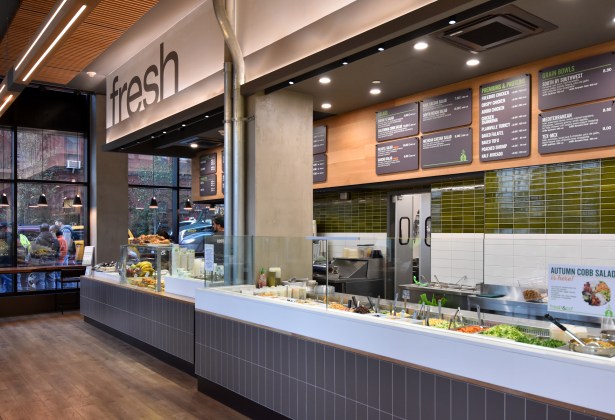 When the three new eateries open in 2018 (Pier 60 and 62 in the spring and Brooklyn in the summer), they will have menus with fresh&co's traditional grain bowls, salads and panini melts as well as some items launching exclusively at Chelsea Piers, Tewksbury told CO. At the 3,200-square-foot Pier 62 location, which will have dine-in, takeout and catering services, there will be soft-serve yogurt, juices, smoothies and craft beer and wine.
At the 600- to 800-square-foot locations at Pier 60 and Brooklyn, there will be a reduced menu for Chelsea Piers Fitness members only, to include juices and smoothies. (Chelsea Piers has been operating the Pier 60 eatery in-house.)
All three leases are for 10 years. Tewksbury and Tenedios declined to provide asking rents and said there were no brokers in the deals.
As CO reported in July 2017, the company behind the sprawling Chelsea Piers complex at 62 Chelsea Piers in Manhattan inked a deal to operate a 150,000-square-foot gym (on ground and below grade) of TF Cornerstone's 33 Bond Street, a new luxury rental project under construction at the corner of Atlantic Avenue in Downtown Brooklyn. Food service will be at the grade level, Tewksbury said.
Billing itself as "New York's homegrown farm-fresh eatery for health-conscious New Yorkers," fresh&co last year acquired a 35-acre farm—with produce and livestock—in Long Island, N.Y,. now known as fresh&co farms.
In the past year, fresh&co has opened three new locations—at 1381 Avenue and the Americas, 444 10th Avenue in Hudson Yards and in the Canal Street Market. Those bring the chain's total number of operating locations to 15.
'wichcraft
,
1381 Avenue and the Americas
,
265 Schermerhorn Street
,
33 Bond Street
,
444 10th Avenue
,
62 Chelsea Piers
,
Canal Street Market
,
Chelsea Piers
,
Chelsea Piers NY
,
David Tewksbury
,
Food & Drink
,
fresh&co
,
fresh&co farms
,
George Tenedios
,
Hudson River Park
,
TF Cornerstone