J.C. Penney Opening Jacques Penné Holiday Pop-up in Soho
---
---
Department stores may be having their problems, but J.C. Penney is hoping to bring a little cheer to Soho with a Jacques Penné pop-up store.
"JCPenney has long been referred to as Jacques Penné, a playful reference to its elevated merchandise at affordable prices, and the retailer is bringing this to life with the opening of Jacques Penné, a JCPenney Holiday Boutique," according to the boutique's Facebook page.
J.C. Penney signed a 35-day deal for 2,800 square feet at the base of Wah Kwan's five-story, 28,377-square-foot office building at 446 Broadway between Howard and Grand Streets, according to Joy Fan, the chief creative officer of Storefront, the pop-up retail marketplace that the department chain used to find the Soho space. But, the store will only be open to the public this Friday and Saturday.
The asking rent for the term was approximately $40,000, Fan said. There were no brokers in the deal, she noted.
According to Glossy, which first reported news of the store: "The event will be paired with a 360-degree virtual reality feature that allows users outside of New York to make purchases from the Jacques Penné shop on desktop and mobile through January 7."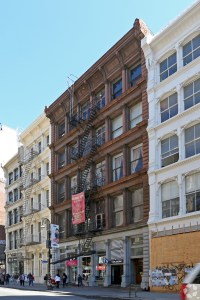 J.C Penney worked with Periscope, the digital creative agency, on the virtual components.
This is a good move for the budget department chain, because the company "wanted to share awareness of a variety of collections available for the holiday that are stunning, but at an affordable price," Rich Penner, the project director from Periscope, told Commercial Observer in an emailed response. "Also [it allows the company] to push both online and in-store sales."