Claus Meyer and Convene to Launch Amenity Floor at 4 Times Square
---
---
Durst Organization is partnering with on-demand event space provider Convene and renowned restaurateur Claus Meyer to create a $35 million, 45,600-square-foot amenity floor at 4 Times Square out of a portion of Condé Nast's former digs, according to a release from the landlord.
Convene signed a management agreement to operate 20,000 square feet of meeting and conference spaces on the fourth floor, while Claus Meyer will curate all food and beverage options in the remaining space on the expanse. The amenity floor was designed by Studios Architecture.
"We have a unique opportunity to create an alternative work space for our growing tenant roster and their employees that will foster greater employee productivity and a sense of community within the building," Jonathan Durst, the president of Durst Organization, said in prepared remarks.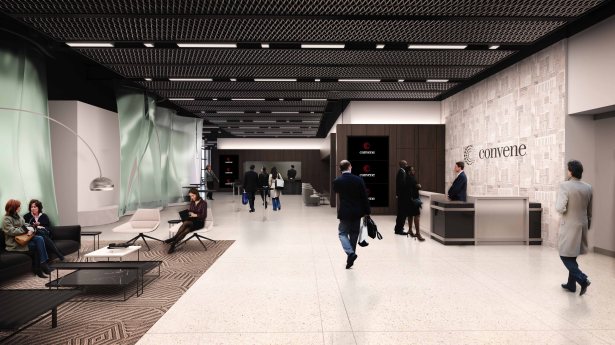 In the food area of the space, there will be a coffee bar—run by Meyer's Brownsville Roasters—and a food hall in the former Condé Nast cafeteria, which was originally designed by Frank Gehry.
A wood-lined entryway will also lead to a garden room that will feature a floor-to-ceiling green wall. The food hall will have 300 seats compared with the former cafeteria's 260 seats, according to The New York Post. The amenities will open next spring.
The amenity floor is part of a $100 million upgrade of the building, which also includes a new lobby, entrances, turnstiles, concierge desk and 30 modernized elevator cabs.  
"Through our partnership with Durst and Meyer, we're developing a best-in-class workplace experience that goes far beyond a conventional office environment—one that feels more like a full-service, lifestyle hotel," Ryan Simonetti, co-founder and chief executive officer of Convene, said in a statement.
Durst Organization is an investor in Convene, which also has locations at the landlord's properties at 117 West 46th Street and 1 World Trade Center.
Condé Nast vacated its 817,000 square feet on floors four to 24 in 4 Times Square for 1 World Trade Center at the end of 2014. Since then, Durst Organization has signed a number of tenants to its former space—including HedgeServ Corporation's deal for 53,456 square feet, ICAP's 82,000-square-foot transaction, 41,221 square feet with Fross Zelnick Lehrman & Zissu and RSM US's lease for 95,000 square feet.
1 World Trade Center
,
117 West 46th Street
,
4 Times Square
,
Claus Meyer
,
Conde Nast
,
Convene
,
Durst Organization
,
Food & Beverage
,
Frank Gehry
,
Fross Zelnick Lehrman & Zissu
,
HedgeServ Corporatoin
,
ICAP
,
Jonathan Durst
,
RSM US
,
Ryan Simonetti
,
Studios Architecture